Software
SRBMiner – AMD GPU miner supporting all CryptoNight Algorithms / Coins
CryptoNight Algorithm is basically designed to resist ASIC and to make CPU and GPU mining equally efficient. Currently there are more than 10 CryptoNight algorithms out there with each having huge variations in performance. Some coins followed Monero and used CryptoNight V7 algorithm. Some coins took a completely different path and implemented their own version of CryptoNight algorithm. All to vigorously maintain ASIC resistance and to keep the network decentralized. So even in future if ASIC gets released supporting any of the CryptoNight versions then for sure the coin will just hard fork again. If not then there is no point for the coin to use open source technology that specifically highlights egalitarianism.
With different versions of CryptoNight we pretty much need a single mining software supporting all CryptoNight algorithms. If you are looking for one such miner for your AMD graphic cards then give SRBMiner a try. This miner is been here for a while and is used by many AMD miners but we totally failed to mention it. So here it is; a short intro to SRBMiner and its features.
SRBMiner – Cryptonight AMD GPU miner
SRBMiner is a closed source Windows only AMD GPU Miner supporting all new CryptoNight algorithms. This miner supports all types of AMD GPUs Including RX and the older models. We have XRM STAK and XMRig which works fine with CPU, NVIDIA and AMD graphic cards but they do still lack some new algorithms such as UltraHeavy, V4 and alloy.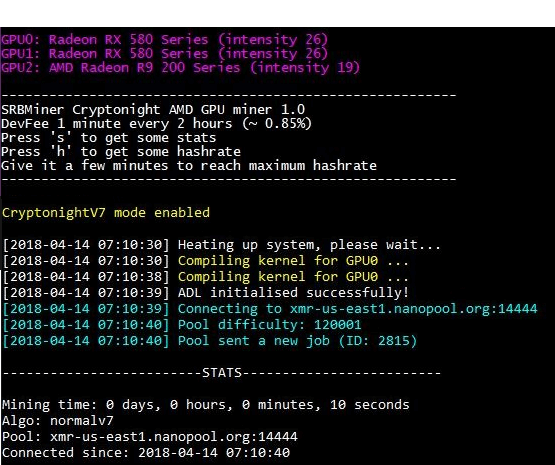 This SRBMiner has added support for all cryptonight algorithms including the most recent ones. Moreover SRBMiner is specifically developed for AMD GPUs so you could expect stable mining performance on AMD cards. Also even some users reported that it performs better on certain algorithms.
Following are the features of SRBMiner and followed by that is the list of Cryptonight Algorithms and CryptoNote coins that this miner supports.
SRBMiner features:
1. Low developer fee: SRBMiner has a build in dev fee of 0.85% which is low compared to other miners.
2. Simple to setup: SRBMiner is simple to configure and there is only one setting that you'll need to tweak for hashrate improvements and that is Intensity.
3. Maintaining Safe GPU temperatures: You have an option to set optimal GPU temperature to prevent GPUs from overheating. It the miner exceeds the set temperature then it will shutdown the system.
4. Watchdog and Hash Monitor: SRBMiner monitors GPU threads and if anytime GPU stops hashing then it restarts the miner automatically.
5. Failover pool support: You can add more than one pool to your config. If the primary pool fails at one point then the miner automatically switches over to the next pool.
SRBMiner supported algorithms – CryptoNight variants
Cryptonight
Cryptonight V7
Cryptonight Lite
Cryptonight Lite V7
Cryptonight Heavy
Cryptonight Ipbc (BitTube)
Cryptonight ArtoCash
Cryptonight Alloy
Cryptonight MarketCash
Cryptonight B2N
Cryptonight StelliteV4
Supported CryptoNote coins
Old Cryptonight
Electroneum
ByteCoin
Karbo
DigitalNote
Leviar
Ultranote
BalkanCoin
BitSum
CrepCoin
DinastyCoin
LeviarCoin
BitCoal
Cryptonight V7
Monero
Electronero
MoneroV
Stellite
Intense
Graft
Masari
BBS
Wownero
Lines
Fonero
Lite / LiteV7
Aeon
Turtlecoin
Iridium
Cryptonight Heavy
Sumokoin
Haven
Loki
Bloc.Money
BixBite
Saronite
Ombre
ItaloCoin
Other Variants
Ipbc (BitTube)
Artocash
Alloy
MarketCash
Bitcoin2Network (B2N)
Stellite (Stellite v4)
SRBMiner Download and Usage:
This miner is only available for Windows and no Linux. The latest released version is v 1.5.8 and the official download link for the miner is available at Bitcoin Forum. On the same page you'll find instructions on how to setup, configure and fine-tune the miner. The discussion seems active and this is the right place if you need any help regarding this miner.
For best results it is recommended that you use Blockchain compute drivers which can be found here.
Also SRBMiner is currently not installed on Hive OS. Looks like SMOS and Awesome miner is waiting for API release so that they can integrate into their software. As of now you can try this only on your Windows computer, but is it safe?
Is SRBMiner Safe?
There is no source code available for this miner so we can't tell if is safe or not. Since it is a closed source miner we highly do not recommend it. Anyways if you'd like to give it a try then use it in your mining rigs where you don't have wallets installed.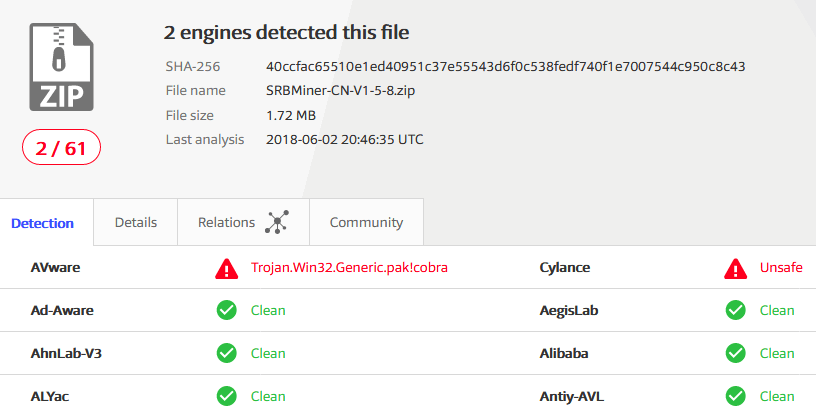 Also we scanned this miner using Virus Total and the result is 2/61 engines detected. Please use it with extreme caution and at your own risk!