Software
WildRig Multi 0.13.0, 0.13.1 – Minato (X18 Mining) & fastest X22i AMD Miner
Do you feel cryptocurrency is not so exciting? Only the prices are boring; it's been flat for a long time and it may not lure much investors. However a lots of interesting things are happening in the bear market. This is the time you need to learn, check out new projects and get prepared for the next bull run. Also currently there are number of projects that are doing great; so with some proper research you can still make money in this bear market.
If you are mining at loss or if you feel crypto mining is not that interesting then research some new coins or an algorithm. If you are looking for a new coin with a new algorithm then you can try mining Suqa which uses X22i hashing algorithm. It seems profitable for both NVIDIA and AMD miners. Now here is another project with a unique hash function called X18. X18 is a new algorithm in crypto space and is introduced by a brand new coin called Minato.
Minato – MNT – X18 Algorithm
This is not something that we recommend but if you'd like to mine a new algorithm then you can check out this coin. The website is still in development and there is not much information available on the announcement page. X18 algorithm is the only interesting feature that we were able to find. Apart from that it just looks like another PoW cryptocurrency so DYOR before mining this.
You might have mined X17 algorithm which is a combination of 17 different algorithms. Similarly X18 is comprised of 18 different algorithms and the algos that make up X18 are:
Blake, BMW, Groestl, Skein, JK, Keccak, Luffa, Cubehash, Shavite, Simd, Echo, Hamsi, Fugue, Shabal, Whirlpool, Sha2, Haval & Gost
Looks like X18 can be mined using both CPU and GPUs. Miners for CPU and NVIDIA can be found on the announcement page. Now even there is a AMD miner available for X18.
WildRig Multi 0.13.0 – Support for X18
A week ago we brought WildRig Multi miner to your attention. This is the only AMD miner that has got support for multiple mining algorithms and it performs better than the other alternatives. Now this miner has come up with a new version; WildRig Multi 0.13.0.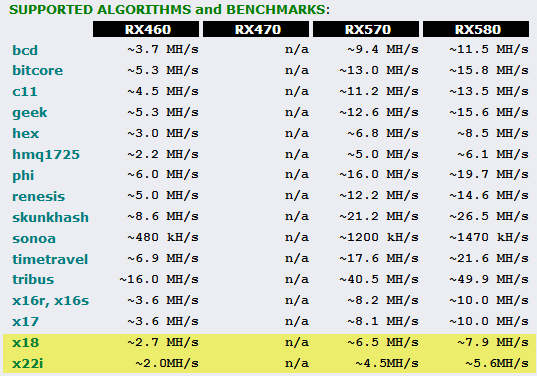 This new release has not only got support for X18 algorithm but it also improved speeds on X16r/s, X17, Hex (XDNA Mining) and few other algorithms. Also currently this is the fastest AMD miner for X22i algorithm. So if you are mining SUQA, or if you'd like to mine X18 using your AMD GPUs then you can use WildRig Multi 0.13.0 miner.
---
Update:
WildRig Multi 0.13.1
Here is another update WildRig Multi 0.13.1 which includes a new algorithm called Aergo (Aeriumx) and additionaly fixed stability of hashrate.
WildRig Multi AMD miner is available for Windows, EthOS, HiveOS and Linux. But do note that this miner is a closed source software which includes 2% dev fee. Use it at your own risk.
Usage instructions and release notes: https://bitcointalk.org/index.php?topic=5023676.0
Download WildRig Multi 0.13.0 & 0.13.1: https://github.com/andru-kun/wildrig-multi/releases