Crypto Mining
How to mine unmineable coins? – Mining non-mineable altcoins & tokens
Got a high end gaming PC that you'd like to use for mining cryptocurrencies? Using your latest gen GPU you can mine Ethereum, mine Ravencoin, mine FLUX, Ergo and there are many other PoW coins.
GPUs are more efficient and will mine much faster than CPUs. Anyways if you got a high-end workstation with a great CPU like AMD Threadripper, AMD Ryzen or Intel Core i9 then you might as well make use of it! There are many coins that only allow for CPU mining. One popular example is Monero (RandomX). Check out this list of CPU mineable coins.
Alright! But how about coins like Binance coin (BNB), Solana (SOL), Cardano (ADA), DOT, SHIB, Polygon (MATIC) etc.? Can I mine these non mineable coins?
We often get questions like Can I mine Bitcoin using my computer? How to mine Nano? How to mine Cardano, BNB, XRP? and Can I mine Dogecoin (DOGE) using CPU or GPU? etc.
Here in this guide lets see how to mine coins that are unmineable on your regular PC and how to mine tokens that are not mineable at all.
Non-Mineable Coins & Tokens
First of all you need to understand that each Proof of Work coins uses different hashing algorithms. Some are ASIC resistant that are only GPU mineable and some on the other hand are only ASIC mineable for example Bitcoin and Doge.
Bitcoin uses SHA256 and so so you need SHA256 ASIC to mine BTC. And coins like Doge and LTC uses Scrypt algo and so to mine them you need Scrypt ASIC. Both are two different mining hardware's.
Check our the list of PoW mineable coins with algorithm to find out which ones are GPU mineable and which ones are ASIC mineable.
Now other than mineable coins there are also non mineable ones that uses different consensus like Proof of Stake for example. Majority of the top 100 coins are basically non mineable. Some examples are Binance Coin (BNB), Solana (SOL), Cardano (ADA), XRP, Polkadot etc. Understand what mineable and non-mineable coins are.
Other than coins there are also tokens like ERC20 and BEP20 that basically resides on another blockchain like Ethereum or Binance Smart Chain. For example SHIB, MATIC, ALGO, FTM, CAKE, SafeMoon, 1inch, AAVE, BAT, ATOM, BTT, WINk and Sushi are all tokens. Know the difference between coins and tokens.
Basically you can't mine tokens and you can't mine coins that uses a different consensus other than Proof of Work. So how to acquire such coins without having to buy them?
Convert mined coins to non-mineable coins
Using your GPU or CPU you can mine ETH or Monero or whatever currency you want to mine. You can then send your mined profits directly to your exchange address and convert your mined coins to your favorite non mineable coins.
Basically you can mine ETH, RVN, FLUX, XMR and convert it to whatever coin or token you want. For example you can use your ETH mining rewards to buy SHIB which is an ERC20 token. Or you could mine ETH and exchange it for Nano or Doge.
But the problem is fees. 1. Exchange conversion fees and 2. Network transfer fees. Especially if you are mining eth and transferring over the Ethereum main chain then you'll end up paying higher transaction fees.
To avoid paying higher fees you can use alternate chains like Matic. Learn how to receive ETH mining payouts on Matic chain.
Anyways manually converting those mined coins to non mineable coins is going to be a tiresome process. To automate this process there are certain services like Unmineable and Pro-hashing which you can use to mine your favorite non-mineable crypto coins.
Note: This is not something we are promoting. We recently came across this service and thought it would be useful for miners who are looking to mine unmineable coins.
unMineable
unMineable is a mining pool / mining service similar to NiceHash. With NiceHash you'll be mining Ethereum or whatever is profitable at the moment and you get paid in BTC. Similarly with unMineable are mining using your CPU or GPU in exchange for various crypto assets.
You are not actually mining the non mineable coins. With unMineable you are basically mining the mineable coins like ETH, XMR or RVN. What this service does is it will automatically swap your mined rewards to a preferred non mineable coin.
For example you can mine Ethereum and choose to get paid in MATIC, NANO, DOGE, SHIB. Or you can mine Monero using your CPU and get paid in your favorite ERC20 token.
So just like mining any other PoW coin, you are mining your favorite non-mineable coin or token.
Let's see how it works.
How unMineable works?
With unmineable you are basically mining coins you never could. You can use this site to mine coins that are not mineable at all and mine coins that are normally unmineable with CPUs and GPUs. Do use this service only for coins that are not mineable. If you are looking to mine ETH, RVN or any other mineable coins then you should mine them directly.
unMineable supports a large number of coins and tokens to get payout in. You can almost mine any popular un-mineable coin and token using your CPU or GPU.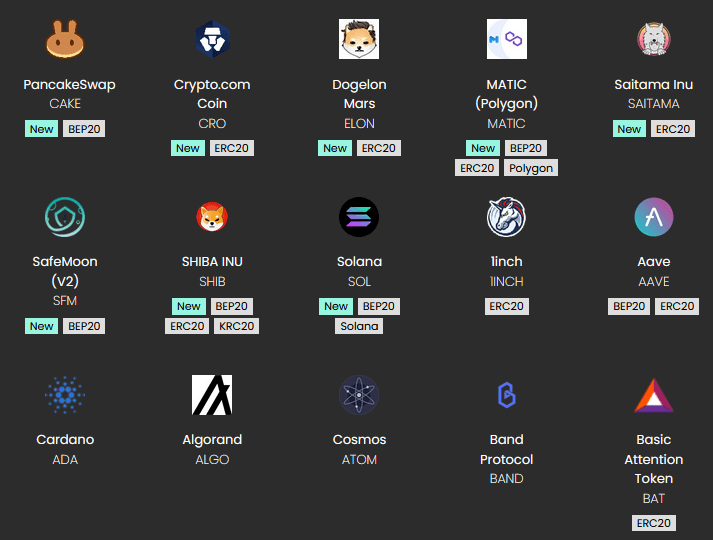 To get started just select the algorithm, configure your CPU or GPU mining rigs and point them to the unmineable pool. There is no sign up required (you just have to use your address).
Depending on your mining hardware (Graphic Card / CPU) you can use any compatible mining software to mine the algorithms they support.
Supported algorithms:
Ethash (Ethereum – GPU) – Requires minimum of 6GB VRAM
Etchash (Ethereum Classic – GPU) – Recommended for GPUs less than 4GB of VRAM
Kawpow (Ravencoin – GPU) – VRAM requirement 3 GB and
RandomX (Monero – CPU) – Available for mining via CPU.
3 GB is the minimum requirement for GPU and to mine algo like ETH you need a GPU with minimum 6 GB of VRAM.
For example using T-Rex miner you can mine Ethereum (Ethash) and get paid in SHIB. Or you can get paid out in Cardano (ADA) which is a non mineable coin.
Not only that but they also support the following payout networks: ETH (ERC20), BSC (BEP20) and KCC (KRC20).
Since Ethereum network is costly and always highly congested you can use BSC for payouts.
unMineable service is completely automated and their system takes care of all the exchange and transferring. Once you are done with the setup and start mining you'll start receiving rewards in the asset of your choice.
With this service you don't have to buy the coins from exchange, or spend money on expensive high-end GPUs or ASIC miners to mine them.
Alright! Lets now see how to setup and start mining with unmineable
How to mine crypto using unmineable?
First go to https://unmineable.com/ and decide on the coin that you'd like to paid out in. For this guide we'll be choosing SHIB as an example.
Other than SHIB there are many other non mineable coins that you can choose from. Choose your favorite non-mineable coin and the next step is to find the wallet address for the particular coin or a token.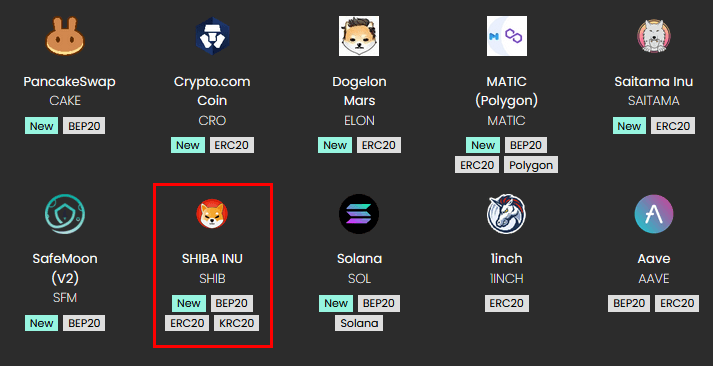 As you can see SHIB is a token that is supported through BSC chain, ETH chain and Kucoin chain. You can easily figure out whether the particular crypto asset is a coin or a token and what kind of token is it. unMineable displays it right below the asset name.
To get an address for mining you can use your Binance deposit address or your Metamask wallet. US customers can use Binance.us.
Go to Binance wallet >> Fiat and Spot, pick the coin you are mining, click on deposit and copy the address. On Binance your deposit address is same for both erc20 and BSC network.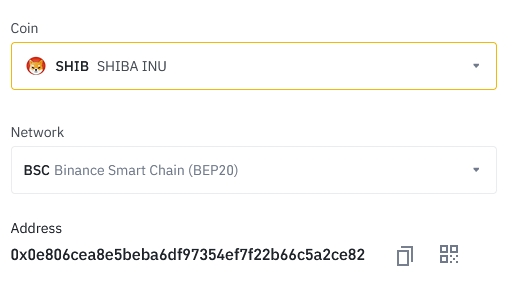 Note: If you are mining to an exchange deposit address make sure the exchange supports deposit of that particular asset. For ERC20 and BEP20 tokens we recommend Metamask. Learn how to connect Metamask to Binance Smart Chain. Other than metamask you can also use wallets like Exodus, TrustWallet or Coinbase wallet which supports a large number of coins and tokens.
Once you have the address ready you need to setup the miner.
Unmineable Miner
After you pick your coin to mine you'll be shown the settings to configure. All you have to do is download the miner and run the miner pointing it to the unmineable server.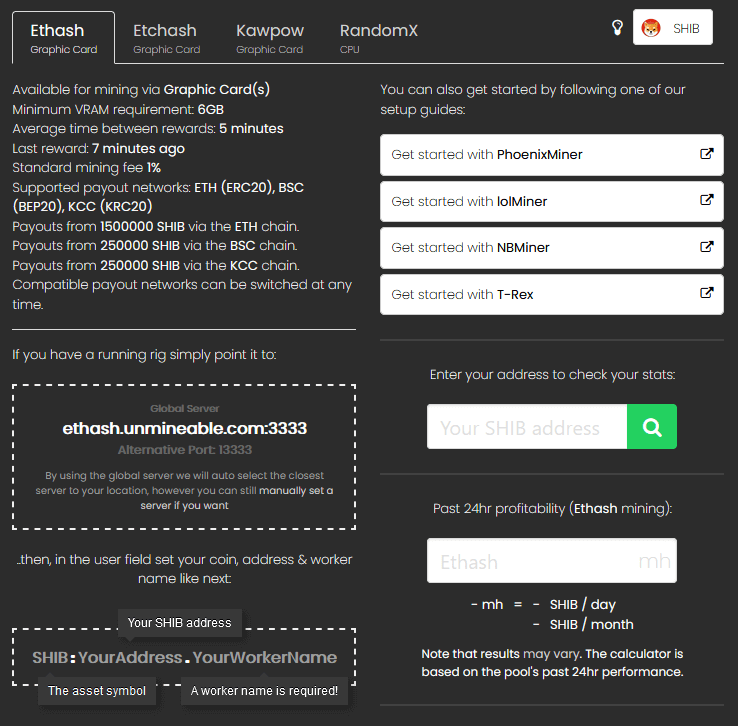 As you can see you can mine any of the 4 algorithms. For GPU algorithms like Ethash, Etchash and KawPoW we recommend T-Rex miner. For RandomX CPU miner we recommend XMRig.
Note: Unmineable also has their own mining software on their website with support for CPU and GPU. It uses Phoenix Miner for GPU and XMRig for CPU mining. You need to install the software and go through some additional steps. For this reason we suggest you to use the well known mining software directly. That is T-Rex for GPU (Etchash, Ethash & KawPoW) and XMRig for CPU (RandomX).
Download T-Rex Miner – https://trex-miner.com/
Note: Your browser may block the download. Also your windows defender and Antivirus may flag the miner as virus. Its false positive so just add exception and proceed with the download. Also beware of closed source miners. Do not download it on your PC where you have wallets installed. If PC is the only option then use mobile wallet and PC for mining.
Alright! Once you have the miner downloaded you need to configure it.
Mining unmineable coins
Unzip the miner file and open the folder. You'll find several .bat configuration files. You can create a new batch file or edit any of the existing ones.
Here is how to setup:
Server address: ethash.unmineable.com:3333
Address and worker details: SHIB:YourAddress.YourWorkerName
Optional referral code: SHIB:Address.Worker-name#referral-code
Create .bat file or edit the existing one and replace with the following code.
t-rex.exe -a ethash -o ethash.unmineable.com:3333 -u COIN:YOURADDRESS.WORKER_NAME#referral-code -p x
pause
Since we are mining SHIB we've replaced COIN with SHIB. YOURADDRESS is where your address should go. Use your exchange deposit address or your metamask address. Worker name is just any name you want to give it to your miner to identify it. Next to worker name you can use our referral code.
Note: By default the pool does charge a 1% fee. By using our referral code you can lower the mining fee to 0.75%.
Referral code: 85pv-hcvj
So here is how the final setup should look like. Make sure to use your address.
t-rex.exe -a ethash -o ethash.unmineable.com:3333 -u SHIB:0xe10Cb0016efFb168408DEb32Bf6Fe03C3EA9f09E.GPU1#85pv-hcvj -p x
pause
That's it! Now save the file as unmineable.bat and run the miner to start mining your favorite non mineable coin.
Mining Payout
Once you start mining copy your address and paste it in the unmineable search field. You should be able to monitor your mining stats on the website. It'll display your hashrate, your worker information, and the coins you have mined so far. It'll usually take some time to display your mining stats and to load up the calculated hashrate.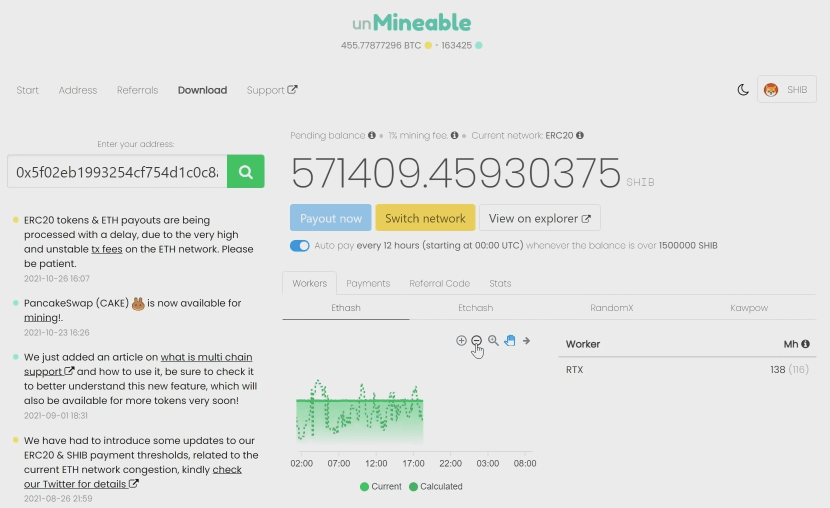 Now you can choose to auto pay when the mined coin reaches the threshold limit or you can click payout now and the coins will be deposited to your wallet / exchange address immediately after network confirmation. By default unmineable uses ERC20 for token transfers. Click on switch network and select BSC. On BSC chain both the fees and payout threshold is low.
That's it! You are now using unMineable to mine your favorite non mineable coins using your CPU or GPU.
You are not actually mining SHIB. What you are doing is you are mining ETH on unmineable pool and the pool gets paid in ETH. The pool then automatically converts ETH to SHIB and pays you in SHIB (your preferred reward coin). For automating this process they charge a small fee just like any other mining pools.
Note: Some of the users who were using this service have reported that its better to mine the coins directly and convert it yourself. Also some reported that they are substantially making more than mining Ethereum directly. And some say it gives a gives a lot less coins for your hashes and is not as profitable as mining ETH directly.
We suggest you to do your research on this. Also check out the mining calculators to figure out how much you'll be earning for your hashrate.
Alright! So which is the most profitable coin to mine?
Profitable non mineable coin
You can mine whatever is available on the unmineable list. The profitability for all coins are more or less the same. Basically you are spec mining. Meaning that you are mining an alt coin assuming that it would gain more value in the future. So choosing a coin solely depends on which ones you believe have a future.
You can mine BNB, DOGE, SHIB, MOON, TRON, BTT, 1Inch, or whatever you like.
Unmineable is only good for beginners who can make use of their old PC or laptop to make a profit. If you own a GPU mining farm then better stick to direct ETH mining. You can send your payouts to exchange via L2 and convert to whatever tokens you want manually.
Also if you are using unmineable then check out https://unmineablesbest.com/ – A tool that calculates the best coin to mine based on your hashrate, algorithm and current market prices. With this calculator you should be able to figure out which one is best and which coin is profitable of all the unmineable coins.
Prohashing – Multi coin payout
Prohashing is another mining pool service that you need to check out. This is similar to unmineable where you can get paid out in a great number of cryptocurrencies. Basically you can mine cryptocurrencies that are traditionally unmineable. Also what's unique about Prohashing is that they allow you to mine more than one coin at a time.
You can set Payout Proportions. For example you can add two or more payout options like Bitcoin, LTC, DOGE and set desired proposition of mined coins that should be converted to your payout coin.
Also they support a large number of unmineable altcoins and tokens such as: 0x, 1inch, Aave, Algorand, Avalanche, Axie Infinity, Compound, Cosmos, Curve DAO, Ethereum Name Service, Filecoin, Kusama, DOT, Polygon, Solana, SUSHI, Synthetix, Tezos, YFI etc.
Other than direct payout to your wallet address they also support direct coinbase payouts with no payout threshold and zero fees. All you have to do is connect your coinbase wallet and you'll be paid out automatically in whatever coin you've chosen in your payout settings. It is very well suited for the at home miner.
If you want to mine more than one coin at a time then try Prohashing. Do let us know if you need a guide on Prohashing pool.
Both of these service are good where you can receive daily payouts in 100s of non-mineable coins and even tokens such as ERC20, BEP 20, etc. But anyways before you try them out you should do your own research. First try with your CPU or single GPU to find out if it is actually profitable before you point all of your mining rigs.