Coin Lists
Wild Keccak PoW Algorithm – List of coins and miners for Wild Keccak
Along with mining guides we are also covering Proof of Work algorithms specifically to help users comprehend an algorithm and to pick the best mining software's and coins. Previously we explained about Keccak algorithm and its coins. Now we'll be covering a PoW hash that is based on Keccak called Wild Keccak. So first of all why there are different implementation of Proof of Work algorithms?
Proof-of-Work system
Proof of Work (PoW) is as scheme that requires computational power and it is the original consensus algorithm used in blockchain network. Currently there are 1000s of cryptocurrencies based on PoW consensus with each using a different hashing function. All these coins requires participants to use their computational power in order to secure and confirm transactions on the network. Miners compete against each other to solve the hash function and whoever solves it first will produce a new block and get rewarded.
Since more number of miners across the world dedicate their resource (hashing power) the network of these coins are usually more secure and decentralized. However the problem with most PoW cryptocurrencies is that not everybody can take part in such mining operation. There are specialized chips being manufactured which solves PoW hashing algorithm faster and more efficiently than CPUs and GPUs. This not only has put a stop to users with standard mining equipment but it also caused centralization of network hashrate and unequal distribution of coins.
To defend against ASIC and to keep real miners in the game most coin developers used a PoW algorithm that is ASIC resistant. However as more and more coins started to adopt a specific algorithm ASIC implementation become profitable. Currently most PoW algorithms whose main purpose is to resist ASICs has got ASIC production. Due to such ASIC machines and centralization threats some developers started to implement less known algorithms that are not affected by ASICs. Whereas some kept changing their PoW algorithm whenever an ASIC becomes evident (ex: Monero – CryptoNight). Some on the other hand created a special hash function for their coin.
Boolberry is one of the few projects focused on egalitarian mining and created its own Proof of Work algorithm called Wild Keccak. It is one of the long-existing and a fairly unknown algorithm that is designed to combat powerful mining equipment's.
Wild Keccak Algorithm
In order to make Boolberry; a truly ASIC resistant coin and to remain egalitarian the developers of this coin created and used Wild Keccak hashing algorithm. This is not a variation of CryptoNight but instead a Keccak hybrid and is a memory-hard hashing algorithm. Unlike other randomly changing or chained hash algorithms; Wild Keccak uses external scratchpad. This hash function is fast and is cryptographically strong. Also since it is scratchpad memory-intensive it is highly ASIC resistant. It doesn't mean ASIC is not possible for Wild Keccak but it is hard to develop one and at the moment there are no such machines available.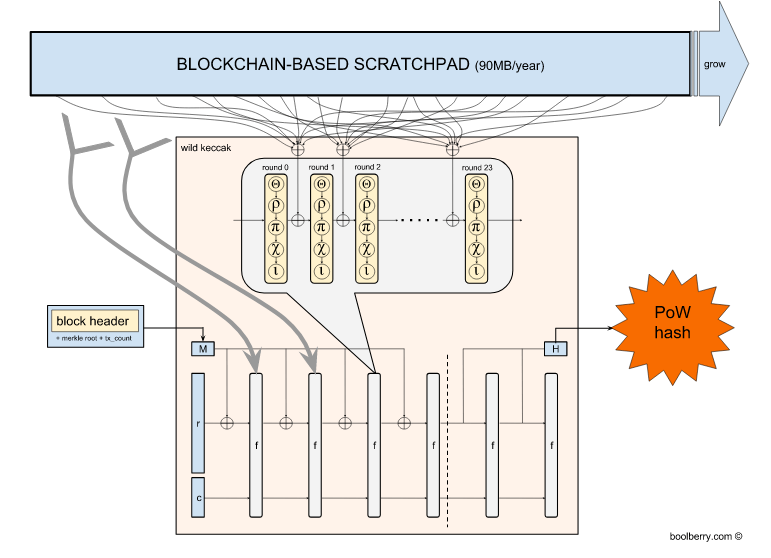 For more detailed explanation on Wild Keccak hashing algorithm we suggest you read the white paper. The document explains the ideas and implementation of Wild Keccak – A Blockchain based Proof of Work hash function.
Now as you are aware that Wild Keccak provides fair and equal mining opportunity lets pick a miner and a coin to mine.
Wild Keccak miner
Before picking a miner you must also note that Wild Keccak algorithm is designed not only to resist ASICs but also GPUs to some extent. This algorithm balances CPU and GPU mining speeds and although it favors CPU miners the GPU rewards are higher.
There are many optimized miners available for both CUDA and Open CL but we suggest you to use WildRig – A universal miner for Wild Keccak algorithm that runs stable, faster and more advantageous over other alternative miners. WildRig miner supports both NVIDIA, AMD graphic cards and is available for Windows, Linux as well as Hive OS. But do note that this software is presented as a closed source code and it currently contains a dev-fee of 2%.
The miner is available on official thread of Bitcoin Talk: https://bitcointalk.org/index.php?topic=4589691.0
For CPU mining you can use any one of the following miners:
purkproject/cpuminer-multi-opencl: https://github.com/purkproject/cpuminer-multi-opencl
mbkuperman/cpuminer-multi-opencl: https://github.com/mbkuperman/cpuminer-multi-opencl 
Now before you mine here are few things to note.
Wild Keccak is more demanding that CryptoNight or other algorithms that are limited by memory bandwidth. It is quite aggressive to memory and it also likes higher core clocks. So both memory and core clock should get you better results but be careful on memory OC. It is always better to start from stock settings and if your miner experiences instability then lower your settings. On this algorithm AMD performs better than NVIDIA and if you got 1080 TI (gddr5x cards) you can use Ethlargement Pill which should give you increased hashrates. One last thing to note is that while mining this algorithm you may experience slight hashrate drops which is very common.
List of Wild-Keccak coins
As we said Wild Keccak is one of the rare algorithms and currently there are only 2 projects using this algorithm.
Boolberry (BBR)
Purk Cryptocurrency (PURK)
Boolberry – BBR

Boolberry is an open-source, decentralized cryptocurrency launched in 2014. It is based on CryptoNote technology which provides increased privacy and anonymity. Boolberry features Ring signatures, ASIC resistant hashing algorithm and additionally improves the ordinary CryptoNote technology in several ways.
Bitcoin Talk: https://bitcointalk.org/index.php?topic=577267.0
Boolberry Specifications
Money Supply: ~18,450,000
Block Time: 2 Minutes
Coin Type: PoW
PoW algorithm: Wild Keccak
Premine: 0%
Developer bounty: Up to 1%
---
Purk coin – PURK

Purk is a cryptocurrency based on Boolberry and CryptoNote technology. In order to provide fair mining opportunity to everyone and to maintain fast block verification times Purk implemented Wild Keccak. This coin is designed specifically for donations, tips and private payments.
Announcement: https://bitcointalk.org/index.php?topic=3213127.0
Purk Specifications
Total supply: 179,424,673 PURK
Difficulty Retarget: Every block
PoW algorithm: Wild Keccak
Difficulty Retarget: Every block
Emission Curve: 21
Premine: 0%
---
Apart from the one mentioned in this article if you know any other coins or miners for Wild Keccak then please leave it in the comments below.