News
The Ethlargement Pill – Ethereum Hashrate Hardener (GTX 1080TI @ 50 Mh/s) – Is it legit?
OhGodAnETHlargementPill is a tool that is said to increase GTX 1080, GTX 1080 TI and Titan XP hashrate on Ethereum mining. This tool was released a week ago on Bitcoin Talk and we know this is too late to be posted now. Initially when we came through this tool we thought it's a joke or may be a scam and we never bothered to share it here. That's mainly because it is advertised in such a way that it is funny and confusing at the same time.
ETHLargement – The Hashrate Hardener. ED (Ethereum Dysfunction) affects 1 in 10 NVIDIA GPUs in North America. But don't worry – OhGodACompany is here to help.
Order your EthLargement prescription today: Linux: 100mg and Windows: 50mg
OhGodACompany / OhGodAnETHlargementPill
Recently among the Ethereum community that is everywhere from YouTube to Bitcoin Talk to Reddit and Discord it's all about the Ethlargement Pill. What is it? EthlargementPill is a tool from OhGodACompany that boost Ethereum mining performance on top end NVIDIA based GPUs that has GDDR5X memory. It improves hashrate not only on Ethereum but on all Ethash based coins and this tool only works currently with GTX 1080, GTX 1080TI and Nvidia TitanXP (GDDR5X memory). Also it is compatible with both Windows as well as Linux and you can find the release on GitHub.

Is this tool safe?
We really can't say that. Even though it is released on GitHub the software is closed source. This is one main reason why we don't recommend it. Just like any other mining software this one too was flagged as virus by Windows defender and Anti Virus. Anyhow we did scanned this tool on virus total and the results are 2 engines detected as Trojan.

Also there are users claiming the tool to be suspicious so be cautious before using this. Always remember to only try it on mining rigs (At your own risk) and never use closed source miner and tools on computer where you have wallets.

So does Ethlargement Pill really work?
Across the web 50% of the community says it noticeably increases hashrate on both miner as well as on pool results. Users reported that they are getting 50 to 55 Mh/s on GTX 1080TIs and 40 Mh/s on GTX 1080s. Also there were users stating that this tool improves 20% to 25% hashrate increase on CryptoNight algorithm and some 2% increase on Equihash coins.

Whereas the other half says this tool doesn't work and is scam. Well we haven't tested this tool personally because we don't have GTX 1080 nor NVIDIA Titan XP.  We have 1080TIs but that's all put together with a mix of other GPUs so its inconvenient to do a proper test. However there are several YouTubers who have done a fair test with and without Ethlargement Tool and shared their results and opinions. We put all those video's below so do check them before you try it.
Issues and Instructions on how to use Ethlargement Pill
First of all this is not a miner, but a tool that runs in the background along with your miner.  Also note that this only works with NVIDIA GPUs that has GDDR5X memory (GTX 1080, GTX 1080TI and TITAN XP)
Why only GDDR5X cards?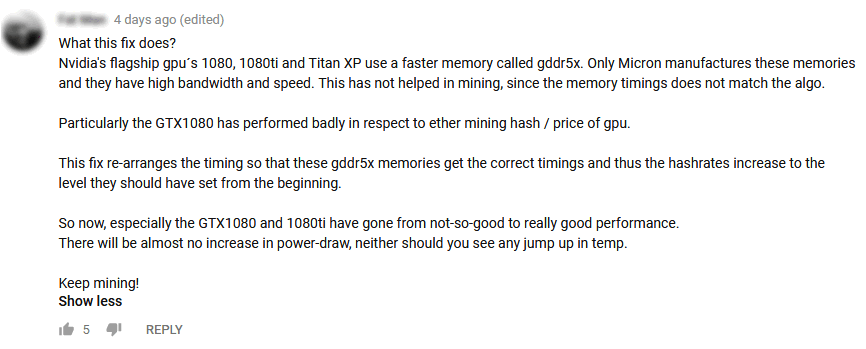 Using Ethlargement tool is very simple. Download the software, unzip it, start the pill and then start the Ethereum miner.
Direct download OhGodAnETHlargementPill for Windows:
https://github.com/OhGodACompany/OhGodAnETHlargementPill/raw/master/OhGodAnETHlargementPill-r2.exe
Direct download OhGodAnETHlargementPill for Linux:
https://github.com/OhGodACompany/OhGodAnETHlargementPill/raw/master/OhGodAnETHlargementPill-r2
Usage:
1: Download the release and unpack the software
2: Now close all your mining process and start the OhGodAnETHlargementPill-r2.exe

3: Next start the Claymore miner and watch the hashrate boost.
Note: There is no specific driver version needed for this Pill to work. Just make sure you have the latest driver version installed. Also due to compatibility issues with Claymore 11.7 it is advised that you run Claymore 11.6 which you can download from here.
YouTube test videos and opinions on EthLargementPill
Following are some of the videos which you may find useful if you are interested in trying this EthLargement Ethereum Pill.
Additionally here is another video in which the user interviewed OhGodACompany, ETHlargementPill developer. They claim that there is no fee built in and anyone can reverse engineer this tool easily. Looks like apart from ETHlargementPill they are also planning to release Oh God a Miner and a similar pill for Equihash algorithm soon.
Conclusion
Some miners say that this pill seems faster but earns less compared to what is shown on What to Mine. Also it submits more rejected / stale shares on the pool side. On the other hand some users report that this works and submits more shares.
Whatever, even at 50 Mh/s per 1080TIs it don't make sense to use this tool as there are many other crypto currencies currently that are much profitable than Ethereum.
Anyhow if you are looking to mine Ethereum or Ethash coins with 1080 TI, 1080 or Titan XP then you can give this pill a try (only at your own risk) which may earn you more Ethereum.
Since we haven't tested this we can't confirm or comment anything about this ETH largement Tool. This is a closed source program so be cautious as it could potentially cause damage to your hardware. Furthermore the point of this post is to put up all the source that we found online on ETHLargementTool. We believe that this information help new users to analyze the software before they try their hands on. We do not recommend using this tool at all and remember that any risk you taking is up to you.