Guides
How to safely update your Trezor wallet – Trezor firmware upgrade guide
When did you last use your Trezor device or when did you last update your firmware?
Trezor is one of the most secure cryptocurrency hardware wallet that you can use for safely storing your Bitcoins and altcoins. Most use this hardware wallet as a long term secure storage solution. They simple setup the device, backup seed word, transfer coins to their device and then forget.
Even though if you are using it for HODL purpose you must use the device from time to time. Connect your device and ensure if everything is working properly. Check if you got the backup right and make sure your Trezor firmware is up to date.
If you haven't used your device for a long time then most probably your device firmware could be outdated. Here in this tutorial we will help you to safely update your Trezor wallet. That is we'll show you how to upgrade your Trezor from old firmware version to the latest release and we'll explain how all of this works.
Why update Trezor wallet firmware?
It is extremely important that you keep your cryptocurrency wallets up to date. Not just hardware wallets but also software wallets. We've already explained why and previously we've covered how to update Bitcoin core wallet. And here is a guide to safely update electrum wallet.
Now before we see how to upgrade Trezor firmware to the latest version here are few reasons explaining why you should keep your Trezor wallet up to date.
From time to time Trezor development team releases new firmware for your Trezor device.
Each new firmware version contains various imprisonments, bug fixes and security updates.
Updating your wallets firmware will apply new security measures and it will increase your overall device's security. It can protect your device from exploits and hacks. Additionally it expands the functionality of your device and enables newly developed features.
Moreover the newly updated firmware version can improve the user experience of your device and it can bring support for new coins & tokens.
Mainly to keep your device secure you need to bring in some security improvement and that can be only done through updating the device firmware.
Firmware releases are separate for both Trezor Model One and Model T. You can find the find the complete firmware release history and changelog here.
Updating your device is not mandatory. You can use the device without upgrading. It works perfectly fine. But to keep your device secure and to unlock new features / functionalities you need to keep your devices firmware up to date.
Things to note before upgrading
What if I don't update my Trezor device?
As we said nothing will happen. It's not mandatory to update Trezor model one or Trezor model T. However to bring in new features to your device and to enhance the security you need to update your device to the latest firmware.
After updating the device do I need to enter the recovery seed again?
No, updating your device firmware will not wipe off your recover seed from the device. Also upgrading will not affect your cryptocurrencies in anyway. Once the device is updated you can enter the PIN and access your wallet as usual.
All your private keys will remain absolutely safe after the upgrade. But as a safety precaution you need to keep your 12, 18 or 24 word recovery seed handy.
It is very risky to update your device without having your recovery seed in place. We highly suggest you to refrain from updating the device if you do not have the recovery seed.
In that case send your coins to your exchange account, then perform an update. Then setup a new wallet, make sure to backup the newly generated seed word and then send coins back to your Trezor wallet.
If you have the recovery seed but not sure if it is the right one then perform a stimulated recovery to check your backup.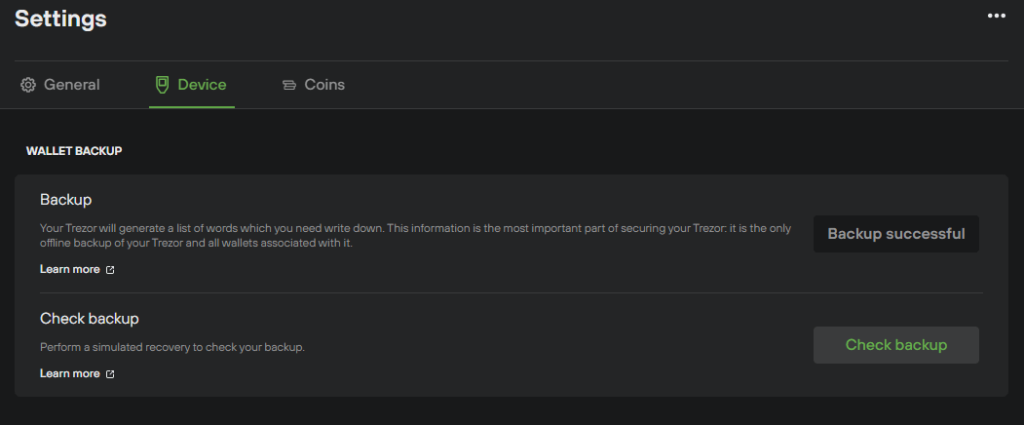 Here is a guide to test your backup: https://blog.trezor.io/test-your-seed-backup-dry-run-recovery-df9f2e9889
The worst case scenario when upgrading your Trezor is that your device might glitch and reset completely. Do not worry. If you have the recovery phrase written down and stored in a safe place then you are not going to lose any of your crypto. You can completely restore your wallet after the upgrade.
Alright! Now that you have your backup in place lets start updating the device.
How to update Trezor wallet – Trezor firmware upgrade
Warning: Do not update if you do not have your recovery seed handy. After upgrade if something went wrong You'll need the recovery phrase to regain access to your coins. Without the recovery keys you'll end up losing all of your coins. Also if you've set passphrase additionally then make sure you remember that as well.
Optional: If you have a backup hardware device then import your mnemonic seed on your backup device while your Trezor upgrades.
Things you'll need:
Trezor device
Trezor suite –https://suite.trezor.io. Here is how to verify Trezor suite binaries.
Updating Trezor firmware should only take less than 10 minutes to complete.
Check firmware version
First check your devices current firmware version. Here is how to check.
Connect your Trezor device to your computer.
Next open Trezor suite and unlock your device by entering the PIN.
Once the device is unlocked; on Trezor suite click the gear icon at the top right corner. This will open settings. Under settings navigate to device tab. Now under security you'll find your devices current firmware version.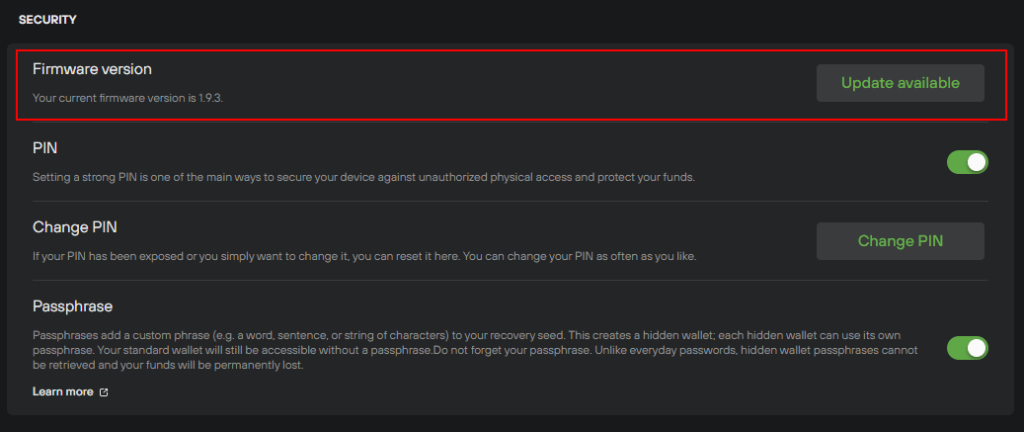 If it is old then you'll find update available button. If your device has the latest version installed then it should say up to date.

Additionally when a new firmware version is released Trezor suite will display a notice bar at the top. Click update now and follow the instructions below.
Updating Trezor firmware
1. Click update now button on Trezor suite. You'll get a pop up window stating update available. Click continue.
2. On the next screen agree to the security checkpoint. Only click yes and only proceed with the update if you have your recovery seed back up.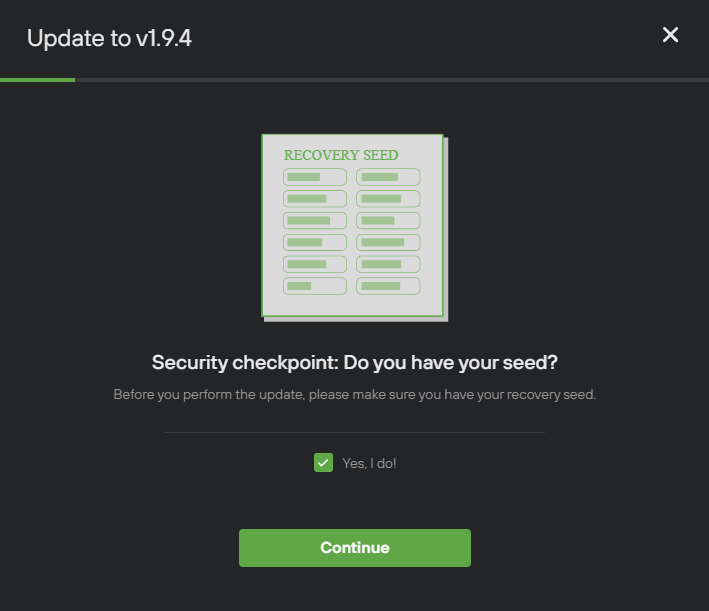 3. Click continue and on the next screen you'll be asked to disconnect your Trezor device.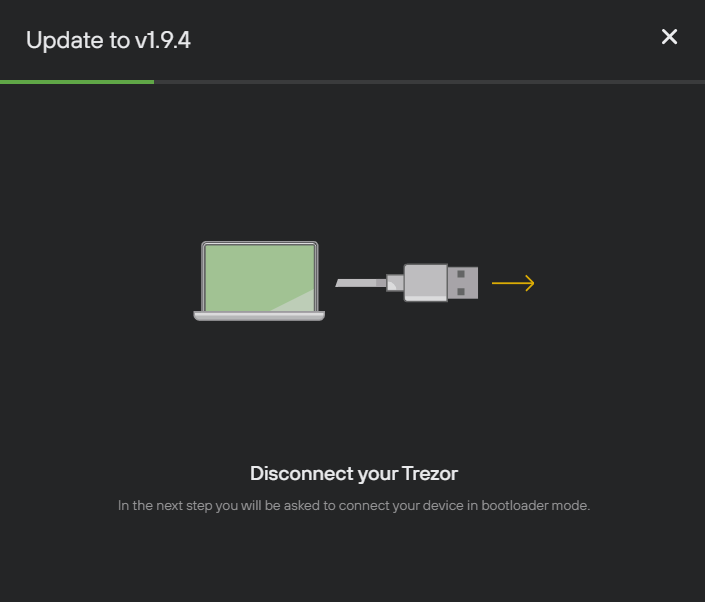 4. Disconnect the device and reconnect Trezor in bootloader mode.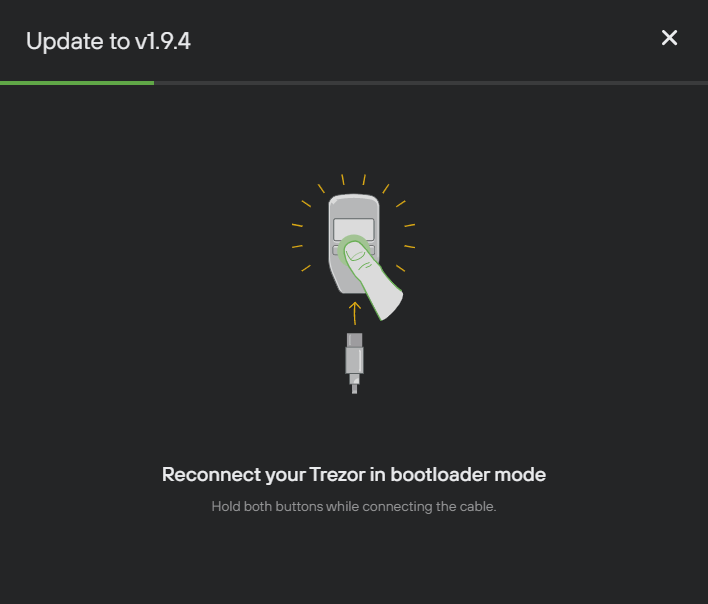 Entering bootloader mode – Trezor one
To enter bootloader mode on Trezor one hold both the buttons while connecting the cable to your computer.
Note: Devices with firmware 1.8.0 and newer can connect to the bootloader mode with just the left button held pressed. You don't need to hold both buttons.
Entering bootloader mode – Trezor T
To enter bootloader mode on Trezor T the touchscreen has to register the touch while booting the device. So start swiping your finger across the touchscreen while you plug in the USB cable. You should continuously touch the screen and move your fingers back and fourth while plugging in the USB cable.
Next confirm the connection by tapping the green check mark.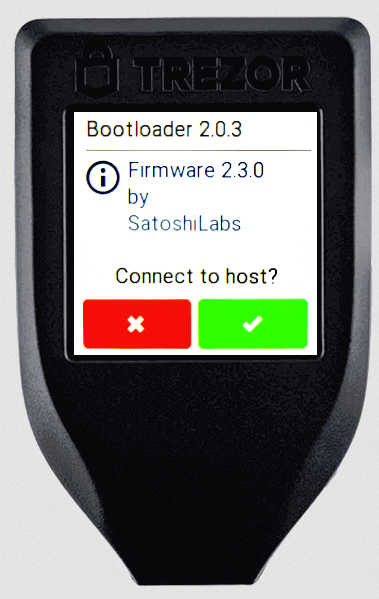 Once your Trezor device is connected in bootloader mode follow the on screen instructions to update Trezor.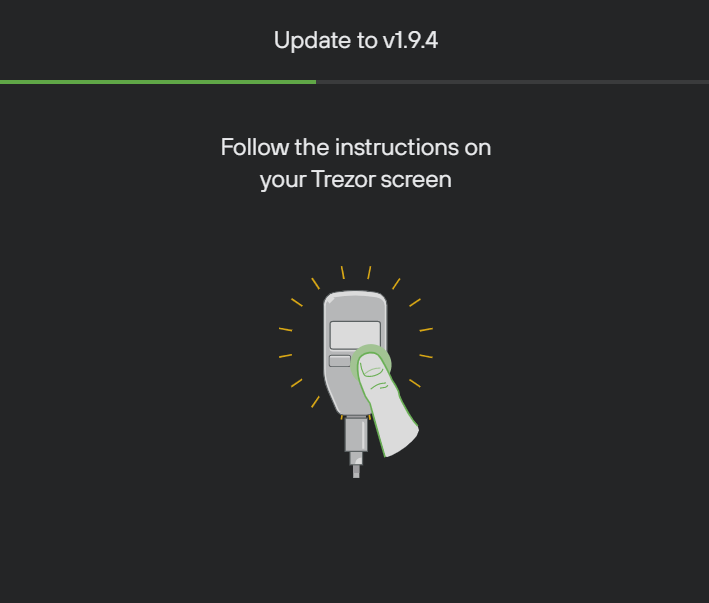 Updating to latest firmware
On both Trezor T and Trezor one read the warning and follow instructions to update the firmware
On Trezor one tap continue to install new firmware and on Trezor T tap the green checkmark to update to latest firmware version.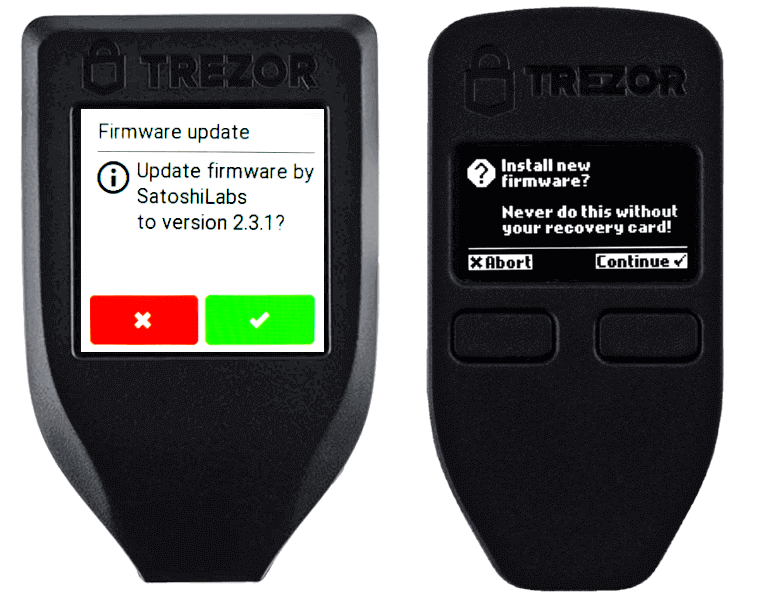 Once you confirm the update the device will start updating to the latest firmware.
Please be patient while your device is installing the firmware.
You'll get the following message:
"Preparing and then Installing – Please wait while it upgrades"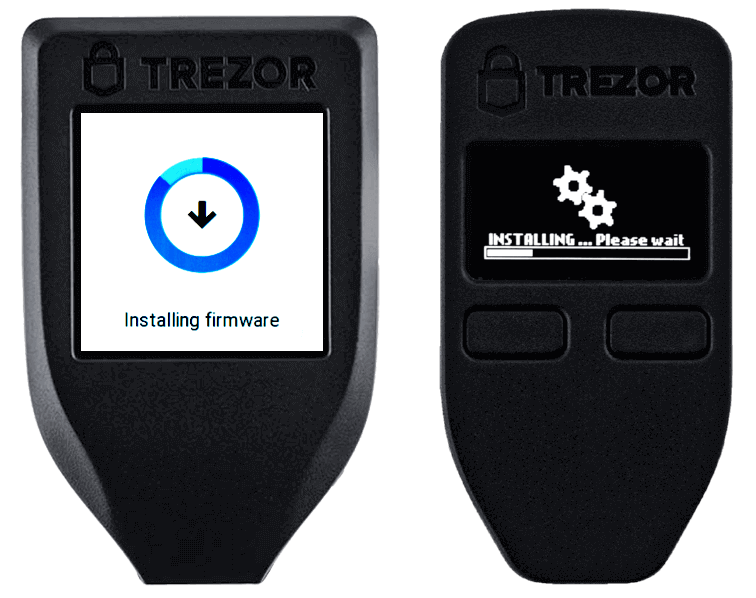 Do not disconnect while it is installing. Sometimes when updating the device may lose connection. This could happen due to disconnected or faulty cable. In that case reconnect the device in bootloader mode again and install the firmware.
This will wipe your device. But do not worry. You can recover your accounts using your recovery phrase once the firmware is updated.
Once the new firmware is loaded you can start using the device as normal.
Once the update is over you'll get this following message.
"New firmware successfully installed. You may now unplug your TREZOR."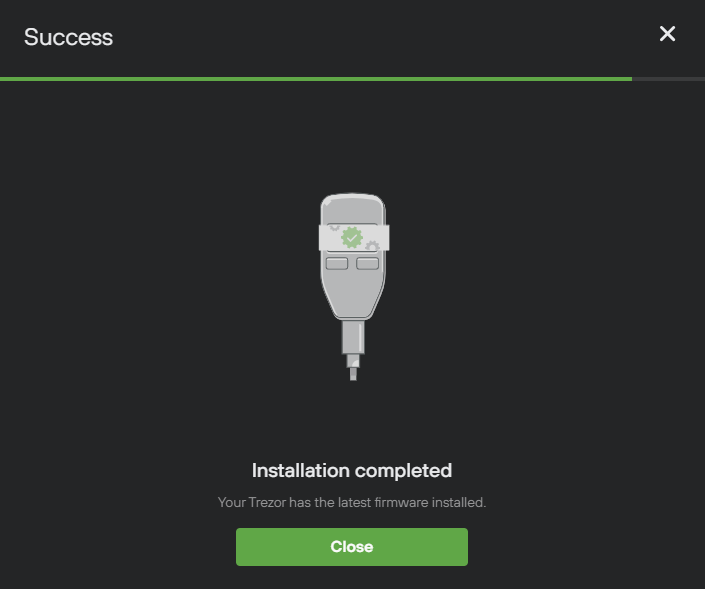 That's it! Now disconnect your Trezor and reconnect it in normal mode.
Congratulations! You've successfully updated your Trezor wallet. You have new firmware installed on your device and you should now be able to access your wallet normally by entering your PIN.
In case if the device memory is wiped out during the upgrade then import your recovery seed.
If you were using Bitcoin only firmware on your Trezor then follow this guide here. Also to check what the latest firmware version is visit this page here: https://wiki.trezor.io/Firmware_changelog
We hope this guide helped you to update your Trezor wallet firmware. Whenever you find a new firmware release be sure to update it to keep your device secure.
Related: Guide to update Monero wallet (XMR)