Software
T-Rex 0.7.1, 0.7.2 NVIDIA miner – SHA256T, TimeTravel & x22i algorithms
In the recent times Ravencoin has gained a lots of attention in the cryptocurrency space. With increase in price the network hashrate has also raised immensely. The difficulty is too high but still Raven remains the most profitable coin to mine at the moment. If you are looking to get started then check this Ravencoin mining guide.
There are number of miners available for X16R but the majority of miners are seem to be using Enemy and T-Rex miner. Once enemy miner use to be the fastest X16R miner but with recent release many have switched to T-Rex. Some reported that T-Rex performance is similar to enemy but actually with proper fine-tuning T-Rex 0.7.0 outperforms the latest enemy miner. Not only on X16R but on numerous other algorithms and you can find the list of all supported algorithms here.
There is a new update T-Rex 0.7.1 which just got released and it includes two new algorithms namely Sha-256t & Timetravel. If you are mining Timetravel coins or SHA256T algorithm (SHA256 Triple coins: Onecoin, OC Protocol) try this latest version 0.7.1 T-Rex miner .
T-Rex 0.7.1
T-Rex is a closed source NVIDIA GPU miner which has support for CUDA 9.1, CUDA 9.2 and CUDA 10.0. The binaries are available for both Windows, Linux and it comes with a build in fee of 1% to further support the software development.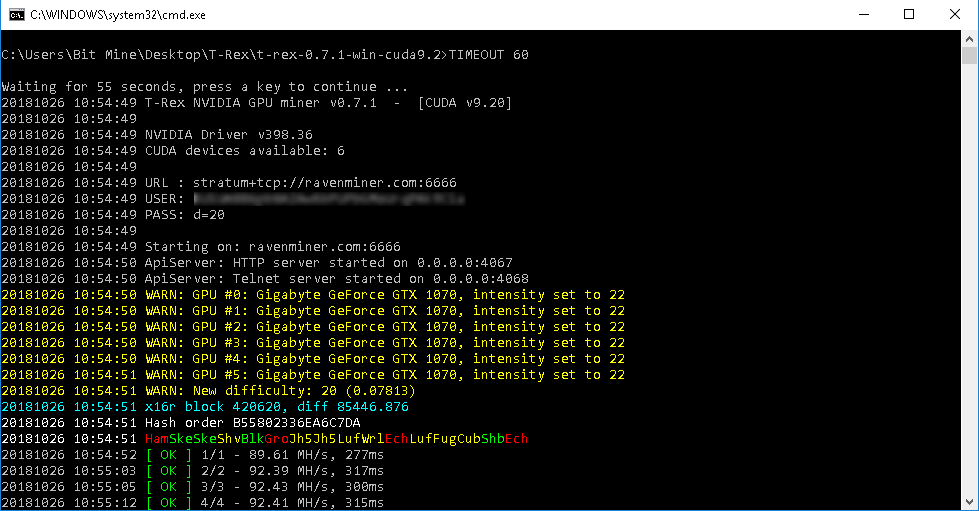 In addition to 2 new algorithms (Sha256t & Timetravel) the latest version T-Rex miner v 0.7.1 has bug fixes and includes some new arguments. Also the API handler which got introduced in the previous release has been improved greatly. You can now control miner using your web browser and It displays all information that you see in the console such as hashrate, power consumption etc. There is no note on speed improvements but the developer mentioned that compared to previous release there is slight performance improvements in 0.7.1. You can expect up to 0.7% increase on some configurations.
Download T-Rex 0.7.1
As usual before you download we' d like to remind you that this miner is closed source and it includes 1% dev fee. To get optimal mining performance ensure you have the latest display driver installed. Driver version 399+ is recommended and to run CUDA 10 version you need 411+ drivers.
---
Windows (x64):
---
Linux:
---
Update:
T-Rex 0.7.2
There is another update: T-Rex 0.7.2 which adds one more new algorithm to the list called x22i (SUQA). The developer reported that this algorithm is quite unstable and in case if your miner crashes then decrease your overclock settings. Apart from new algorithm there are no other changes in this version.
Download T-Rex 0.7.2
---
Windows (x64)
---
Linux
---
For release notes and additional information visit T-Rex miner official page: https://bitcointalk.org/index.php?topic=4432704.0
---