Crypto Mining
Infinex (IFX), InfiniDEX: PoW (Lyra2z) / Masternode – Infinex mining guide
Lately we've been covering a lot of Masternode coins. All these projects either have a working product or they are working on something new. Infinex is one such low cap masternode coin which is working on creating a decentralized network to run applications. There are some notable decentralized projects which they are planning to introduce in near future. Not all of them are in development currently however the one that they are going to launch soon is InfiniDEX which is a decentralized exchange. Here we'll see what is Infinex (IFX), the coin features and its specifications. Along with that we'll see a little about InfiniDEX and other decentralized applications which they are planning to develop. Once we cover that we'll see how to setup Infinex wallet and get started with mining Infinex coin.
Infinex (IFX)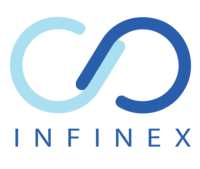 Infinex (IFX) is a decentralized digital cryptocurrency based on Dash. Since it is a fork of Dash it has two-tiered system to secure the network. Proof of Work which is powered by Lyra2z algorithm and then Masternodes. Miners take care of creating blocks and verifying transactions on the network. Whereas Masternodes provides additional features like governance system, speedy (InstantSend) and private (PrivateSend) transactions.
Infinex have designed a proper reward distribution system which incentives miners, masternodes as well as founders. in addition to founders reward there is a premine of 40,000 coins which is said to cover only bounties, promotions and further development of the project. Infinex block time is 90 seconds and the maximum coin supply is hard capped to 26,280,000 over the period of 10 years.
Now as we've covered the core aspects of the coin let's see its features and the differentiating factor of Infinex compared to other masternode coins.
Infinex Features
The main goal of Infinex coin is to run applications on a distributed and decentralized network that do not need any central body control. Their vision and some of the application which they are planning to run in a decentralized environment are as follows:
InfiniDEX – A decentralized exchange
InfiniLIFE – Social networking
InfiniLIVE – A live streaming platform
InfiniFUN – A classic multiplayer gaming network and
InfiniAppMarket – Application Store for decentralized apps
Out of all InfiniDEX decentralized exchange is in final alpha test stage and the beta release is expected by end of this month. Let's see what's so special about this decentralized exchange.
InfiniDEX – Infinex Decentralized Exchange
The core of many crypto project out there is to stay decentralized and distributed. By having no central authority the entire system will be safe, secure and there won't be any single point of network failure. Sounds good, right? So using this technology why not have a decentralized exchange where anyone can trust and trade directly between other users. The huge benefit of decentralized exchange is trust-less nature and privacy. You don't have to go through KYC procedures to create an account and your identity is not revealed. Also you don't have to worry about safety and security as you have full control of your funds. This is what InfiniDEX is all about.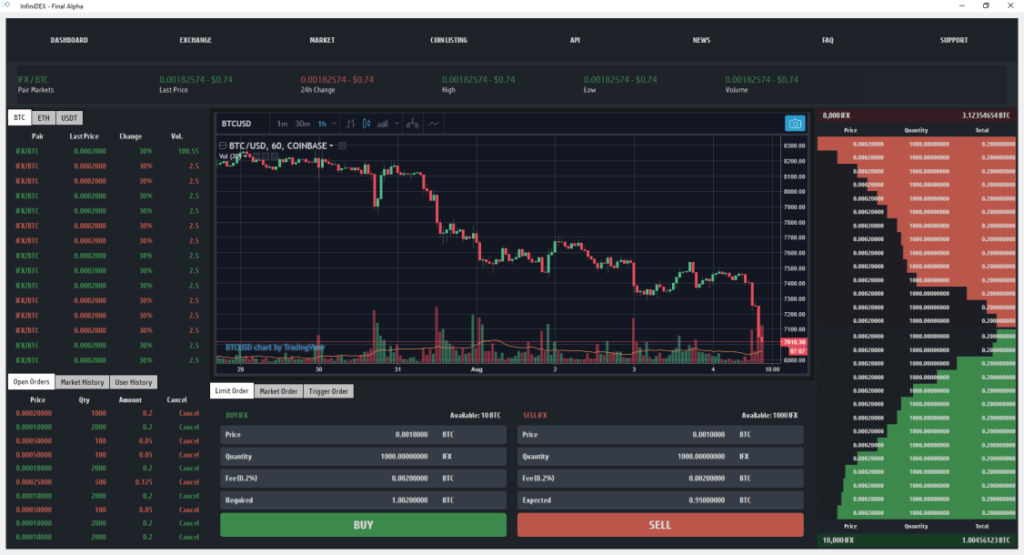 There is BitShares, BarterDEX, CryptoBridge and many other decentralized exchanges. Most of them are either a fork of BitShares (BTS) or it will be build on top of BitShares blockchain. But Infinex team is creating this InfiniDEX over Infinex blockchain and is been build from the scratch. Also just like how BTS is used for BitShares decentralized Exchange, Infinex coin (IFX) will be used as a trading fees for InfiniDEX. Moreover this decentralized exchange runs on Masternodes network. Not just InfiniDEX, but all other decentralized applications which they are planning to develop in future is said to make use of masternodes.
InfiniDEX is almost ready and is expected to be launched soon. The initial Beta test will have IFX / BTC trading pairs and then they gradually start adding new Altcoins to their exchange. Also the listing fees of Altcoins during this Beta test period is free – says the developer. Once this decentralized exchange is complete the team will then start working on other ideas mentioned in the Roadmap such as: decentralized social networking, live streaming and gaming servers.
Infinex coin technical specifications
Coin Name: Infinex
Ticker: IFX
Coin Type: Proof of Work & Masternodes
PoW Algorithm: Lyra2z
Maximum coin supply: 26,280,000 IFX (over 10 years)
Block Time: 90 Seconds
Block Reward distribution: Refer to image below
Difficulty readjustment: Every block using InfiniLoop
Chain Protection: InfiniGuard (Customized Infinex "TextSpork" Technology)
Masternode Collateral: 1000 IFX
Premine: 40,000 IFX coins (0.1522% of total supply)
Bitcoin Talk Announcement: https://bitcointalk.org/index.php?topic=2914468.0
Website: https://www.infinex.info
Block Explorer: http://explorer.infinex.info/
Learn more about block explorer.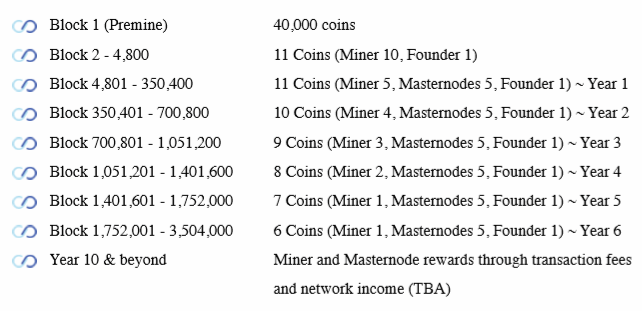 Now as we covered most of the features and technical specifications of Infinex coin let's see how to setup wallet and get started with mining.
Infinex Coin wallet
If you are interested in this project then you can either mine the coin or buy them directly from exchanges. Infinex is listed on Crypto Bridge and Coin Exchange currently. Also it is listed on Tier 1 of GINcoin Masternode platform. Now whether you are interested in buying coins or mining IFX you need a wallet address first.
Infinex is an open source project and the source code is available on GitHub. In future they have a plan of developing mobile wallet for Android and IOS. But as of now you can download and use the QT wallet which is available for Windows, Mac as well as Ubuntu (no GUI).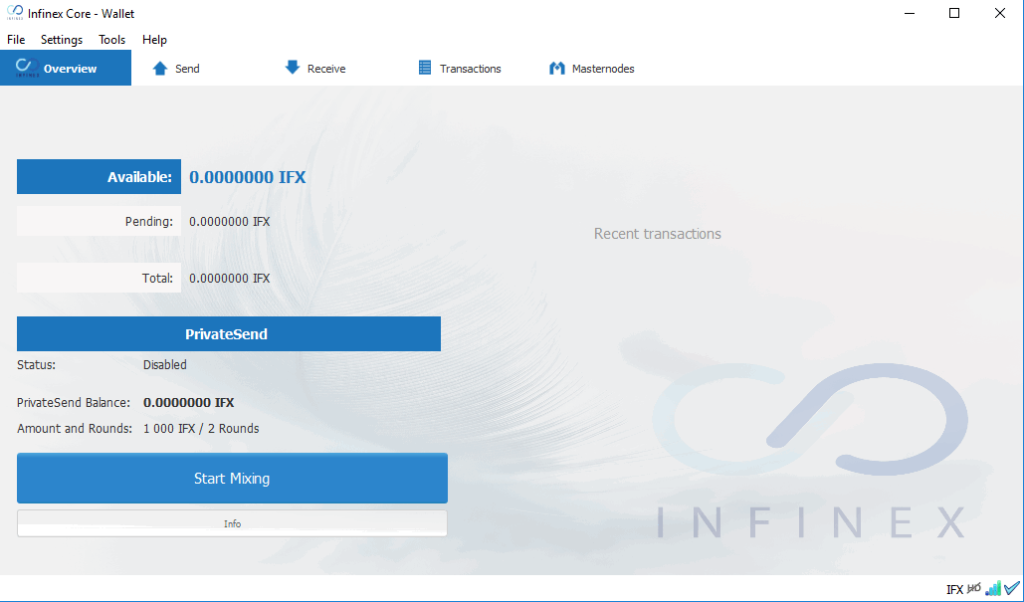 Head to GitHub release page, download the appropriate wallet and complete the setup. Once the setup is over, wait for the wallet to synchronize and once it is done go to File >> receiving address and generate a new IFX address for you.
Now as you have your wallet address lets see how to mine Infinex coins.
How to mine Infinex (IFX)? Lyra2z (CPU and GPU mineable)
Before we dive deep into mining here are few things you must note first. Infinex uses Lyra2z algorithm which is highly energy efficient and ASIC resistant. This algorithm is mineable using CPU as well as NVIDIA and AMD GPUs. We've already shared enough information about Lyra2z algorithm, coins and hashrate which you can go through if you like. The same algorithm is also used by GINcoin so mining Infinex is similar to mining GINcoin. First we need to download the miner, choose a mining pool, configure the miner and start mining Infinex coins.
CPU: For CPU we recommend you to download this JayDDee / cpuminer: https://github.com/JayDDee/cpuminer-opt/releases
NVIDIA:  For NVIDIA GPUs you can either use https://github.com/tpruvot/ccminer/releases/ or zFastminer which you can find in this link: https://bitcointalk.org/index.php?topic=3259259.0
AMD: For AMD GPUs you can use https://github.com/nicehash/sgminer/releases
Download the latest miner and unzip the file. Upon unzipping your miner might get blocked by antivirus software which is a false positive. Just add exclusions and proceed further.
Infinex Mining pools
Due to high network difficulty solo mining Infinex is not possible. Anyways if you are looking for a guide then go through this solo mining guide. Note: If you do not have much hashpower then it is highly recommended that you join a mining pool. You can join any mining pool from the following list. However to show you how its done we'll be using BSOD.pw pool.
http://bsod.pw/
https://fairmine.pro/
https://pool.ionik.fr/
http://onminer.net/
https://www.unimining.net/
http://zergpool.com/
https://zpool.ca/
In most of these pools you'll find the connection details on the homepage which is what we'll need to configure the miner. For beginners we recommend you to read this ccminer guide which explains everything from how to setup, configure and connect to a mining pool. Instead of explaining all of that again we've just shared the sample configuration below.
Mining Infinex – CPU / NVIDIA / AMD
CPU:
cpuminer-avx2 -a lyra2z -o stratum+tcp://eu.bsod.pw:2142 -O iFV6ZxupEQ1yKN1Fz1UCM7gZbf3A9dePq2 -p c=IFX
NVIDIA:
ccminer.exe -a lyra2z -o stratum+tcp://eu.bsod.pw:2142 -u iFV6ZxupEQ1yKN1Fz1UCM7gZbf3A9dePq2 -p c=IFX
AMD:
sgminer -k lyra2z -o stratum+tcp://eu.bsod.pw:2142 -u iFV6ZxupEQ1yKN1Fz1UCM7gZbf3A9dePq2 -p c=IFX
From the above sample configuration all you need to do is change the wallet address. Once done, save it as .bat file and run the miner. That's it! You are now mining Infinex. Now head to the mining pool, type in your wallet address to track your mining progress. Also to know how much Infinex you'll mine in a day you can use mining calculators which you can find online.
Hope it explains everything about mining. Let's now wrap it up!
Conclusion:
We know you are aware that the entire crypto market is bad right now. Due to this crypto mining is not so profitable and especially support for majority of Altcoins are getting weaker. Even coins with active development and strong community support are getting worse. But this will not be the case for a long period. The market will recover soon and once it does; solid projects and coins with proper use case will gain exposure.
Infinex coin is new and the idea that it carries seems promising. They are about to launch their decentralized exchange. In addition to this there are other decentralized platforms mentioned in their roadmap. The whitepaper doesn't explain much about the implementation of these applications. So we can't really assure when or if all these features will be really implemented. But if they accomplish it then this project will be huge.
Now before you go ahead and mine or invest do your research. Know the developers and get involved with the community to know what they are up to. Then proceed further only if you strongly believe the project will be successful.
If you like this post then please do share it. If you'd like to get more such crypto guides then do follow us on Twitter and subscribe to our blog feed.