Crypto Mining
How to mine Aion (Equihash 210,9) – Mining AION with NVIDIA & AMD GPUs
If you want to mine a coin based on its current day profitability; mine Ethereum, Flux or Ravencoin. Before mining check WhatToMine and pick the one that is most profitable for your hardware.
On the other hand if you want to spec mine; that is mining a low difficulty altcoin which not many are aware of but you believe that its value will increase in the future then there are other coins that you can try.
Aion is one such coin that falls under spec mining category. The coin is more than three years old. Its down -98% from its all time highs. However recently this coin seem to be performing better than some other older cryptocurrencies.
It has got a very high volume of trading. Around $30 million trading volume in the past 24 hours which is high considering its market cap. Moreover Aion is available on Binance which makes it easy for you trade or exchange your mined Aion for BTC, ETH or USD. So what are you waiting for? Let's mine Aion.
Here in this quick guide let's see how to mine Aion. As we said its not the most profitable coin you are mining. Not nearly as profitable as Ethereum or Flux but its fun and mining it Today may yield good profit in the future. Also the difficulty of AION is not too high that you can even try to solo mine blocks.
Aion coin overview
AION is a three year old coin. Initially the Ethereum blockchain hosted AION as an ERC20 token. Later AION moved on to Kilimanjaro mainnet.
The Aion's blockchain (Kilimanjaro) is a genesis implementation of interoperability blockchain. Basically it allows for interoperability across blockchains (facilitating inter-blockchain transactions). Since it is focused on connecting different blockchains it also has greater scalability.
Aion offers unique solution to blockchain networks. The platform allows for blockchain interoperability, the network is fast, secure, reliable and decentralized.
It is a fairly distributed, open source project that is currently managed by the community. Being a multi-tier blockchain network architecture it has the following features:
Virtual Machine – FastVM with Ethereum Virtual Machine (EVM) Source Compatibility.
Aion Core – Multi-chain Framework, Wire Protocol (P2P), Tx Pool and Event Manager.
APIs – Web3 API Compatibility and Java API.
Inter-chain – Token Bridge and Inter-chain Communication.
The token bridge is well developed that acts as a network bridge allowing blockchains to communicate. You can send any data or value between any EVM or AION compliant blockchain. The bridge uses BFT mining algorithm to come to a consensus which is fast as well as secure. Using the Aion bridge users can effectively and flawlessly transfer tokens on the Ethereum blockchain and across all chains.
In comparison here are few other competitors with similar solution: Wanchain, Ark Ecosystem, Komodo, Cosmos and Polkadot.
The coin AION is just a utility coin that is used to help facilitate transactions on its network and to pay for interchain transactions. AION is a mineable coin. It uses the Proof of Work consensus mechanism and the Equihash mining algorithm.
Algorithm: Equihash (210,9)
Block Time: 10.00 s
Block Reward: 4.50
AION mining guide
You can mine this coin with CPU as well as GPU. But here we'll not be focusing on CPU mining as it is not as profitable compared to GPU mining.
First of all you need a wallet address. To store, send and receive AION coins you can use wallets such as Trust wallet, Coinomi or Makkii web wallet. Also you can mine directly to your exchange deposit address. Aion is available on Binance and Kucoin. Grab the wallet address or the exchange deposit address which we'll be using to send the mining payouts.
Mining pool
Aion allows for both solo mining and pool mining. Since the difficulty is quite low you can try solo mining. Here is a guide to solo mine altcoins. You can also pools like woolypooly.com which supports solo mining. However for most beginners we do not recommend solo mining as this process requires heavy computational power. The more computational power you have, the better chances of solving a block.
If you are a small or medium sized miner then it is recommended to join a mining pool. There are several mining pools that you can join.
You have:
aionpool.tech
aionmine.org and
woolypooly.com
All these pools uses PPLNS payment system.
For full list of pools check out: https://miningpoolstats.stream/aion
Here in this tutorial we'll be using aionpool.tech.
Equihash (210,9) miners
Aion uses Equihash (210,9) algorithm which is currently supported by three miners namely:
Download the miner and follow the instructions below
How to mine Aion?
Now before you start mining Aion make sure all of your GPU drivers are up to date. If you are mining from Windows then ensure that it is the latest version. In addition your antivirus may flag your mining software, also your browser may block miner downloads. Its a false positive so just add exception and proceed with the download.
After downloading the miner, unzip it and you'll find sample batch files. Edit the existing ones or create a new batch file and enter the following commands accordingly.
GMiner – NVIDIA
Windows:
miner --algo 210_9 --pers AION0PoW --server cluster.aionpool.tech --port 3333 --user Your-Wallet-Address.workerName --pass mp=10
Linux:
./miner --algo 210_9 --pers AION0PoW --server cluster.aionpool.tech --port 3333 --user Your-Wallet-Address.workerName --pass mp=10
miniZ Miner – NVIDIA
Windows:
miniZ --url Your-Wallet-Address.workerName@cluster.aionpool.tech:3333 --par 210,9 --pers AION0PoW --pass mp=10 --extra
Linux:
./miniZ --url Your-Wallet-Address.workerName@cluster.aionpool.tech:3333 --par 210,9 --pers AION0PoW --pass mp=10 --extra
lolMiner – NVIDIA and AMD
Windows:
lolMiner.exe --coin AION --pool cluster.aionpool.tech:3333 --user Your-Wallet-Address.workerName --pass mp=10
Linux:
./lolMiner --coin AION --pool cluster.aionpool.tech:3333 --user Your-Wallet-Address.workerName --pass mp=10
From the above configuration just replace your-wallet-address with your Aion address. Other than this configuration you should also additionally check pools configuration page for more connection information.
Once you are ready with the .bat file, save the file and double click the batch file to run the miner. You should now see something like this.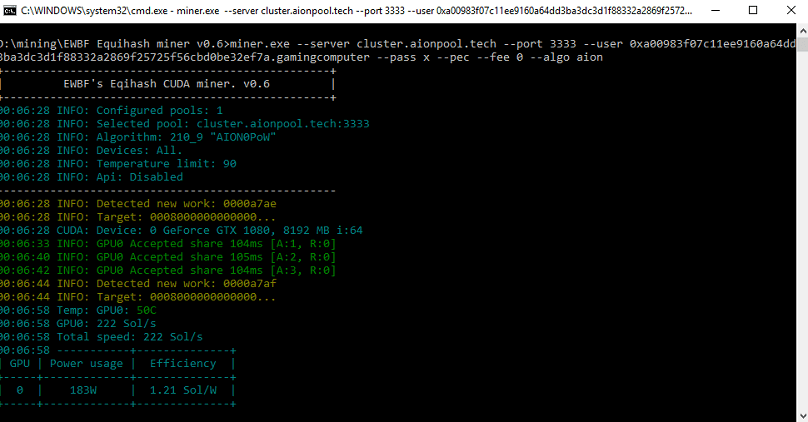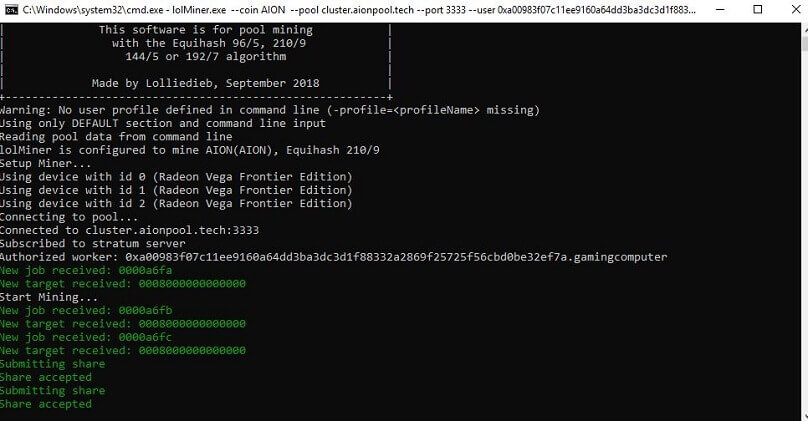 That's it! You are now mining AION. Enter your wallet address into the mining pool's dashboard to keep track of your mining statistics. The pool fee is 2% and this particular pool allows you to configure your own payout limit.
Once you know your hardware hashrate you can use the following mining calculators to estimate how much Aion you'll mine in a day / week / month and how profitable it is to mine Aion.
https://whattomine.com/coins/272-aion-equihash-210-9
https://minerstat.com/coin/AION
As we said profit in mining this coin is not higher than ETH or other altcoins as we write this. You are basically spec mining thinking that its value will raise in the future. Do your own research and be very cautious when mining such low cap coins. Its highly risky to hold such altcoins for a long time.
Hope this quick guide helped you to mine AION!