Crypto Mining
How to mine Conflux (CFX) with NVIDIA GPUs? Windows & Linux (Hive OS)
Wondering what to mine after ETH goes PoS? We've already discussed this. Check out the list of GPU mineable coins. We've mining guides for all those coins except for Conflux (CFX). Conflux is another PoW coin that you can mine with your GPU. So how do you mine Conflux coin?
Mining Conflux is same as mining any other coin. All you need is a wallet address and a miner. Here we'll cover mining software for Octopus algorithm, mining pools, wallets and exchange options.
Conflux is a low cap altcoin and mining CFX is more profitable that ETH currently at least for certain NVIDIA GPUs. For majority of GPUs ETH is still a better choice. However, Ether will "soon" switch over to PoS and after that, CFX might get interesting. Anyways at the moment CFX mining profitability outperforms ETH especially on NVIDIA GeForce RTX 20xx and 30xx series cards.
Here in this beginners guide we'll only show you how to setup Conflux mining on NVIDIA GPUs. AMD cards are not that efficient. Also there are not many miner implementation of Octopus algorithm available for AMD cards. So here we'll only cover how to mine Conflux with NVIDIA GPU on Windows and Linux (Hive OS).
Generally we're not a fan of such low cap altcoins. We don't advise holding such coins and this guide is not in anyway a financial advice. We're making this guide just because Conflux mining seems to be more profitable at the moment on RTX 20 and 30 series cards. You can mine and sell them right away for profits or you can keep it to earn staking rewards. There are big rewards but remember when it comes to low cap coins there are also always bigger risks. So better mine and sell / trade out to stable coins like USDT, USDC etc.
Now before we see how to mine Conflux here's a little intro to the coin.
What's Conflux?
Conflux is designed to create an internet of value for all. It is an open network built to drive the global commerce by unlocking the decentralized applications (DApps) & digital assets of tomorrow. It enables secure and interoperable flow of data and assets across protocols.
Conflux is a high-performance decentralized and permissionless blockchain powering a highly scalable cryptocurrency (CFX) and a smart contract ecosystem. It uses a unique Tree-Graph consensus mechanism that provides significant performance improvements. Its a high-throughput blockchain that adopts a unique Proof-of-Work (PoW) consensus mechanism. The special DAG structure called Tree Graph allows miners to process blocks and transactions in a parallel way.
This makes Conflux highly scalable and gives greater speed compared to networks that process blocks one by one. With Proof of Work integrated into a Tree Graph architecture; the Conflux network delivers solidity compatibility with zero congestion and low transaction fees.
Similar to Ethereum Conflux network also operates on account based model. It supports a modified version of Solidity and also EVM (Ethereum Virtual Machine) for smart contracts. So basically protocols and smart contracts on Ethereum can be easily migrated to Conflux.
Conflux is one of the only Proof-of-Work (mineable) blockchains besides ETH that has EVM compatibility. Meaning Conflux supports Web3.js, Solidity, Truffle etc. Can also use Metamask and other tools that are originally designed for the Ethereum blockchain. Not only that but DApps that are build on Ethereum, Polygon, Fantom and other EVM chains can be forked and easily be deployed on Conflux network. You can interact with Conflux Network through all the familiar browser-based wallet and SDKs in Java-script.
Key Features:
Conflux is highly scalable, versatile and secure. Decentralized applications on Conflux can leverage a high throughput rate of 3000–6000 TPS (transaction per second) at low fees. Also the unique and highly tested PoW consensus mechanism offers increased security and attack protection at the protocol level.
It's an open network where developers can build new financial applications, business applications, digital assets and data economies. They can build applications on EVM-compatible environment with Conflux Truffle and Solidity smart contracts.
Conflux also features Shuttle Flow bridge – A cross chain asset protocol that enables seamless transfer of asset across multiple protocols.
Ever heard about Flux?
Flux is another coin that is built on the Conflux Network. It fully utilizes the network's characteristics such as smart contract interactions, high-speed transactions and low-transaction fees!
Initially Conflux started as an ERC20 token on Ethereum network. Later it became its own blockchain. Now you can swap and trade major cryptos such as BTC ETH, DAI etc. to the Conflux version using the Moonswap platform namely cBTC, cETH, cDai etc..
Visit Conflux official website to know more about the project. https://confluxnetwork.org/
Also check out the Conflux ecosystem to explore various tools, Defi protocols, wallets and exchanges: https://confluxnetwork.org/ecosystem#All
Technical Specifications:
Coin Name: Conflux
Ticker: CFX
Explorer: https://www.confluxscan.io/
Consensus: Tree-Graph
Mining Algorithm: Octopus
Total Supply: 5.2 Billion
Block Time: 0.5 Seconds
Block Reward: 2 CFX
Alright! Now that we know enough about Conflux let's see how to mine this coin. We'll cover how to setup Conflux wallet, configure miner for Octopus algorithm and start mining CFX.
Hardware you need to mine Conflux
First things first, Conflux uses an unique hashing algorithm known as Octopus. This algorithm is ASIC resistant and memory intensive. It is only suitable for GPU miners but then not all GPUs are efficient at mining Octopus. You'll need a capable graphics card such as NVIDIA's RTX 20 series or 30 series such as RTX 2070 Ti, RTX 2080 Ti, RTX 3060 Ti, 3070 or 3080 and higher.
You need a GPU with atleast 8GB of memory and AMD cards are not efficient. So if you don't already have a high end NVIDIA GPUs then Conflux mining is not for you. Don't think of buying one for the purpose of mining. At current trend its hard to break even.
FYI Octopus algorithm for mining CFX is also available through the NiceHash marketplace. Its up to whether you wish to buy hash or mine directly.
How to mine Conflux (CFX)?
Conflux mining is fairly easy. There are a large number of miners supporting Octopus hashing algorithm. Here in this beginners guide we'll only be using the famous NVIDIA miners T-Rex Miner and NBMiner. We'll show you how to mine Conflux on Windows and Hive OS.
Things you'll need: A Windows 10 or Linux OS with NVIDIA GPUs greater than 8GB of video RAM.
To start mining Conflux you first need to create a wallet address to mine to.
Conflux CFX wallet:
There are various wallet options available for Conflux. You have full node wallet to web and browser wallets. Check out their site for a complete list of wallets and exchanges. You can choose any but our recommendation is the official web browser extension called Fluent wallet or you can also use the Cobo wallet. Previously there use to be Conflux portal which is no longer available. Use Fluent instead.
Other than this you also have various exchange wallet options available such as: Binance, Okex, HotBit, Gate.io, Citex, MoonDEX or MXC etc. You can also buy / sell Conflux (CFX) on exchange like KuCoin.
Exchanges like Coinex requires no KYC but don't mine directly to Binance. Binance uses Binance Smart Chain and not the CFX network. Pools will not be able to pay you through Binance chain. Do your own due diligence when choosing a wallet or exchange service.
We recommend you to get a CFX address with browser wallet Fluent which is the officially recommended CFX wallet.
Visit https://fluentwallet.com/ – A simple and secure Conflux wallet that is built for the Web 3. Its available for Chrome, Brave, Firefox, Edge and it is similar to Metamask.
Just click add to Chrome and add the extension to your browser. Then open Fluent extension and follow the onscreen instructions to setup the wallet.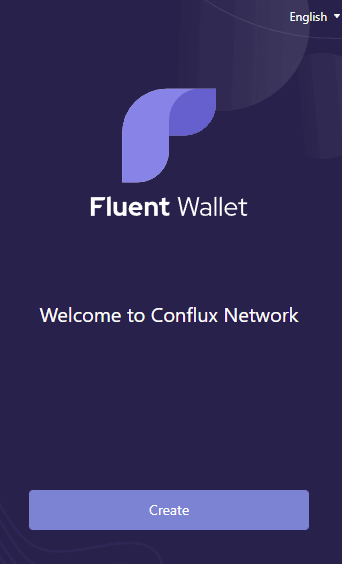 Create a new seed phrase and make sure to backup. On the next screen confirm the seed phrase and create a new wallet. After it is done copy your CFX address from the fluent wallet. It should be CFX main network address.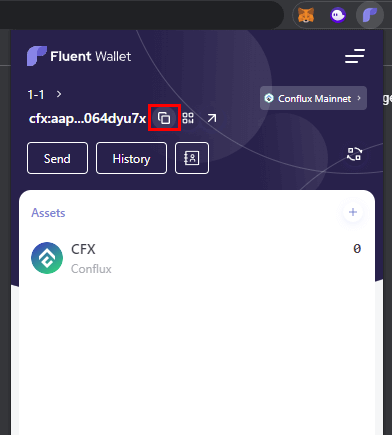 It looks something like this: cfx:aapx7zftf0t8en6kk6xsckuken6mm25f4a064dyu7x and you'll be using this to receive payouts from the mining pool. Using this wallet you can send / receive CFX and keep track of your balance. Also you can use this for storing CRC20 and CRC721 standard tokens on the Conflux blockchain. As well as interact with DeFi applications on the Conflux platform.
Now the next step is getting your miner software ready.
Octopus Miner
There are many miners available for Octopus algorithm.
Even though Nanominer and NBMiner both supports AMD we do not recommend mining Octopus algo using your AMD GPUs. They are not as efficient as NVIDIA RTX cards.
Download T-Rex or NBMiner. The miner is available for both Widows and Linux. Begin by downloading the latest version of the miner and make sure to download the correct version for your operating system. You can also find the miners on HiveOS and Rave OS flight sheets.
Note: While downloading the miner your browser might block the file. Also your Antivirus will block and remove the miner. Just add exclusion and proceed with download. Once downloaded you'll have to unpack the miner and configure it.
Before that let's choose a mining pool.
Conflux mining pool
For a complete list of Conflux mining pools visit: https://miningpoolstats.stream/conflux
For consistent mining rewards you definitely want to pool mine. Solo mining is possible but is not recommended unless you are running a large scale mining operation.
Here we'll be choosing Hero miner where they also have instructions on how to mine Conflux: https://conflux.herominers.com/#how-to-mine-conflux-cfx
They offer both both PPLNS and SOLO mining.
Alright! Let's unpack the miner and configure.
Configuring Miner
Unpack the miner (T-Rex or NBMiner) which you've downloaded and you'll find the sample .bat files. You can either edit the existing .bat file or create a new one.
You'll find the sample file for Conflux named CFX. Right click the CFX.bat file and input the configuration accordingly.
T-Rex config:
t-rex.exe -a octopus -o stratum+tcp://de.conflux.herominers.com:1170 -u YOUR_CONFLUX_WALLET_ADDRESS.YOUR_WORKER_NAME -p x
pause
NBMiner config:
nbminer -a octopus -o stratum+tcp://de.conflux.herominers.com:1170 -u YOUR_CONFLUX_WALLET_ADDRESS.YOUR_WORKER_NAME
Pause
Make sure to enter your CFX wallet address where it says YOUR_CONFLUX_WALLET_ADDRESS.
Here in this link: https://conflux.herominers.com/#how-to-mine-conflux-cfx you'll find the list of mining servers. Herominers have servers at handful of locations. Choose the one that is closest to your location. That should provide the best latency.
For example if you are from the US then your T-Rex miner configuration should look like this:
t-rex.exe -a octopus -o stratum+tcp://us.conflux.herominers.com:1170 -u cfx:aapx7zftf0t8en6kk6xsckuken6mm25f4a064dyu7x.gpu1 -p x
pause
With this configuration you're basically telling the miner what coin to mine, wallet address to receive your mined CFX and which mining pool server to connect to.
Once the configuration is done save the .bat file and run the same.
You'll see a window like this which means you are now mining Conflux.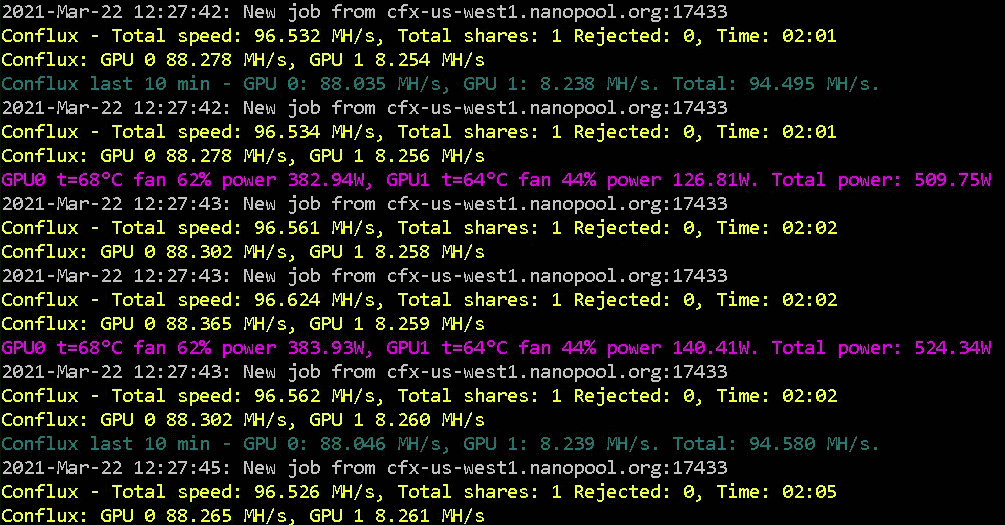 Mining Conflux on Hive OS – Hive OS setting
You can also mine Conflux on Hive OS and Rave OS. To mine with Hive OS login to your Hive OS account.
Then go to wallet section and choose CFX. Paste your CFX address. Then name the wallet and create wallet.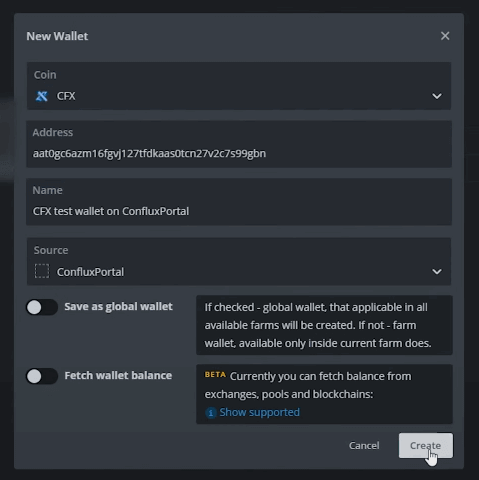 Next you need to specify the flight sheet. Choose coin as CFX, wallet as CFX and choose the pool of your choice. Then choose the miner, name the miner and create flight sheet.

That's it. Now launch the flight sheet which you just configured to start mining CFX on Linux. You should now start mining Conflux. Once you start mining check out the statistics on mining pool.
Pool statistics
After you start mining visit the pool dashboard and enter your CFX wallet address to track your stats and payment history. If the pool shows no stats then you have to wait until your rig finds a few shares. The minimum payout on Hero miners is 1 CFX and the pool fee is 0.9%. You won't find anything in your wallet until you hit the minimum payout.
How long does it take to mine 1 Conflux? It depends on current network difficulty and your hashrate. With 100 MH/s which a single 3080ti can achieve you can mine around 32 CFX a day.
Use this CFX mining calculator to estimate your profits: https://minerstat.com/coin/CFX
Note: CFX is quite power hungry like Ravencoin. Also on some miners while including your wallet address you don't have to include cfx. Also some pools don't support CFX: for the address. When you search it says "no relevant records have been found yet". If you launch the .bat you'll get the following error: octopus – Login failed: Timeout! If it is so then remove CFX from your wallet address and try mining.
How to Sell Conflux? – Cash-out CFX mining rewards
They very reason to mine is to make money. So how do you convert your mined CFX to local currency (fiat)? To convert your CFX to fiat or BTC / ETH you can transfer it from your wallet to exchanges.
Not Binance as they only support BSC. Instead use OKX, and Gate.io that supports CFX/USDT pairs. Send it to these exchange and covert your mind CFX to USDT, BTC or the crypto of your choice. Once converted you can then send the balance to an exchange that you use for fiat conversion.
However if you live in the United States then there is going to be some extra work for you to liquidate Conflux because exchanges such as OKX and Gate.io aren't available to you.
Luckily there are many DEX (Decentralized Exchange).
Conflux has Shuttle Flow – A decentralized bridge which you can use to send CFX cross-chain to Ethereum, Binance Smart Chain or OKEX chain.
For example when you bridge Conflux to BSC you'll receive bCFX (pegged CFX) – A mirrored asset which you can trade on DEX like Pancake Swap. From there you can easily liquidate to asset like like BUSD (stablecoin).
The contract address for bCFX is:
0x045c4324039da91c52c55df5d785385aab073dcf
From there you can send the tokens to Binance.US. Then you can convert it into actual local currency and withdraw money via your favorite exchange.
If all of this sounds complicated and if you're looking for the highest possible return and a way to easily liquidate your mining rewards then better stick to Ethereum mining.