Guides
Connect Metamask to Ethereum PoW ETHPoW chain and claim your ETHW coins
This may not interest you but since few of our users insist here is a guide on how to redeem / claim your ETHPoW (ETHW) tokens.
Here we'll cover how to access ETHPoW (Proof of Work) chain using Metamask? How to claim ETHPoW ETHW tokens? Where to sell it and what to do with your claimed ETHW?
Ethereum 2.0 Merge PoS
After years of planning Ethereum has successfully switched from Proof of Work to Proof of Stake method for securing its network. This merge is just a start to a series of upgrades that are yet to come to make Ethereum more scalable.
A fork drastically changes the functionality of the blockchain network. Whenever there is a major network upgrade there will always be a part of community opposing it. We've seen this with Bitcoin in the past. The same happened with Ethereum.
Ethereum underwent its largest network upgrade on Sept 15th 2022. This replaced its Proof of Work consensus mechanism with Proof of Stake. This change to PoS system completely dropped miners and their energy-burning computers from its network. Miners are no longer needed to validate transactions on the Ethereum blockchain, it has now been replaced with validators. This transition to PoS has also created a new PoW fork called ETHPoW which went live on Sept 15.
Following the Ethereum Merge majority of the Ethereum community migrated to Proof-of-Stake (PoS). Except a group of miners who chose not to participate in the network upgrade. ETHPoW is a proof-of-work version of Ethereum which is a hard fork performed by a group of miners. These small group of crypto community believes that ETH should stick to PoW consensus mechanism. Anyways since ETH moved to PoS these group of miners forked off the chain aiming to preserve the old Proof-of-Work (PoW) network to maintain mining over staking. This resulted in a new project named ETHPoW with its native coin called ETHW.
ETHPoW
EthereumPoW is a Proof of Work version of Ethereum which is a community driven initiative. As Ethereum transitioned to POS rendering miners and making their equipment's obsolete a China-based Ethereum miner Chandler Guo proposed an alternative plan. ETHW Core was formed which is a group of independent software developers and miners lead by veteran Chandler Guo.
ETHW Core said that PoW is a tried and tested system. To keep ETH mining alive after the merge their plan was to fork Ethereum blockchain and create a duplicate version of it. They did as planned. ETHW split off from main ETH blockchain and is now maintaining the Proof of Work version of ETH to keep the mining post merge.
Everyone who held ETH on Ethereum blockchain before the fork will receive the same amount of ETHW (new PoW blockchain's native token) after the merge.
ETHPoW is a new blockchain that is simply hoping to maintain the old Ethereum state. It has the record of all assets and copy of all transaction history on Ethereum before the merge took place. This is not the first time the Ethereum network has forked. Back In 2015, The DAO hack split the community and that split Ethereum into two separate chains Ethereum and Ethereum Classic (ETC) which Today maintains the original Ethereum code developed by its core developers. Compared to ETH, ETC has remained dormant over the years with no development activity or user adoption. However it still ranks in the top 20 coins with a market cap over $5billion.
ETH Fair
Similar to ETHPoW there is also another little known different fork of the Ethereum network called Ethereum Fair with its native token called ETH Fair (ETF). This forked network is supported by the popular crypto exchange Poloniex and is also backed by some miners and derivatives exchange namely Bitcoke. But unlike ETHW, ETHF will only be airdropped to Bitcoin (BTC), Ether Classic (ETC) and Dogecoin (DOGE) holders. ETH holders will not benefit from this. Anyways atleast ETHPoW shows some activity whereas ETH Fair seems dead. No trading volume nor much community improvement can be seen.
Mining ETHPoW, ETH Fair, ETC
Currently there are three Ethereum based Proof of Work hard forks namely Ethereum Classic, ETHPoW and Eth Fair. Following Ethereum's transition to PoS these networks were expected to be the main beneficiaries of Ethereum's previous hashrate. But that's not the case.
ETHPoW is intended to preserve the Ethereum's Proof of Work. It is a network targeted for miners by providing Ethash miners a profitable source of mining after The Merge. But its failing in this mission. Since its launch the network was quite a mess. A large number of users reported they had trouble accessing the ETHPoW network. The issue was Chain ID used by ETHPoW network which was already in use by Bitcoin Cash testnet. As a result the coin has lost a great value and trust among users.
Anyways somehow the network managed to attract around 60 TH/s Terahash of hashpower (one-twelfth of Ethereum's hash rate pre-merge and 20% of size of the current ETC hashrate). That doesn't mean you can mine ETHPoW. Mining on the new Ethereum PoW network is not just sustainable. As per current statistics miners are only earning a tenth of Ethereum mining profit. So there is no way a miner can make profit mining on the ETHPoW chain. Its way worse that the rewards won't even pay for your electricity bills.
Some miners have started mining on the new ETH proof-of-work (PoW) fork. But they won't sustain longer. Only those with free electricity might survive by taxing on their hardware.
If you still wish to mine you can mine the Original Ethereum, The Ethereum Classic. Learn how to mine Ethereum Classic. Post merge Ethereum Classic's network hashrate has hit all time high. Not only the mining activity but price and trading volume has also gone up. ETC will remain as a champ among Ethereum based PoW alternatives.
Alright! Let's now see how to claim ETHW.
Claiming ETHW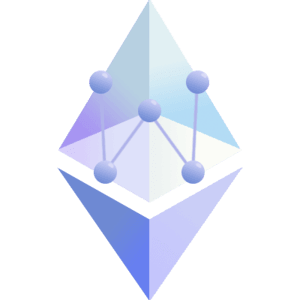 Holders of ETH will receive ETHPoW tokens ETHW on a 1:1 basis.
Most consider this as a Free airdrop asking how to get Ethereum airdrop after Merge hard fork. how to claim the ETHW airdrop tokens after ETH 2.0? First of all this is not an airdrop. Also This is not an ERC20 token and there is no token contract address.
Ethereum PoW is its own separate proof-of-work blockchain that is forked from Ethereum's Merge, with its native token ETHW. The ETHW coins are distributed on the Ethereum PoW chain and not on Ethereum mainnet. In this new ETHPoW chain you'll own a copy of every single digital assets and tokens that you had on old Ethereum blockchain. Some might have value and some won't. Most users who claimed their ETHW are only dumping them for quick profit. As a result the price of ETHW has lost more than 70% since launch.
So, what are the steps to claim these tokens and what happens if I don't claim?
There are no steps to claim ETHW token and nothing will happen if you don't claim them. The coins and tokens that are available on this new forked chain will remain on your ETH address / accounts forever until you access them. To access your ETHW tokens you need a wallet or a tool to access the new ETHPoW chain. With any ETH wallet you can access ETH PoW chain and here we'll be using Metamask. On Metamask you only have to add some network settings to connect to the ETHPoW network and access ETHW coins.
However there is a precondition and eligibility which you need to take note.
Eligibility to claim ETHW
The only eligibility to claim ETHW is that you should have held Ethereum in your own ETH wallet pre merge and during the merge Timestamp. It can be any self custodial ETH wallet that you totally control such as Metamask, Trust Wallet, Exodus or Coinbase wallet etc. If you held ETH in your wallet then you should have automatically received one to one ratio that is same amount of ETHW tokens. For example if you hold 10 ETH you'll receive 10 ETHW on ETHPoW chain. However its value in $ will greatly vary. Currently the price of ETH is $1350 and ETHW is only worth $6.
Make sure that pre-fork you were holding ETH on the Ethereum mainnet and not on alternate chains such as Binance Smart Chain or as Wrapped ETH soETH on Solona. Also Wrapped ETH (WETH) on L2s (layer 2) such as Arbitrum, Optimism, Polygon and also, ETH sitting on DeFi liquidity pools will not be eligible. Only ETH held on Ethereum network will be credited with ETHW tokens on ETH PoW.
How about ETH held on exchange wallet? If you held ETH on exchange wallet then it depends on the exchange. The exchange might ignore this completely or they might support and distribute those ETHW tokens to your account. You have to wait until the exchange supports the fork and distributes the ETHPoW tokens to the eligible ETH holders.
Currently following are the exchanges that announced they will be supporting ETHPoW fork. They will be distributing ETHW tokens to your spot account based on the snapshot of your accounts ETH holdings.
ETHW Exchanges:
Currently this coin has no circulating supply information and no market capitalization but is being traded on the following exchanges: Bybit, FTX, FTX US, OKX, Gate.io, BitMart MEXC Global and few other DEX such as Kyberswap. Some of these platforms support spot trading of ETHW and they also enabled deposits and withdrawals for ETHW tokens. If you are a trader who held ETH on these exchanges before merge then you'll be airdropped ETHPoW ETW tokens at a 1:1 ratio.
https://ftx.com/trade/ETHW/USD
https://www.binance.com/en-IN/price/ethereum-pow
What about Coinbase and Binance? Do they drop ETHW to customers wallets? Not yet, you'll have to wait until they support the fork. Once they do the ETHW balance should appear in your account. Many exchanges are slowly adding support. For example Huobi, Kraken, Kyber Network will all be supporting trading of the new ETHW asset. So we can expect popular exchanges to follow suit if the project becomes successful.
Alright! Let's now see how to connect Metamask to ETHPoW and claim the ETHW tokens.
How to claim Ethereum POW (ETHW) Tokens in Metamask
You basically have ETHW waiting for you in your address. To claim ETHW you only have to connect your Metamask to ETHPoW network. Then switch to ETHPoW mainnet and you'll see ETHW in equal amounts to ETH that you had in your ETH address.
Before you connect to the network and access the tokens first check whether you have ETHPoW ETHW tokens in your ETH address. How to check your ETHW balances?
Visit ETHPoW explorer and enter your Metamask ETH address or any wallet ETH address where you were holding ETH before the Merge:
Etherscan equivalent for ETHW (ETHPoW): https://www.oklink.com/en/ethw
Ethereum PoW Blockchain website: https://ethereumpow.org/
Once verified you can claim your ETHW. How to Setup MetaMask Wallet to Claim $ETHW Tokens
Steps to connect Metamask to ETHPoW
Open Metamask, open the network settings menu, click add new network and add ETHPoW as a new network.
Fill in the necessary network information such as New RPC URL, Chain ID, Currency Symbol and Block Explorer.
Once done click save. Metamask will then automatically connect you to ETHPoW network and display the ETHW balance under your account. You can either keep it or send it to an exchange and sell it.
Go to Metamask, drop down Ethereum mainnet and click Add Network. Then add the following ETHPoW mainnet info and click save.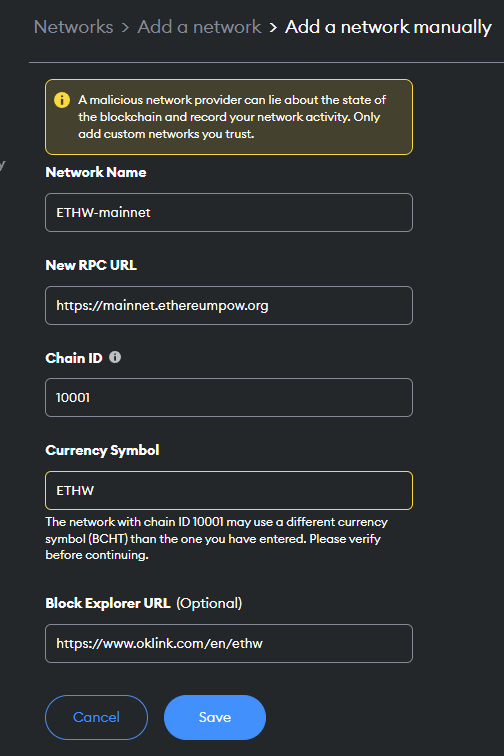 Note: ETHPoW is a totally different chain from Ethereum PoS chain hence why we are adding ETH PoW as a new chain. Also note that when adding Chain ID it shows "The network with chain ID 10001 may use a different currency symbol (BCHT) than the one you have entered. Please verify before continuing.". Just ignore.
ETHPoW ETHW Mainnet Info
Network Name: ETHW-mainnet
New RPC URL: https://mainnet.ethereumpow.org
Chain ID: 10001
Currency Symbol: ETHW
Block Explorer URL (Optional): https://mainnet.ethwscan.com or https://www.oklink.com/en/ethw
After you have added the information click save and Metamask will connect you to the ETHW-Mainnet. You should now see equivalent amount of ETHW tokens under your account. You can wish to keep it in same address, send it to different address or send it to exchange and sell it.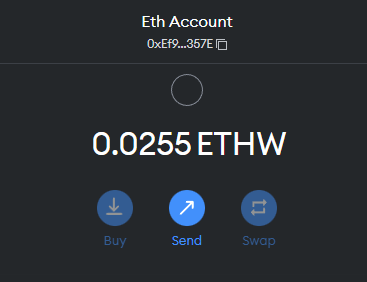 How to add Ethereum Fair (ETF) network
To connect to Ethereum Fair (ETF) network add the following information in the network fields.
ETF Mainnet Info
Network Name: Ethereum Fair
New RPC URL: https://rpc.etherfair.org
Chain ID: 513100
Currency Symbol: ETF
Block Explorer URL (Optional): https://explorer.etherfair.org/
At the moment you can trade Ethereum Fair at the following exchanges: Gate.io, Huobi Global and Poloniex.
How about claiming the tokens using other wallets?
ETHW claiming process: If you held ETH on Coinbase, Trust Wallet, MyEtherWallet, Exodus or Hyper Ledger, then import its private key into Metamask and connect Metamask to ETHPoW to access the tokens. Or you can import the particular wallet's seed phrase on Metamask. But be very careful when doing this. You should never ever share your private key or recovery phrase with anyone.
Claiming ERC20 tokens on ETHPoW?
How to get the ERC20 tokens that you had on ETH network. This is not possible until the project decides to run on ETHPoW chain instead of ETH mainnet.
Ledger and Trezor
To access the ETHW using your Ledger or Trezor wallet just connect your hardware wallet to Metamask. Here is a guide to connect and use Ledger and Trezor with Metamask. Once connected switch the Metamask network to ETHPoW. On Ledger to sign transactions you need the ETH app installed on your device.
Beware of scams:
Beware of Fake Ethereum PoW accounts on Twitter and Social Media. Such accounts promote fake giveaway of ETHW tokens. To take part in their "airdrops," and to claim the tokens you'll be asked to submit your wallet personal data via Google Forms. Avoid falling for such blatant scams. Never ever share your personal data or wallet data particularly private keys and recovery seed phrase with anyone.
Also beware of Metamask support team helping you with any issues. They are all scammers.
Here is the link to official Twitter account, website and network details:
https://ethereumpow.org/
https://medium.com/@ETHW/ethw-mainnet-info-released-d775865a05e6
Final Thoughts
In our opinion this fork simply make no sense. Why have a new fork when we already have ETC. Ethereum Classic (ETC) is decentralized, well established, has improved security and also has various projects, DeFi protocols on its chain. Furthermore ETC has investors already and has a fixed supply of tokens unlike ETHW which is yet to decide its token supply.
This fork ETHPoW may become successful in the future but right now it has no utility and it doesn't have any serious value proposition. All it does is grant ETH holders with new ETHPOW tokens on a 1:1 basis. Also there is no point of mining on Ethereum PoW fork as there are no developments and moreover there are no rewards.
It does not yet have support from miners, users, developers, nor investors. Without the community support in just few weeks or months it could fade to irrelevance just like every other forks. So better claim your ETHPoW ETHW and sell it for ETH or stable coins. That's what the majority of Ethereum community is doing. They are just dumping ETHW on the market as there is no support for this ETHPoW fork. This puts a huge selling pressure on ETHW and is now currently sitting at $6 per coin.