Guides
How to safely download and install or update Ledger Live software wallet
Ledger Live is the official software for your Ledger hardware device (Ledger Nano S and Ledger Nano X). There are plenty of other open source softwares that you can connect and use your ledger Nano with. However you still need the Ledger live software for installing apps on your hardware device and to perform firmware updates. So you can't exclude ledger live if you are using Ledger device. Since it is an essential software for your hardware wallet it is important that you keep this program up to date for security reasons.
How to update Ledger Live app? The following tutorial describes how to setup Ledger live and also how to update Ledger Live desktop wallet and mobile application. Downloading and installing Ledger live app and keeping it up to date is similar to installing and updating any other programs on your PC. This post is not only about downloading, installing and updating Ledger live but more of discussing how safe are the updates and the precautions you need to take before installing or updating Ledger live.
The Ledger Live App
Ledger Live is the most trusted and a secure crypto wallet interface for your Ledger Nano device. It lets you safely manage your crypto assets with the security of your Ledger device. Using this one secure app you can track latest crypto prices, buy / sell Bitcoin & crypto, track your crypto portfolio, grow your assets, manage NFTs and also explore Web3.
To unlock the full Ledger experience all you need to do is pair your Ledger hardware wallet with the Ledger live app. After pairing your hardware wallet you can manage 500+ coins and tokens, swap 100+ assets, oversee your NFT collection, earn staking rewards, use your favorite Dapps and access essential DeFi services using your Ledger device.
Ledger Live is available for both Desktop and Mobile. However the Mobile app is only designed for the Ledger Nano X users. It requires Bluetooth connection. After connecting your hardware wallet to Ledger live you can safely send / receive over 5000 coins and tokens straight from your computer or smartphone.
Download and install Ledger Live
Always download and install Ledger live on desktop and mobile only using the official links:
Ledger Live: https://www.ledger.com/ledger-live
Desktop version is available for Windows, Mac and Linux.
To find all versions of Ledger Live desktop go to https://github.com/ledgerhq/ledger-live-desktop/releases page.
Ledger Live Mobile download on App Store: https://apps.apple.com/app/id1361671700
Ledger Live Mobile download on Google Play: https://play.google.com/store/apps/details?id=com.ledger.live
If you own Ledger Nano X then you can manage assets on the go. Just add the Ledger Live app to your Android or IOS phone and connect your Ledger Nano X via Bluetooth.
The software is compatible with with Android 8.1+ and iOS 13+. Choose the right platform and click install to download and setup Ledger live on your phone.
Once setup is done you can get started with Ledger live: Instructions: https://support.ledger.com/hc/en-us/articles/4404389503889?docs=true
Update Ledger Live on mobile:
Google Play Store and IOS store auto verifies the integrity of the software. Also your mobile phone (iOS/Android) auto updates the program to the latest version whenever there is a new update available. So on mobile you don't have to worry about the updates. Its secure. However if your are using Ledger Live on desktop you need to take few precautions before using the program.
Ledger live on Desktop:
To setup Ledger live on desktop you need the following:
Prerequisites:  A Ledger hardware wallet | A computer: Ledger Live is compatible with Windows 8.1+, macOS 10.14+, and Linux (64-bits desktop computers). | A USB-C port adapter and cable to connect your device.
Once you have this go to https://www.ledger.com/ledger-live/download, choose your platform and download the Ledger live application.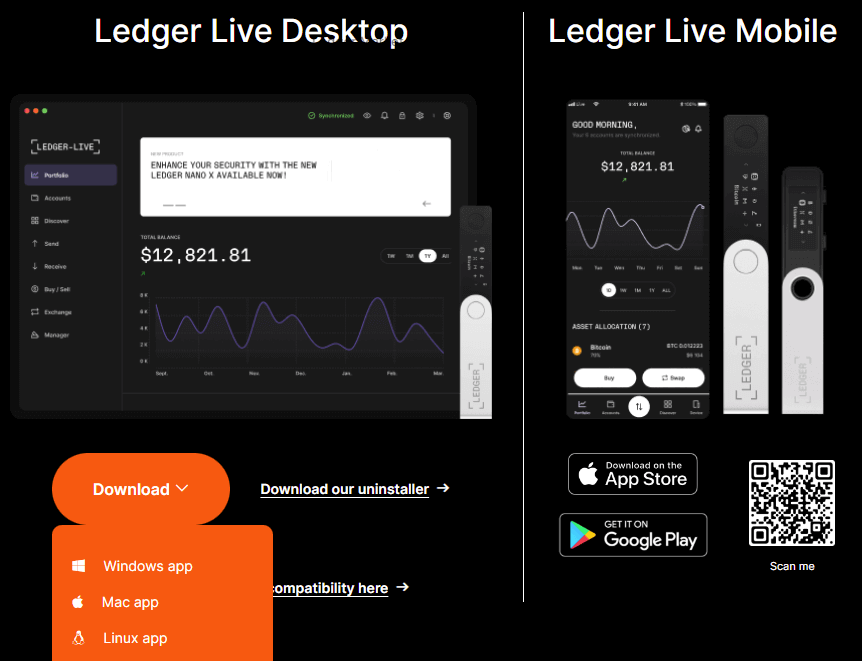 Or you can also go to https://github.com/ledgerhq/ledger-live-desktop/releases where you'll find all latest releases. There you can check for updates regularly and check the versions changelog.
Here are the file names:
Windows: ledger-live-desktop-2.44.0-win-x64.exe
Mac: ledger-live-desktop-2.44.0-mac.zip
Linux: ledger-live-desktop-2.44.0-linux-x86_64.AppImage
The version number 2.44.0 will change in the future.
Note: Now before you install the software to your PC you need to verify its integrity. You can verify your ledger live download with sha512 hash. Learn how to verify hash and check PGP signature of Ledger live app. Only after you verify this you need to continue with the installation.
Windows Installation:
After download double click the win.exe file. Click yes to allow installation and click finish once the installation completes.
Mac Installation:
Download the mac.zip file, unzip it and open the .dmg file you downloaded. Next drag and drop the Ledger live program to the applications folder. Once done start Ledger Live from Launchpad or Spotlight and click open the allow the installation.
Linux Installation:
On Linux you can install Ledger live either using the command line interface or the graphical user interface.
Download the Ledger Live App Image. Go to downloads folder, right click the app image and click properties. Next navigate to Permissions tab and in the Execute field, tick Allow executing file as program.
That's it. Now that Ledger live is installed on your PC you can connect your Ledger device and start using. Install apps on your device and start adding accounts.
Updating Ledger Live
If you are using the version 2.29 and above then you'll get a notification bar at the top of your Ledger live stating there is new update available.

When you find this banner click download update. The new ledger live version downloads and then the install now button appears. Click install now to complete the installation. Once it is done click finish to open new version of the Ledger live. That's it. Your ledger live program is updated to the latest version.
You can also manually update your Ledger live. Go to: https://github.com/ledgerhq/ledger-live-desktop/releases, choose your platform and download the latest version. Before installing its important that you verify hash. After the verification is successful click install now to update your current Ledger live to the latest version.
That's it.
Ledger security
Ledger's hardware wallet are independently certified, verified and designed to resist sophisticated cyber attacks. But how about their software Ledger live? Also how about firmware updates?
This question comes after the way Ledger handled their customer data. Being a company that creates one of the most secure and robust hardware wallets they failed to secure their customer data. Thousands of customers data has been leaked through a hacker attack. It happened in late 2020 and it has nothing to do with your wallet security, private keys or mnemonic seed. Only the customer database has been leaked. However you should be careful not to be a victim of phishing attack.
Even with hardware wallets there are newbies who are losing their coins. Not because of the security of the hardware wallet device is affected, but simply because falling victim to phishing attack. Losing seed or voluntarily giving it up to the hackers is one way to lose your coins.
Remember that you only should type the seed on your hardware wallet device. Never enter the seed phrase or passphrase into anything or anywhere. Do not enter your mnemonic phrase into a website. Never click anything in any email ever. It often links to malware. Also do not respond to email, private messages or SMS saying you need to reset your hardware wallet. Key-loggers exist, back-doors exist. So writing it or engraving it in a metal physically is the only safe way to store your seed.
How Safe are the Ledger Live Updates?
If ledger's database can be hacked, how do they protect their sever that controls the software and hardware updates?
After the Ledger data breach one of the biggest concern among users is updating the firmware and updating Ledger live. What if a hacker hacks ledger servers and introduces a malicious version? All it takes is one rogue Ledger programmer to deploy a new update with malicious version.
Since their softwares are closed source as of now there is no 3rd party inspection on software and firmware updates to validate the security. Nobody can see the code nor verify that the ledger firmware is not configured to transmit the keys to a hacker. Due to these uncertainties many users are delaying on updating their software or hardware.
Can you image the damage that could be done to the industry because of a fraudulent software update or firmware update? Also there is no PGP signature version on Ledger's download page. All they provide is sha512 hash for every new updates which adds not much to the security. Learn how to verify Ledger live hash.
Safely install / update Ledger live
For the sack of security you need to keep your softwares up to date. Which one is considered safer? Updating Ledger live directly through Ledger Live or manually downloading the new version from the website? Both are safe. Just verify hashes before installing and when you are manually downloading it from the link be sure you are not making a typo.
If you are still casting doubts on Ledger live and are afraid of updating Ledger live; remember that you do not need this software to use your Ledger. There are dozens of open source softwares that can connect to your hardware wallet. They support Bitcoin, Ethereum and 100s of other altcoins / tokens.
For more Ledger related guides check out this page: https://coinguides.org/tag/ledger/