Crypto Mining
Placeholders (PHL) – A new coin on X16R, is it really worth mining?
A project coming with a nice use case at launch with no working product is perfectly fine. Everyone knows that the full functioning of a platform needs a lots of research and development which takes some time. But currently in crypto space there are lots of such projects with full of promises and not an actual functioning product. In fact in the recent times most of such projects have completely disappeared from the market since because they failed to deliver what they promised. While old coins with no real purpose die; several new projects emerge with unique ideas and pretty interesting use cases.
A few weeks ago we came across this new coin called Placeholders (PHL). We found this coin on a mining pool which was tagged under X16R hashing algorithm. We thought it was just another PoW coin using X16R algorithm. But recently the developer of this project have made an announcement on Bitcoin Talk so we decided to dig through a little and see what this project is all about. So what is placeholders and how to mine Placeholders or is it really worth mining this coin?
What is Placeholders – PHL?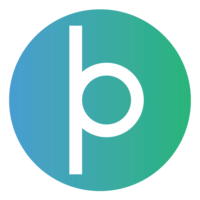 Placeholders (PHL) is a peer to peer electronic artifact storage system that allows transfer of data from one party to another. Everything runs on the placeholder blockchain and any type of data can be stored, tracked and shared. So how it is different from other decentralized cloud storage projects?
Placeholders is focused on creating a marketplace for distributed computing resources to serve as a decentralized alternative to Amazon web services and Google cloud. So it is not just a decentralized storage but think of it as a decentralized VPS (Virtual Private Server). Apart from this there are some other additional possibilities like for example renting storage, contract management and a decentralized cloud mining marketplace.
More about the artifacts, use case implementation and project FAQ can be found on the announcement page on Bitcoin talk. But do note that there is no fully working platform and none of the mentioned features are implemented yet. Also there is no whitepaper or roadmap so currently it just looks like another Ravencoin fork. But apart from all that is placeholders really a fair & newly launched altcoin?
Placeholders – Just another Ravencoin fork
Placeholders was announced on Dec 17, 2018 as a Raven fork. It is a Proof of Work coin that uses same hashing algorithm as Raven (X16R). The max coin supply is 10,500,000 PHL, the block time is 60 seconds, and the block reward is 5 PHL (decreasing overtime to limit emission). There is no premine, no ICO, no dev fee per block and also the developer mentioned it as fair launch. But actually it is not a fair launch and it is not even a new coin.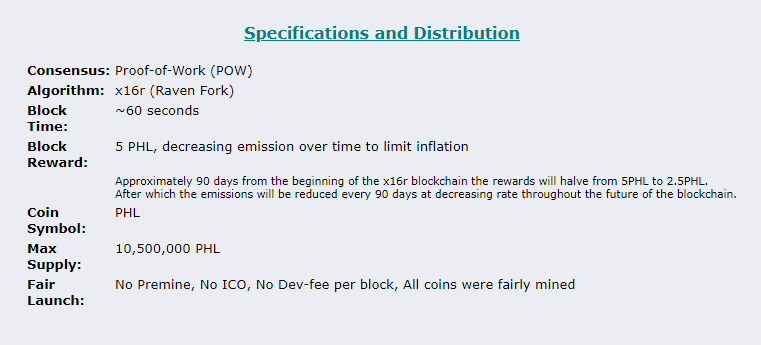 The day when it was announced; more than 10k blocks have been processed and almost 20% of the total coin supply has been mined. So when asked; someone on Discord mentioned that this coin was started a week ago and recently it made a move from sha256 to x16r.  It all started as a Bitcoin fork. It used SHA-256 hashing algorithm, the block time was 10 minutes, the block reward was 50 PHL and the difficulty was adjusted every 2016 blocks. However later developer realized that adjusting blocks every 2016 blocks as vulnerable so they implemented Dark Gravity Wave. Then later they reduced the supply to 10.5 million, block reward to 5 PHL, block time to 1 minute and then forked to a new chain with X16R hashing algorithm. Now all those coins that are mined in old chain using SHA-256 (ASIC algorithm) has been swapped to this new chain. This is the reason why there are more than 2.5 million in circulation out of 10.5 million max supply.

While the fork and the project announcement occurred more recently the original development of this project started around April 2018. All these months there was no public announcement. The reason for not announcing is because the developer wanted to finish the application. Not sure what application they did refer to but after 8 months of development they still do not have any working product. What you must note is that all these days only a handful of people were mining this coin. Now recently swapping all those coins to a new chain with a new announcement and calling the project as a fair launch is clearly false advertising.
So after all is this coin worth mining now?
Mining Placeholders (X16R)
Placeholders currently uses X16R hashing algorithm which is GPU and is also FPGA mineable. This project has gained some attention recently because of X16R. Also after it was publicly announced the overall network hashrate went super high. Its listed on Crex24 exchange and at the time of writing this article it was traded at 2500 Satoshi per PHL coin. Even there is a mining calculator available to calculate the profitability (https://cointomine.today/calculator/coin/PHL/). So at current prices and at current network difficulty you'll be mining very little coins and is less profitable than others out there.
Anyways if you still wish to mine Placeholders then it's similar to mining Ravencoin. You can use the same settings and you can use any one of the following miners and pools to start mining placeholders.
Mining Pool:
https://www.gos.cx/
https://icemining.ca/
http://gpuhash.org/
https://blockify.xyz/
http://blockhain.pro/
http://minerscore.com/
But is this coin actually worth considering?
Final thoughts
If you are a person who mines and sells immediately then you can check this coin. However if you are thinking about long term then there are few things which you must consider. First of all Placeholders do not have a fully functioning product and currently it is just another PoW coin using X16R. The idea what they have portrayed in Bitcoin Talk announcement seems interesting. However the question is whether or not will all those be implemented. In reality to implement such a tech a team of skillful developers is required but here you only got one developer.
Then there was something called coin swap from old chain to new chain. So probably there could be a large portion of coins sitting in a very few hands which becomes easy to manipulate the market. This still doesn't matter as eventually the coins value will be based on what the developer brings to the table. But currently without the working product we can only say that there are some risks involved. So do your own research.