Crypto Mining
How to mine NEOXA – Mining NEOX with NVIDIA & AMD on Windows / Hive OS
Are you mining cryptocurrency from home and are looking for a new mineable coin in 2022 for passive Income? Interested in spec mining a low cap altcoin with good potential? Looking at what to mine after ETH 2.0 merge? Check out NEOXA – A new coin for miners who are looking to profitability GPU mine in 2022.
NEOXA is a new altcoin that you can spec mine. Being a low cap altcoin its good for solo mining. Just like Ergo, Flux and Ravencoin; NEOXA could too prove to be a good alternative coin after ETH goes PoS.
Neoxa is a new Proof of Work mineable coin that uses KawPoW mining algorithm which can be mined on GPUs. In addition to PoW it also has an interesting feature called Proof of Gaming (PoG). You can mine with your Gaming PC and you can also play games like Rust and earn tokens.
First of all the following mining guide is not a financial advice. We came across Neoxa and thought it would be an interesting coin for spec miners. So here it is the beginners guide to mining NEOXA (NEOX).
Here in this guide we'll show you how to mine NEOXA (NEOX) using NVIDIA and AMD GPUs. We'll cover mining on both Windows and Hive OS. In this step by step NEOX mining tutorial we'll cover everything related to mining including wallet setup, miner downloads and pool configuration. Lastly we'll share NEOXA calculators to estimate your mining profits. By the end you'll know how to mine Neoxa, is Neoxa mining profitable & how much money you can make mining Neoxa?
Before we walk you through the steps of mining Neoxa in short let's see what is NEOXA? and what makes it different from other mineable coins? Also what is Proof of Game and how earning Neoxa in Games like Rust, Minecraft and Roblox works?
What is Neoxa?
NEOXA is a Proof of Work (PoW), Proof of Game (PoG) hybrid coin that is forked from Ravencoin. Traditionally we've only seen coins that are either PoW or PoS or hybrid PoW / PoS model. But this one here is different with its Proof of Work and Proof of Game concept that is trying to bridge a gap between miners and gamers.
Not only can it be mined with your graphic cards but with its Proof of Game Model you can also earn Neoxa in-game by playing games like Rust, Minecraft and Roblox. Currently 85 percent of the block rewards goes to PoW and 10% to PoG.  5% is allotted for the devs for marketing and exchange listing. This reward distribution will be slowly changing and as year passes there will be more rewards for PoG compared to PoW miners.
Anyways here we'll only show you how to mine Neoxa. If you want to know more about Proof of Game concept then check out their website: https://www.neoxa.net/
Is Neoxa worth mining?
Neoxa is a brand new coin that hit the GPU mining scene recently. Being a fork of Raven its specs are similar to RVN. It has a total max supply of 21,000,000,000 NEOX and mining NEOX is based on KawPoW algorithm.
Currently the coins primary use case is to earn it via game or mine it and sell it. Only miners and gamers with their coins are selling it. There are no incentives for holding the coin yet which could change in the future as use case improves.
Being a new crypto its mining yield are high right now. Using your home computer or gaming laptop you can mine several thousand coins a day. In terms of mining profitability its close to Ethereum and is more profitable than Ravencoin. Also another good thing is you can use your old 3GB, 4GB cards like GTX 1660ti GPU, RX 470 4 GB cards to mine Neoxa. If you have an old RX470 Ethereum mining rig that is sitting idle then you can use that to mine Neoxa. Whether or not the project has upside potential can only be determined based on community and upcoming developments. For now it's a great spec mining coin which can also be solo mined.
However here are few downsides: Neoxa uses KawPoW algorithm which is too power consuming and heat generating. Not good for summer and not a good choice to mine if you are from hot geographical location. KawPoW is better in winter months. If you are looking for a power friendly, GPU efficient algo that can keep your cards cool while mining then Neoxa is not the coin. It uses a lot of power. Community also hopes Neoxa used Autolykos or other algo instead of KawPoW.
Second, Neoxa is a good spec coin that may or may not succeed in the future. Currently it's a great speculative coin to mine. You can mine Neoxa or you can earn NEOX by playing RUST. Mining is fairly profitable at times. Other than this there is not much happening with the project. Also the blockchain have gone through a hack (51% attack) recently so take that into consideration before mining.
Lastly the volume: The main issue with new low cap coins is that they are listed on very few exchanges and have very low trading volume. Same is the case with Neoxa. The problem is it is only listed on low cap low volume exchanges such as Tradeogre, Txbit and Exbitron. No big exchanges yet. So it will be hard for you to cash out your mining profits to fiat. If you are into spec mining then its fine however if you are looking to cash out your mining rewards daily then avoid this coin.
Note: This coin may seem profitable at the moment but in the long run it may fail and your NEOX coins might become worthless. As with mining every new coins Neoxa also carries some risks. We advise caution and do your own diligence before mining this.
Alright! Now that we know enough about the project let's get started mining Neoxa.
How to mine NEOXA (NEOX)?
The following Neoxa mining tutorial covers both Windows (Windows 10 / Windows 11) & HiveOS. Even though the coin's difficulty is low and you'll have better luck solo mining Neoxa; here we'll not guide you through solo mining. We'll only focus on pool mining and if you want to mine Neoxa solo then refer to our solo mining guide that explains how to solo mine any altcoin.
Alright! Now like mining every other coins to mine Neoxa you need the following three things. 1. Get a wallet and grab your NEOXA address. 2. Download the miner (KawPoW Miner) and 3. Choose a mining pool and configure your miner.
First let's setup a Neoxa Wallet.
NEOXA wallet – NEOX address
Since the project is new it only offers core wallet for now. Soon there will be a mobile Android wallet and other wallet options. But for now get the core wallet.
Here is how to download and setup your NEOXA wallet. Step by step to setting up a wallet so you can start mining NEOX.
Go to https://www.neoxa.net/downloads and download the Neoxa client for your operating system. Neoxa core wallet is available for Windows, Mac which is a GUI wallet. For Linux you have CLI wallet.
Click on download Windows GUI wallet which will take you to their official Github page: https://github.com/NeoxaChain/Neoxa/releases/. Download neoxa-qt-win64.zip to your computer.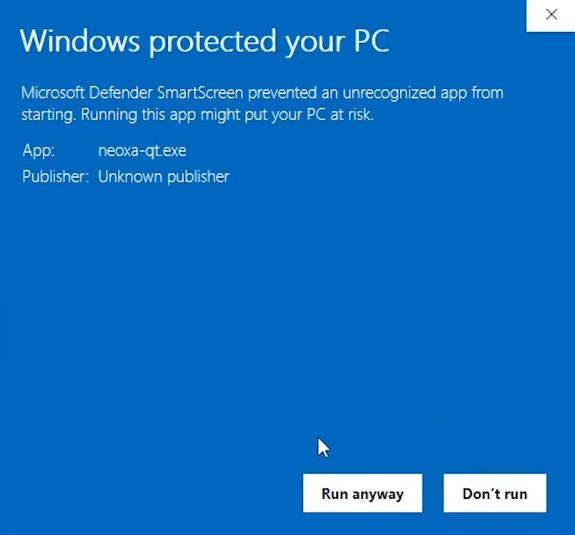 Once downloaded unzip the file and open neoxa-qt.exe file. You'll receive a security popup from windows. Just ignore. Click more info and select run anyway.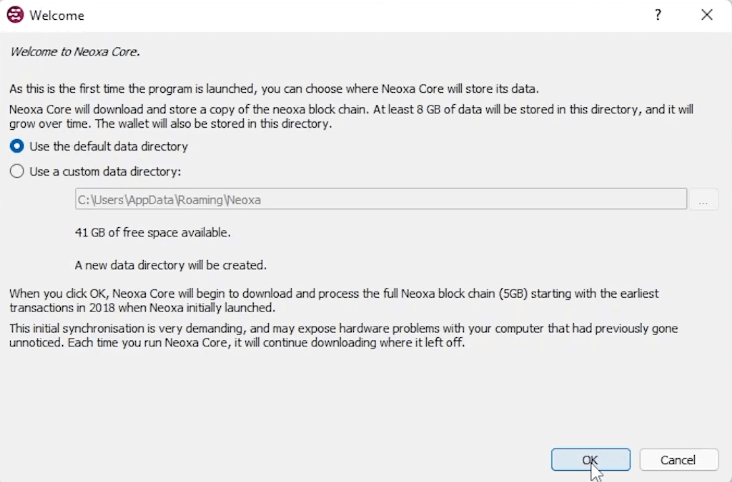 Now follow the on screen instructions to complete the wallet setup. You'll be asked to choose a directory to store wallet files. Proceed with default directory or choose a custom directory. Neoxa core will begin to download and process the whole blockchain from start and you need 5 GB of minimum space which grows as blockchain gets older. If you run out of space then at anytime you can move your wallet files to a different location.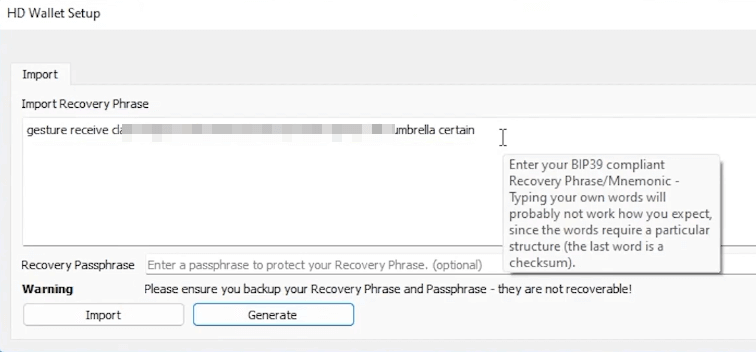 On the next screen you'll be asked to either import or generate recovery phrase for HD wallet setup. Click generate to generate a BIP39 compliant recovery phrase/mnemonic. Copy the newly generated recovery phrase and click import.
Note: In case in future if you wish to import your wallet account / address to any BIP39 compatible wallet then you'll need this mnemonic recovery phrase. However this alone is not enough to recover your core wallet. To backup core wallet you need to backup the wallet.dat file. Learn how to backup wallet.dat file.
After you generate and import recovery phrase your wallet installation is complete. Now you'll get a prompt from Windows defender. Click allow access and you're done.
Next you'll be asked to enter a wallet passphrase to encrypt your wallet.dat file. Set a strong wallet passphrase which you'll need to unlock your funds. Without passphrase you lose your funds so make sure to backup this as well in addition to the wallet.dat file and recovery phrase.
Now the core client will connect to peers and start downloading the blockchain.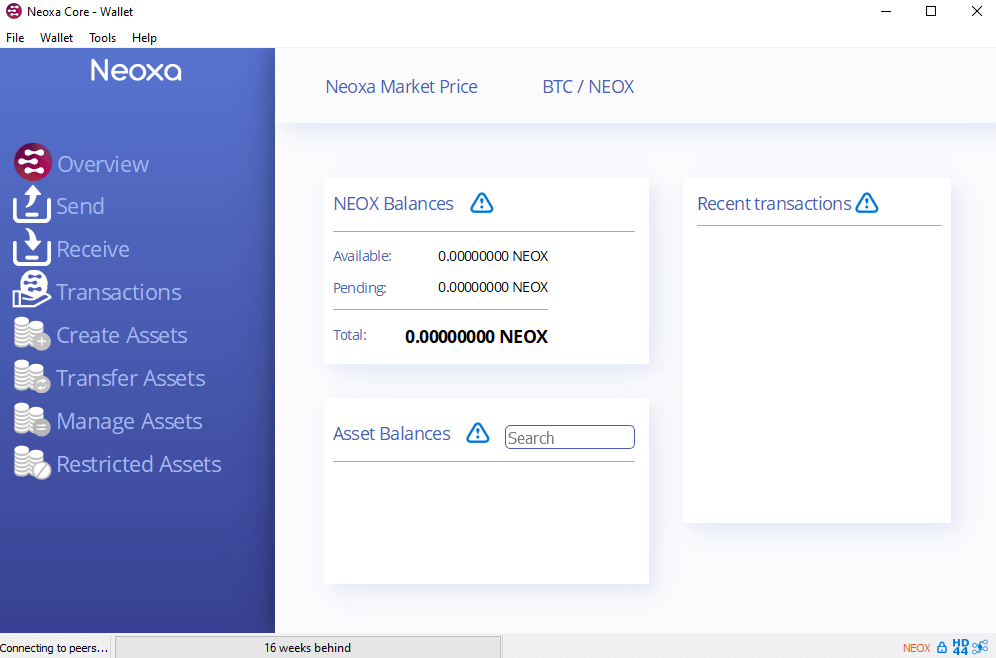 Note: Syncing wallet takes time. However since the project is new the blockchain files size is not that big and syncing should only take a little time. But note that if you are using core wallet then you should be opening it atleast once a week so you don't get so far behind the blockchain.
Meanwhile let's copy the wallet address. Open wallet >> Go to file >> Receiving address. Click new to generate a new address. Right click and copy address. Or click Receive >> Request payment and copy the address. This is your NEOX address which we'll be using to send the mining payouts to.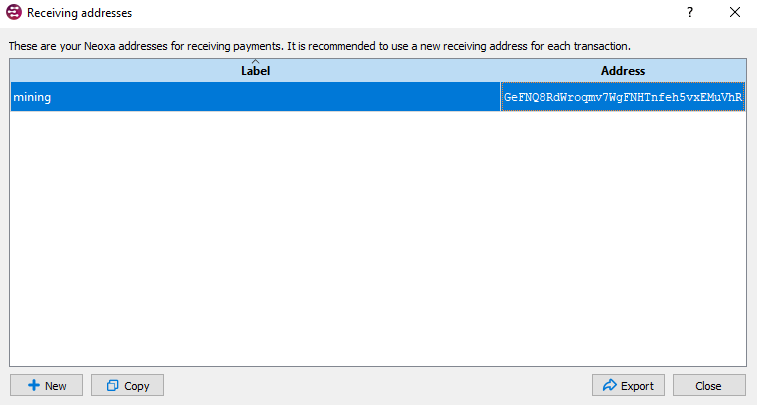 If you don't want to setup a core wallet then you can mine directly to exchange address. You have Tradeogre with LTC, USDT pair, Txbit and Exbitron with USDT pair. Just go to deposit and copy your Neoxa deposit address.

However before you use your exchange address we request you to do your own diligence. We've not personally tested this and we cannot assure whether mining Neoxa to exchange is safe or it'll fail and result in permanent loss of funds.
Select KawPoW miner:
Once you have NEOXO address (NEOX) ready its time to download the miner.
Neoxa uses KawPoW hashing algorithm same as Ravencoin. If you were mining Raven then you can use the same miners that you used to mine it.
Here are some of the popular NVIDIA and AMD miners for KawPoW algo.
NVIDIA
T-Rex Miner – https://trex-miner.com/
AMD
For complete list of NEOX miners check out https://minerstat.com/coin/NEOX/miners
Download the miner of your choice and make sure the miner is compatible with your rig. Here in this guide we'll be showing the config for T-Rex and Gminer for NVIDA and will be using TeamRedMiner for AMD.
Note: While downloading the miner your browser might block the file. Also your anti-virus program might remove the miner from your computer. Both are false positive so just ignore the warning and proceed further.
Once you downloaded the miner unzip the folder. Now before we configure it lets pick a mining pool.
Neoxa mining pools
The mining difficulty of this coin keeps rising and we do not recommend solo mining for beginners. Pool mining is the preferred way and there are many mining pools available for Neoxa.
For a complete list of Neoxa mining pools check out this page: https://miningpoolstats.stream/neoxa
What mining pool to use for Neoxa? The top pool is minerpoo.org which offers both solo and pool mining options. However Minerpool has more than 50% of the network hashrate so we'll avoid that. Instead you can use pools like Hero miners, newpool.pw or zergpool.
Some pools like Zergpool, Zpool offers parallel asset payouts. For example if you don't want NEOX you can choose to get paid out in other currency such as BTC, ETC, RVN, LTC etc. You can mine NEOX and get paid in RVN, ETH or you can mine RVN, ETH and get paid in NEOX. Here we'll not be mining alternate coins. We'll be mining NEOX and get paid in NEOX.
Here in this Neoxa mining guide we'll be using Zergpool. Anyways if you wish to use another pool then the configuration is quite similar. Most mining pools usually have stratum generation or miner config generator. You can use that to configure your miner.
Here is how to configure your miner with Zergpool to mine Neoxa.
Neoxa Miner configuration:
First of all open your miner folder which you downloaded and unzipped. Within the folder you'll find several batch files. You should see ravecoin.bat file. It can be RVN-2miners.bat or mine_ravencoin.bat and it depends on the mining software.

Now since the configuration is similar to Ravencoin copy the raven.bat file and rename it to mine_neoxa.bat or just neoxa.bat. Right click the neoxa.bat file and click edit to change the configuration.
Next go to https://zergpool.com/ or the pool of your choice and use the miner config generator. In Zergpool here is how the miner command line generator looks.

Choose the server that is close to your region, here we've chosen Europe. Next Algo is Kawpow. Choose payout currency as NEOX. Target coin as NEOX and lastly enter your wallet address. Worker name is optional and here we're using X.
Once all the information is entered click copy to copy the command line:
-a kawpow -o stratum+tcp://kawpow.eu.mine.zergpool.com:3638 -u Gg9hW3trWQH7GcvGnekScH62zdvb7E53HY -p c=NEOX,mc=NEOX,ID=x
Now use the configuration accordingly:
Gminer Configuration: (NVIDIA)
miner.exe --algo kawpow --server kawpow.eu.mine.zergpool.com:3638 --user Gg9hW3trWQH7GcvGnekScH62zdvb7E53HY -p c=NEOX,mc=NEOX,ID=x
pause
T-Rex Miner configuration: (NVIDIA)
t-rex.exe -a kawpow -o stratum+tcp://kawpow.eu.mine.zergpool.com:3638 -u Gg9hW3trWQH7GcvGnekScH62zdvb7E53HY.rig -p c=NEOX,mc=NEOX,ID=x
pause
Team Red Miner (AMD)
teamredminer.exe -a kawpow -o stratum+tcp://kawpow.eu.mine.zergpool.com:3638 -u Gg9hW3trWQH7GcvGnekScH62zdvb7E53HY.rig -p c=NEOX,mc=NEOX,ID=x
pause
In the above configuration we've used our wallet address. Make sure to replace it with your Neoxa (NEOX) address.
Once done save the .bat file. To execute the miner go ahead and double click the batch file. Upon opening neoxa.bat file you'll see the following window.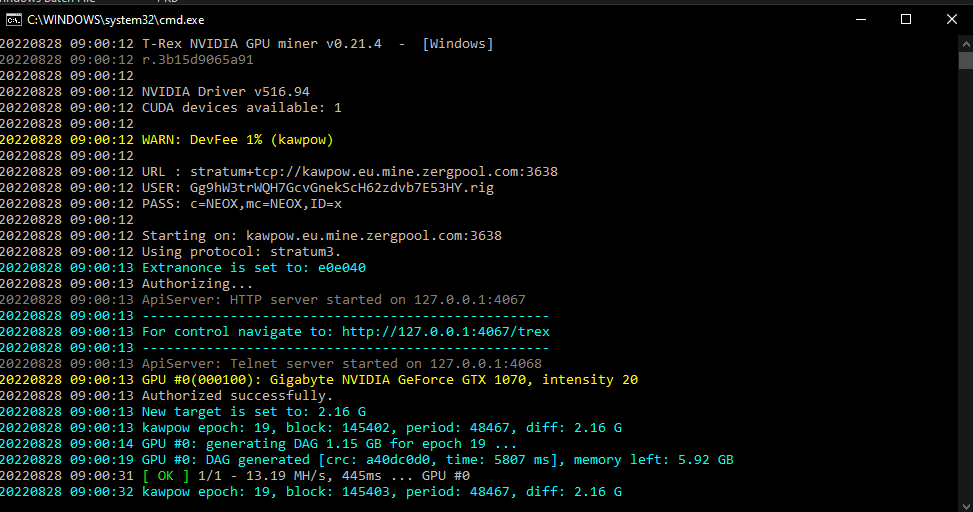 That's it! You're now mining Neoxa.
Let's see how its done on the Hive OS.
Hive OS Neoxa mining
Setting up Hive OS to mine NEOXA or NEOX is not that difficult. It only takes a few tweaks. This section is for those who have used Hive OS for mining previously. We'll not go through all the basics of Hive OS. Instead we'll only show you how to add wallet and generate flight sheet.
How to add your Neoxa wallet address to HIVE OS? Go to https://the.hiveos.farm/wallets and click add wallet. Choose coin as NEOX, enter your wallet address, select the coin name as Neoxa and click create.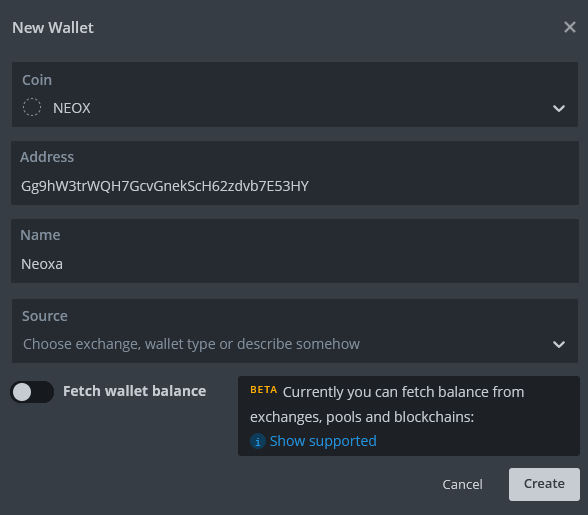 Then go to flight sheets and add a new flight sheet. Choose coin as NEOX, select your Neoxa wallet which you just created.
Note: Neoxa is now listed in Hive OS as NEOX. You can just select the pool from list without having to manually configure the miner.
Select herominers or minerpool.org, select pool server and click apply.
Next choose your miner, name the flight sheet as Neoxa and click create flight sheet.

That's it! You've configure Hive OS flight sheet. To start mining NEOXA go to workers and launch the Neoxa flight sheet.
You are now mining NEOXA using Hive OS.
NEOX mining payouts
After you start to mine wait for a while for your miner to submit shares. Its going to take some time for the mining pool to update. Once it starts to submit shares you can check your mining statistics on the pool.
To know your status, to know how much Neoxa you mined and to see all the mining related information visit your mining pool.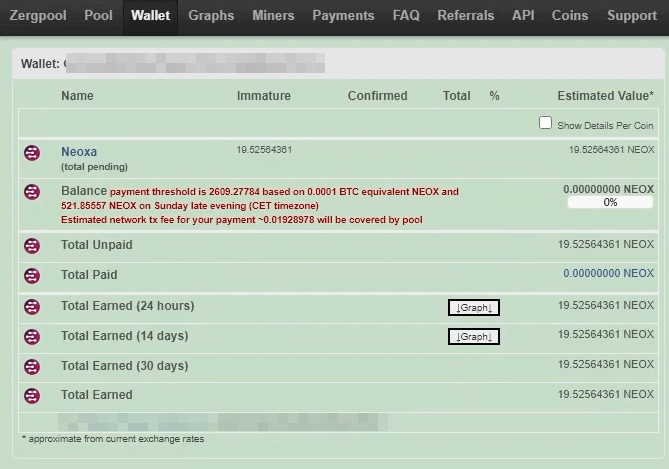 Enter your wallet address in the wallet section. The pool will display your rig hashrate along with your earnings. Total earned and total paid so far. If it has been paid once then check your wallet or exchange address.
NEOX mining calculators
So is Neoxa profitable to mine and how much money you'll make mining Neoxa? This completely depends on the total network hashrate and the difficulty of Neoxa.
Use the following calculators to estimate your mining profits.
https://whattomine.com/coins/351-neox-kawpow
https://minerstat.com/coin/NEOX
Populate the following fields: Your rigs mining hashrate, power consumption and pool fee. Then hit calculate. The mining pool displays how much Neoxa you'll mine in a day, week and months and its profit value in USD.
This should give you an idea of whether Neoxa mining is profitable or not.
Also check out CoinMarketCap and CoinGecko to know how much Neoxa is worth. Check out the exchanges to track live prices of Neoxa.
That's it! We're done with the Neoxa mining guide.
If you need further assistance on mining then visit Neoxa discord channel for help: https://discord.gg/frYkQqrAwR