Wallets
Cosmos (ATOM) wallet guide – How to setup & use Keplr Cosmos wallet
Looking for the best Cosmos ATOM wallet that you can use to manage, send, receive, store Cosmos but also to stake ATOM and earn passive rewards?
Here in this beginners guide let's explore Cosmos wallets. We'll show you how to setup and use the Keplr wallet – A Cosmos ecosystem wallet for storing and staking Cosmos and tokens on other chains. Also we'll give a brief intro of what Cosmos ecosystem is and what it's native token ATOM does.
First let's explore the wallet options.
Cosmos wallets
Keeping your cryptocurrencies on the exchange is strictly not advisable. Always use a wallet to take control of your assets. So what is the best Cosmos ATOM wallet that can be used to store, manage and secure assets?
There are a wide variety of wallets supporting the networks and tokens across the Cosmos ecosystem. There are web wallets, IOS wallets as well as Android wallets.
For desktop and mobile you can use the Exodus Cosmos wallet:
Exodus:
Exodus is a free multi currency wallet available for desktop as well as mobile. You can use it to send, receive Cosmos (you can send / receive ATOM easily using Cosmos address or the scannable QR code). You can secure, manage and exchange your Cosmos assets. Exodus allows you to buy / sell ATOM instantly and exchange Cosmos for other cryptos right from your wallet. Also you can use it to stake ATOM and earn passive income.
Trust Wallet:
Trust wallet is another popular multi-currency mobile app for Android and IOS that supports several crypto tokens and multiple blockchain networks. You can also use this wallet for Cosmos (ATOM) to receive, send, store and exchange your Cosmos assets within the mobile interface.
But storing and staking ATOM is not Cosmos blockchain is all about. There is more to it. Among a wave of emerging blockchains focused on scalability and interoperability; Cosmos is one of the fastest growing ecosystem that features a lots of applications and has a rapidly growing development community.
It is similar to Ethereum except in Cosmos every projects has its own blockchain and every individual blockchain is interconnected with Cosmos.
To explore other networks built with the Cosmos SDK and to access DeFi you need a wallet that supports the Cosmos SDK based chains. For this we recommend web wallets such as Cosmostation or Keplr.
Cosmostation – Cosmos wallet
Cosmostation is a wallet for Cosmos SDK based chains and is available for Android / IOS and as a web wallet. You can use this wallet to explore all networks on Cosmos, access DeFi and also delegate your tokens to earn staking rewards. Cosmostation is also one of the validator on the Cosmos network so you can easily stake your ATOMs. Not only ATOM staking but you can also stake other tokens.
Also since this wallet supports multiple networks other than Cosmos you can explore chains like Binance, KAVA, Band Protocol, Chainlink, Dfinity, Akash, Sentinel, OKEx chain etc.
Some of the other features include Keystation – An end to end encrypted key manager for DApps. The team also created Mintscan – An explorer to explore networks built with the Cosmos SDK and to get info on validators on the Cosmos network. Then you also got Defi station – A leader board analytic website to gain insight into the growing trends and movements in the decentralized finance.
Know more about Cosmostation: https://www.cosmostation.io/
Keplr – A Cosmos ecosystem wallet
The Cosmos ecosystem has many compatible wallets but one that is more versatile for managing ATOM and that is extremely easy to use wallet is Keplr. Not only to store, manage and stake assets but Keplr is capable of much more than that.
What is Keplr wallet?
Keplr wallet is a powerful open source browser extension similar to Metamask but an interchain wallet used in the wider Cosmos ecosystem.
It is the first and leading IBC (Inter-Blockchain Communication) enabled wallet for the Cosmos ecosystem. Since Keplr wallet supports Cosmos interchain ecosystem it also features wallet management and provides account functionalities for all Cosmos-SDK based blockchains.
Keplr extension is only available as a Chrome browser extension and you can also use it on Brave browser. A browser extension and an interchain wallet for inter blockchain ecosystem to manage, trade and stake Cosmos.
Use Keplr wallet to manage tokens, stake tokens and to start using blockchain apps. Start exploring the world of interoperable blockchain applications in the Cosmos ecosystem.
Keplr not only supports transferring, storing and staking of Cosmos but also other tokens like $KAVA, $IRIS, $SCRT,  $ACT etc.
Like Metamask you don't have to add each custom network to Keplr. The Keplr extension is a multi-use, multi-chain wallet that comes pre-installed with support for the following networks:
Cosmos Hub ($ATOM), Osmosis ($OSMO), Secret Network ($SCRT), Akash, Crypto.org, Starname, Sifchain, Certik, Irisnet ($IRIS), Regen network, Persistence, Sentinel ($SENT), Kava Platform ($KAVA), Cyber (beta), and Straightedge (beta).
Not only you can manage and stake assets but using Keplr you can mint NFTs and also participate in governance on several networks. Its a must have wallet if you want to get involved in Cosmos staking and governance. And also a must-have if you are going to actively interact with Cosmos SDK / Tendermint based decentralized applications.
Keplr also supports hardware wallet integration with Ledger Nano X. If you own Ledger Nano X then you connect your wallet to Keplr and securely stake ATOM and other tokens.
Check out the complete list of Cosmos wallets here: https://cosmos.network/ecosystem/wallets/
Ledger hardware wallet
There are many wallets for Cosmos but when it comes to security nothing beats the hardware wallet. Currently only Ledger Nano X has support for Cosmos assets.
To secure your Cosmos (ATOM) assets, to store manage and to stake assets you can use the Ledger Live app. Ledger allows direct stacking through your Ledger Live account so you no need to connect it to other wallets. Ledger live shows the full list of validators that you can choose to delegate your stake.
Other than Ledger Live you can also connect and use it with third party apps. For example you can use your Ledger Nano X with both Cosmostation and Keplr. Both Keplr and Cosmostation allows for hardware wallet integration.
Shortly we'll show you how to use Ledger Nano X to manage, send, receive, store ATOM. And also exchange and stake directly from your hardware wallet using Keplr browser extension.
Now before we see how to create and use Keplr here is a little information about Cosmos blockchain and $ATOM.
What is Cosmos blockchain?
Cosmos is described as "Blockchain 3.0", The Internet of Blockchains. A next generation public blockchain that is focused on scalability and interoperability. Cosmos is an inter-blockchain communication protocol that makes it easier for blockchain networks to communicate with each other. Its an ever expanding ecosystem of decentralized apps and services that are interconnected.
The connection between blockchains, applications and exchange of data, digital assets and services is achieved via IBC, the Inter Blockchain Communication protocol. This technology enables you to freely transfer data and exchange assets across decentralized and sovereign blockchains in a decentralized way.
Cosmos SDK is a state of the blockchain framework powering the Cosmos Hub. Cosmos Hub serves as the economic center of Cosmos – An expanding orbit of sovereign chains that provides vital services to the interchain.
The Cosmos Hub is an ecosystem of tools that allows anyone to easily design innovative custom build blockchains that are interoperable with other chains within the Cosmos network. Developers can use the SDK to build decentralized applications that creates value and enables assets to transferred between blockchains. This innovation simply increases the rate of adoption and liquidity to protocols across several inter connected blockchains.
A multi-chain framework design
Cosmos SDK allows different blockchains to be built and connect to the Cosmos ecosystem. To connect blockchains Cosmos uses a modular framework within a standardized protocol and the whole ecosystem is powered by Tendermint BFT module.
Tendermint is a blockchain engine and the underlying technology behind Cosmos. This is what allows other blockchains to connect to Cosmos for better scalability and to facilitate interoperability of assets.
There are two primary component behind this. 1 The Proof of Stake Consensus Engine and 2. Application Blockchain Interface (ABCI).
Cosmos ecosystem is scalable because of its PoS (Proof of Stake) system. Being a PoS ecosystem it works well with other PoS blockchains. But not all network has to be PoS based. Independent networks can retain their own consensus mechanism even when plugged into Cosmos. Once connected different blockchains can start to seamlessly exchange value.
The team is also working on a bridge to Ethereum known as Ethermint which will be made compatible with the EVM (Ethereum Virtual Machine). With this bridge developers can easily port decentralized applications and smart contracts from Ethereum over to the Cosmos network.
What is ATOM?
$ATOM – The ATOM token is the native token of the Cosmos ecosystem. Cosmos being a Proof of Stake network ATOMs are designed to be earned through staking. By staking ATOM you can help keep the Cosmos HUB secure. Rewards are distributed to ATOM stakers in return for validating blocks, processing transactions and securing the services on the Cosmos Hub.
ATOM is mainly designed to work as a staking token in the Cosmos ecosystem. But other than staking consensus it is also used in network governance.
Governance in Cosmos Hub uses on chain model where ATOM holders (both validators and delegators) can vote on proposals and decide on the future of the network. Also with Interchain accounts, you can vote, stake, swap tokens and do more on other blockchains while all secured by the ATOM.
Other than ATOM there are also many other cryptocurrencies and stable coins that can be staked through the Cosmos ecosystem.
At the time of writing this article the circulating supply of ATOM is estimated around 290 Million and there is no total supply cap.
To learn more about Cosmos and its ecosystem check out their official website: https://cosmos.network/
Alright! Let's now see how to setup and use the Keplr Cosmos wallet.
Keplr Cosmos wallet
Following is a complete step by step guide on Keplr wallet. It'll show you how to create Keplr wallet and use Keplr to manage, trade, & stake on the Cosmos blockchain.
For this tutorial we'll only be using ATOM on Cosmos Hub as example. But the process is same for other networks and all integrated tokens such as:
Cosmos ($ATOM), Kava ($KAVA), Secret Network ($SCRT), Straightedge ($STR), Akash Network ($AKT), Starname ($IOV), Cyber Euler-6 ($EUL), Sifchain ($ROWAN), Certik ($CTK), IRISnet ($IRIS), Sentinel ($SENT), Crypto.com ($CRO), Osmosis ($OSMO), Regen Network ($REGEN), Persistence ($XPRT), IXO ($IXO), Agreements Network, Foam and many others
Now before we get started with the Keplr extension here is something to know.
Before you start
Keplr is only available as a Chrome browser extension which you can also install it on Brave browser. But for full features and functionalities Chrome is recommended. Currently Keplr is not available for mobile.
Always download Keplr from the official website. Also pay attention to the sites that you connect your Keplr wallet with. Beware of phishing sites.
Also regarding the recovery phrase; no one, not even the Cosmos or Keplr team will DM you asking you to verify your wallet. Do not type nor reveal your mnemonics under any circumstances.
Time to install Keplr – Getting started with Keplr Browser Extension.
How to get Keplr Wallet?
Visit the official Keplr app website: https://www.keplr.app/ where you'll find the option to install Keplr for Chrome. Click install Keplr for Chrome which will take you to this Chrome extension page.
https://chrome.google.com/webstore/detail/keplr/dmkamcknogkgcdfhhbddcghachkejeap

Click add to chrome and add the extension to your browser.
After the extension is installed click the puzzle icon at the top right corner of your browser and pin the extension for easy access.
How to create Keplr wallet account
To launch Keplr wallet click on the K (Keplr) icon at the top right corner of your browser which will open up this page.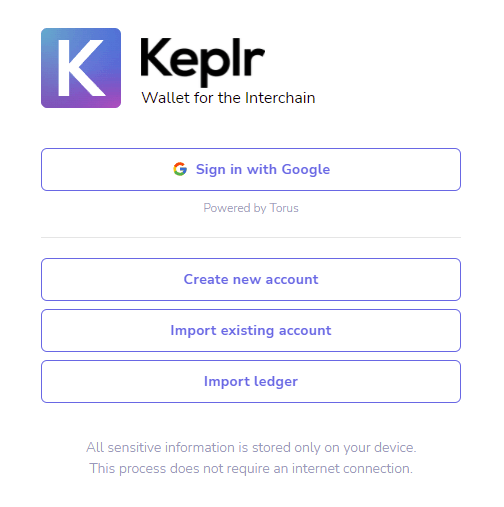 Since we are setting up a new wallet click create new account. You can also sign in with your Google account but for enhanced security we suggest you to create a new account. If you have Ledger Nano X then you can import Ledger.
Here is how Ledger Keplr wallet connection works.
Ledger Keplr
Ledger Nano X is currently the best wallet for securely holding Cosmos ATOM. It allows you to manage, send, receive, store, exchange and also stake tokens directly from your device.
To get started connect your Ledger Nano X to your PC. Then install the Cosmos app on your Ledger Nano X using the Ledger Live app catalog. Next keep the Cosmos app opened in your Ledger device. Now open Keplr and click import Ledger.
On the next screen set account name, password and then click next. A popup window will open initiating the connection between Keplr and your Ledger Nano X device. Follow the onscreen instructions to successfully connect your Ledger Nano device to Keplr wallet.
Its same as connecting your Ledger hardware wallet with Metamask.
After connecting you can securely manage your Cosmos (ATOM) using your Ledger device. If you are using Ledger with Keplr then you need to approve every transaction on your device.
For those who don't have Ledger Nano X here is how to create a new Keplr account.
New Keplr wallet
Click create new account and on the next screen the wallet will generate the mnemonic seed for you. You can choose to go with 12 words or 24 words. 12 words is enough.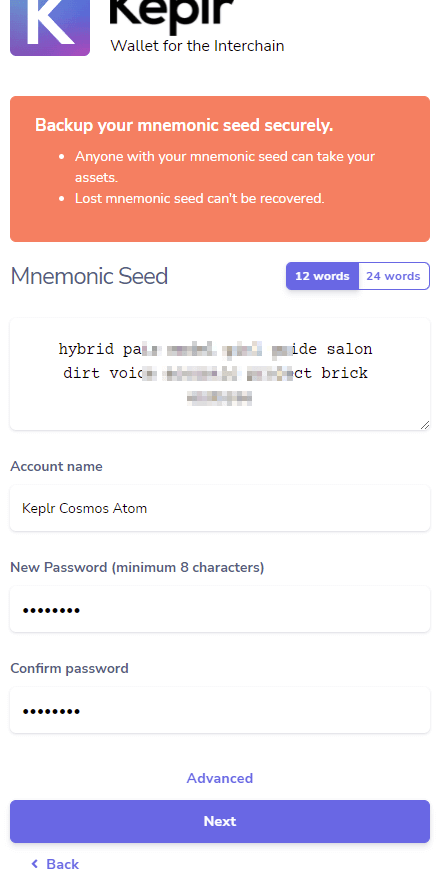 Now Backup your mnemonic seed securely. If you lose this or if someone gets access to this information then you'll lose your wallet.
After you have successfully backed up this information set account name, password and click next.
On the next screen you'll be asked to verify the mnemonic seed which you just saved. Choose the words in order, verify it again and click register.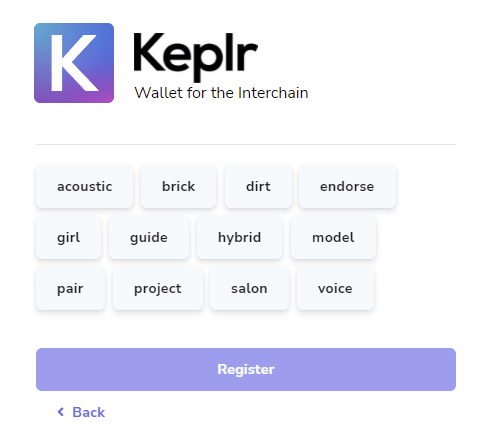 That's it. Click done and you're all set! Now open the Keplr extension and sign in to begin your interchain journey.
How to use Keplr Cosmos ATOM wallet?
Keplr wallet is as simple as Metamask and Phantom.
Click on the Keplr icon on your browser to open up the extension. Enter your wallet password to unlock it. After unlocking this is how the dashboard looks.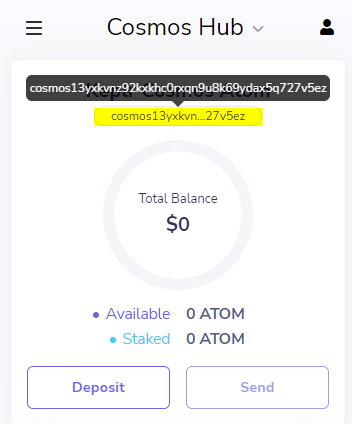 Now first lets look at the wallet address to deposit tokens that is Cosmos Atom.
Just below your wallet name you'll find your wallet address. Click on it to copy the address.
You can also use the deposit button which will display the QR code. You can QR code using your mobile phone.
Note: The address which you just copied is your Cosmos Hub address. When depositing ATOM through Cosmos Hub make sure your Keplr wallet network is connected to the Cosmos Hub.
Just like Metamask at the top center of your Keplr wallet you have the option to switch between networks. By default Cosmos Hub is selected. Drop down Cosmos Hub and you'll find the list of networks that you can connect your Keplr wallet to. All these networks come pre-installed.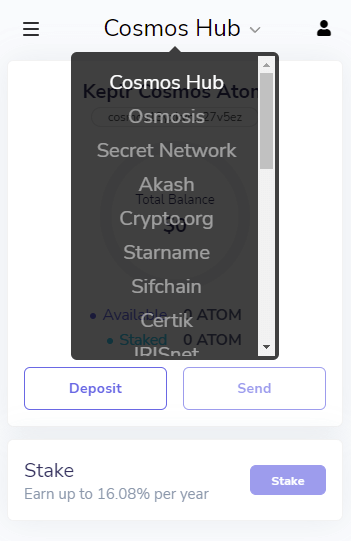 Now in Metamask you can use your same ETH address for all EVM networks. But that's not how it works with Cosmos interchain networks.
Each networks wallet address is unique and it usually starts with the network name. For example Cosmos Hub address starts with cosmos13yxkvnz92kxkhc0rxqn9u8k69ydax5q727v5ez, Osmosis network address starts with osmo13yxkvnz92kxkhc0rxqn9u8k69ydax5q7z9ly0s, Secret Network address starts with secret17j743mg8ztm87fdc6zszju69p5lw5sy7h8qwff and so on.
Also each network uses its own token for staking and governance. For example the native token of Cosmos Hub is ATOM. For AKASH network its AKT, KAVA uses KAVA, Sentinel uses DVPN, Osmosis uses OSMO, Secret $SCRT and so on.
Make sure you are choosing the right network before you transfer funds to your wallet. Here we've selected Cosmos Hub to transfer ATOM.
Transfer ATOM
Now you can request someone to send ATOM to your address or you can buy ATOM from exchange and transfer it for yourself.
Cosmos $ATOM is available on a number of popular exchanges such as Binance, Binance.US, Coinbase, Bybit, Kucoin, Huobi Global, Kraken etc. Visit https://coinmarketcap.com/currencies/cosmos/markets/ for the list of exchanges that supports Cosmos ATOM.
Buy ATOM from your favorite exchange and withdraw it to your wallet address. For example here's how Binance ATOM withdrawal looks.
Choose withdraw, select Cosmos (ATOM) as coin and enter your Keplr Cosmos Hub address that starts with cosmos13yxkvnz92kxkhc0rxqn9u8k69ydax5q727v5ez.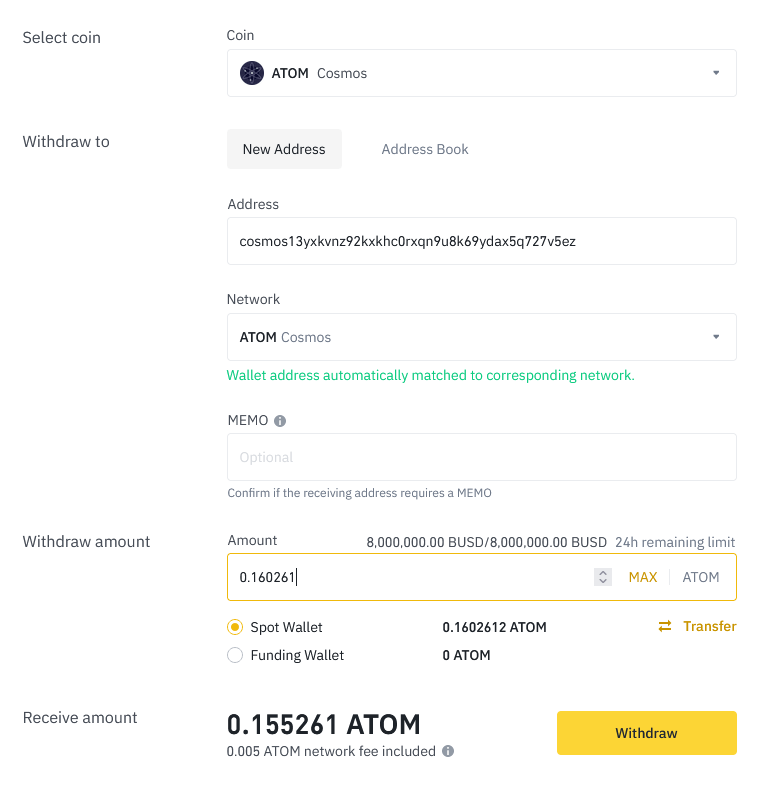 Paste your Keplr wallet address and the exchange will automatically select the network based on your wallet address. In this case its ATOM cosmos.
Next MEMO: When withdrawing to your own wallet you don't need MEMO. But when you are sending it from your wallet to exchange then you need to fill in MEME in your wallet. Missing or wrong filling of MEMO may cause loss of your assets.
That's it! Now enter the amount to withdraw and click withdraw. Verify the withdrawal process and after successful completion you'll see the ATOM deposited in your Keplr wallet. First send some test ATOM to your new address. If it is successfully then you can transfer large amounts.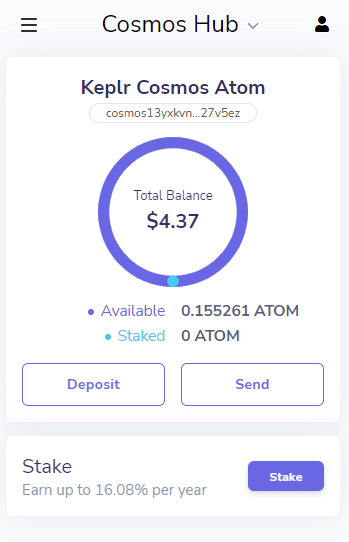 This is how you send ATOM to your wallet. For example to fund your wallet with Akash choose Akash from the network, copy the address that starts with akash. Use that to transfer AKT tokens to your wallet.
Sending ATOM
To send ATOM / tokens from your wallet to exchange or an external address click send on your Keplr wallet. On the next screen enter your recipient address details, then select the token, amount and memo (if required). Lastly choose the fee rate and click send. You can also additionally set GAS for your transaction.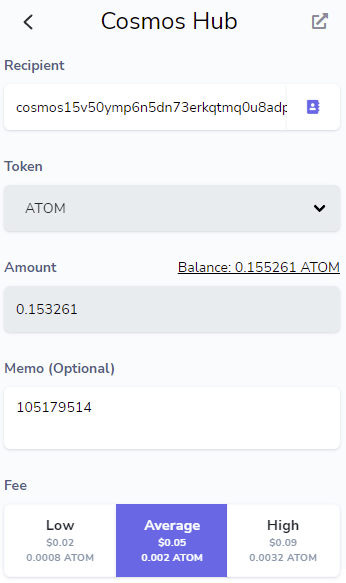 Don't send full amount. Always leave some ATOM to cover the transaction fees.
After a while the tokens should be successfully transferred. To track your transaction you can use https://www.mintscan.io/ which by default is a Cosmos Hub explorer. You can also use it to explore the other networks such as: IRIS HUB, AKASH, BAND, BINANCE, BITSONG, EMONEY, CRYPTO.ORG, SENTINEL, OSMOSIS, SECRET, KAVA etc.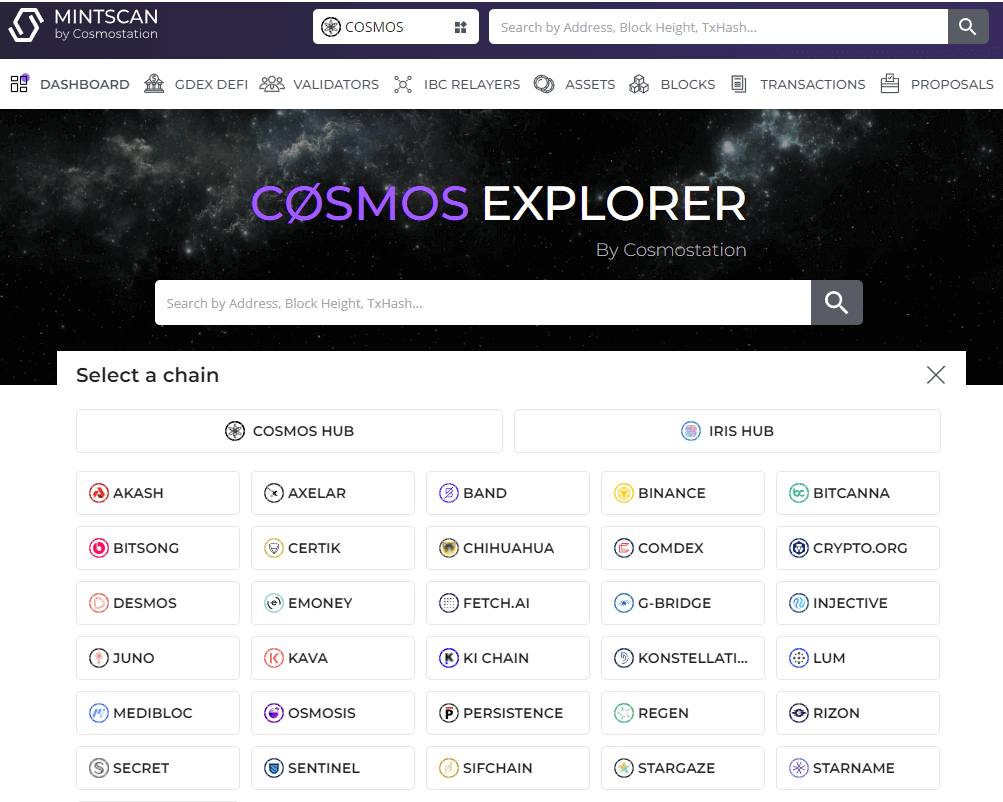 Now back to Keplr wallet.
That's it. We've covered the two main functionalities of Keplr wallet, Deposit, store and send. To manage address book and for additional settings click on the burger menu icon at the top left corner. Under settings you'll find basic wallet settings such as display language and default currency. On the same settings page you'll also find option to manage connections, link Keplr mobile and choose to show advanced IBC transfers.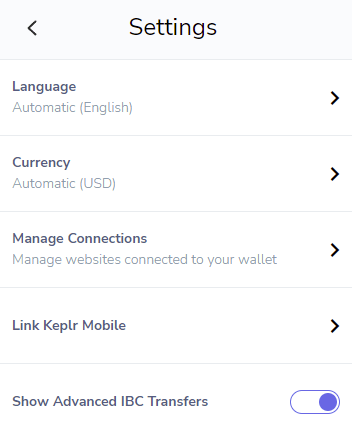 Export seed phrase
Meanwhile if you forget to backup your wallet then open Keplr. At the top right corner you'll see silhouette icon. Click on it and drop down the three dotted menu. There you'll find an option to view your mnemonic seed. Write it down in a piece of paper and keep it safely.
This wallet is self explanatory. Navigate around and you'll get to know all the features.
Alright! Now let's look at staking ATOM.
Staking Cosmos: Staking $ATOM
To enhance your Keplr wallet experience you can use https://wallet.keplr.app/ which is the web version of your Keplr extension. It will automatically connect to your browser extension. At the left hand side of wallet.keplr.app you should see your wallet address and its available balance.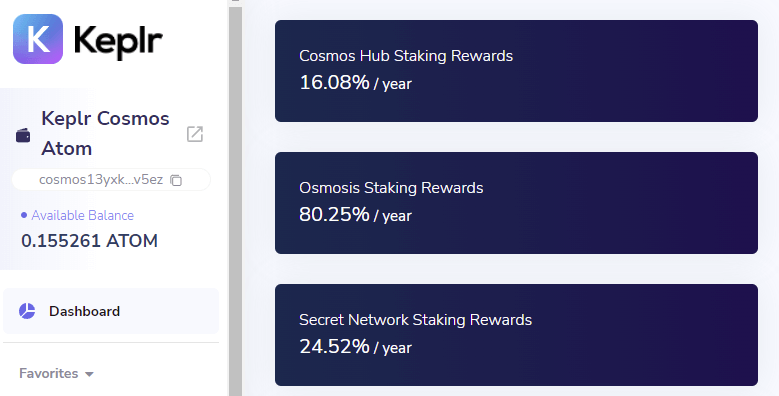 Also in your Keplr extension under your accounts section you'll find an option to stake. Click on stake will also directly take you to the wallet.keplr.app.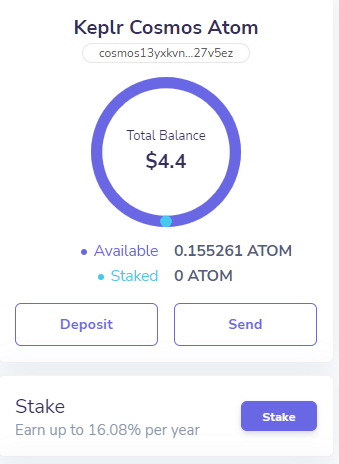 Here we'll show how to stake ATOM on Cosmos Hub. But the procedure is same for all other networks.
Now to begin staking Cosmos click stake on your Keplr extension. Make sure the wallet network is Cosmos Hub. Upon clicking stake It'll take you over to the https://wallet.keplr.app/#/cosmoshub/stake page where you'll find the list of both active and inactive validators.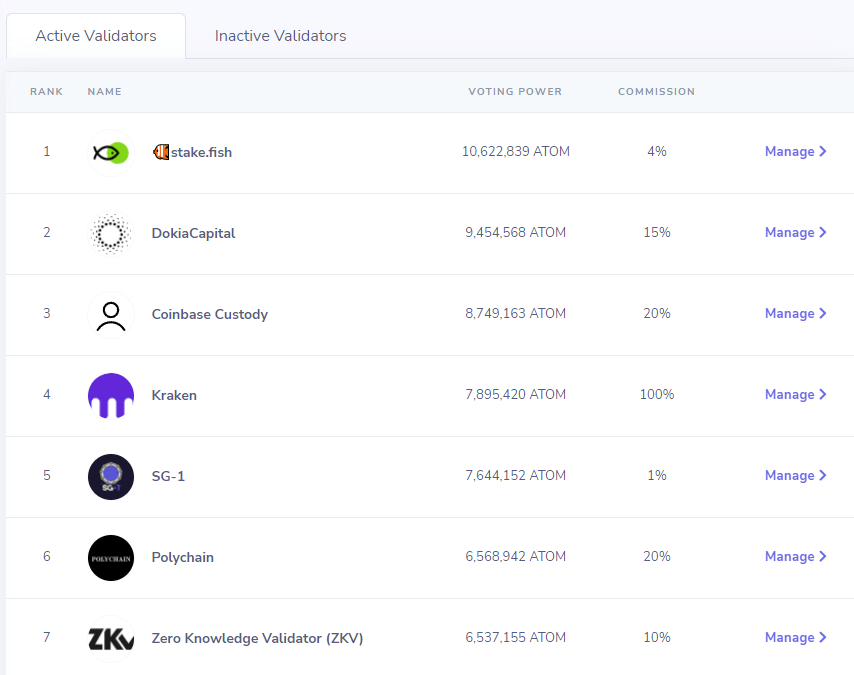 When choosing a validator you need to evaluate their voting power and commission. Commission rate should be low and voting power should be high.
Choose a validator from the list and click manage. A popup window will now open. Click delegate and enter the amount to delegate.
Now before you press delegate note that Staking will lock your funds for 21+ days. You will need to undelegate in order for your staked assets to be liquid again. This process will take 21 days to complete.
If you are okay with this then press delegate to start staking your ATOM. Pressing delegate will open up your Keplr wallet extension. Verify the details and click approve transaction which will put your coins into stake.
Congratulations! Once the transaction is confirmed, you'll successfully start staking ATOM using your Keplr wallet. Don't forget to claim your staking rewards from time to time. Also redelegate your stake to effectively manage your ATOM.
You can choose to undelegate your staked ATOM anytime. Visit https://wallet.keplr.app/#/cosmoshub/stake, next to your chosen validator, click manage to the far right side. There you'll have the option to undelegate your stake.
The same way you can also stake other tokens on other networks. Each network offers different staking rates so feel free to explore.
At the time of writing this guide you can stake the following tokens using your Keplr wallet: $ATOM, $OSMO, $CRO, $IOV, $AKT, $SIF, $IRIS, $REGEN, $CTK, $SENT, $XRPT, $IXO, $KAVA, $BOOT, $NGM, $STR and $BLD.
So far you've learned how to send, receive and stake assets using your Keplr wallet. Let's now see how to connect the extension to any Cosmos dApp.
Connect to DApps and services
There are a wide variety of decentralized apps, blockchain services, wallets and explorers, built in the Cosmos ecosystem.
Visit https://cosmos.network/ecosystem/apps to check out the list of available apps and services.
For example let's look at Osmosis DEX (Decentralized Exchange). One of the popular Decentralized Finance (DeFi) application on Cosmos. Osmosis is an AMM Laboratory (Automated Market Maker) & a protocol where you can deploy your crypto to swap, provide and mine liquidity.
Its similar to Uniswap, 1 Inch, Sushiswap and other Dapps that you've experienced on Ethereum.
Getting Started with Osmosis
Visit https://app.osmosis.zone/ and click connect wallet. Choose Keplr browser extension. A popup window will open requesting you to approve connection.
"app.osmosis.zone is requesting to connect to your Keplr account on osmosis-1."
Read all and click approve connection. After it is connected you can start experimenting with the DApp.
Note: Even though you have ATOM in your wallet it will not show up in OSMOSIS app. Because Osmosis is a separate chain and ATOM on Osmosis is a wrapped ATOM. The native token of Osmosis is OSMO. So to use this service you need to covert your ATOM from Cosmos Hub to ATOM on Osmosis. Then swap the ATOM on Osmosis to OSMO token. Here is how it is done.
On Osmosis app go to assets. Search for Cosmos Hub – ATOM and click deposit. Approve connection and it'll display the available balance. You are performing an IBC transfer from Cosmos to Osmosis network.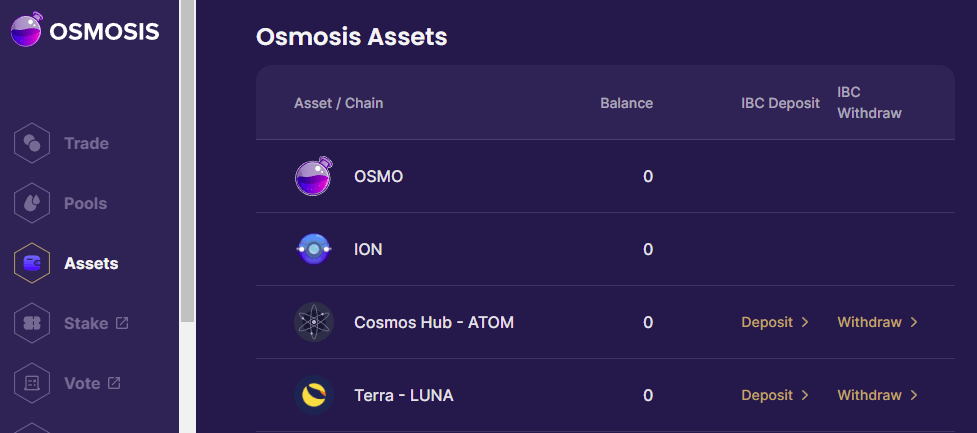 Enter the amount and click deposit. Next approve transaction on your Keplr wallet and wait for the transaction to complete.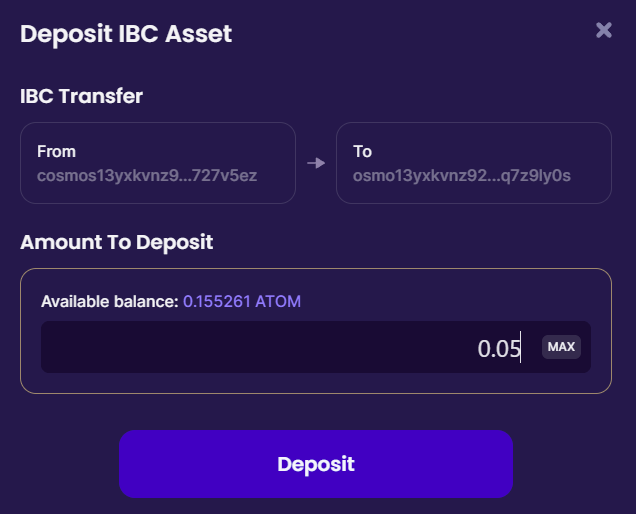 Since it is an interchain transaction it'll take a while for the transaction to arrive. Use https://www.mintscan.io/ to track your transaction. Once the transaction is successful you'll see a message stating "IBC Transfer Successful". ATOM has been successfully deposited. Reload the Osmosis assets page to view your deposit.
Now visit trade page and swap your ATOM for OSMO. Enter the amount and click swap. Then approve transaction on your Keplr wallet.
That's it. You've successfully swapped your ATOM for OSMO. You can now stake OSMO on Osmosis app, provide and mine liquidity.
On Cosmos ecosystem whichever DEX you are using you need particular native token to handle the transaction on the particular chain. Remember each project has its own blockchain and each uses its own native token.
That's it. We're done with the Cosmos wallet Keplr tutorial. But that's not all of it.
Explore Cosmos ecosystem
Here in this tutorial we've only covered the basics. Setting up Cosmos ATOM wallet. You can now send, manage, receive, and stake assets using your Keplr. You've also learned how to connect to Dapps and trade assets. But there are a lot more options.
In a separate article we'll cover the following:
Adding any Cosmos based custom token / adding mainnet chain that are not by default supported by Keplr wallet.
Liquidity mining and providing liquidity to pool.
Here we've only covered interchain transfers. There are also IBC Transfers or Fungible Token Transfer.
Minting Secret SCRT $sSCRT tokens with Keplr using Secret contracts.
Voting on governance proposals, adding e-Money support to Keplr, reserving a Starname (similar to Ethereum Name Service (ENS)) and link it to your crypto address.
For now we're done with the guide. If you got any questions regarding Cosmos (ATOM) or Keplr leave your questions below. We'll answer them.