News
Bitmain Antminer Z9 Mini – New ASIC to mine Zcash and Equihash coins | 10K Sol/s?
CryptoNight, Ethash and now it's Equihash; we don't know which algorithm is next. For a long period Equihash is an ASIC resistant mining algorithm and NVIDIA GPUs are known to solidly perform on Equihash. Also a large part of the Zcash network was engaged by NVIDIA miners and that's due to the fact that they yield good profit on Equihash based coins. Well with the recent release of Bitmain Antminer Z9 Mini, Equihash is no longer ASIC resistant! Looks like a new crowd of miners are going to join the show soon. Will this tank NVIDIA mining profitability? Let's discuss about that.
Bitmain Antminer Z9 Mini – 10K Sol/s on Equihash @ 300 W
Among the Cryptocurrency miners, especially NVIDIA miners the hot discussion is about Antminer Z9 Mini. Lately Bitmain, the largest producer of ASIC miners have announced the release of their new ASIC model called Antminer Z9 Mini. Its available for order and the shipment of first batch is expected by the end of June (according to the official website).
— BITMAIN (@BITMAINtech) May 3, 2018
This Antminer Z9 Mini works on Equihash algorithm that is you can mine all coins based on Equihash. Some of the popular crypto currencies that uses Equihash are ZCash (ZEC), Bitcoin Gold (BTG), Bitcoin Private (BTCP), Komodo (KMD), ZenCash (ZEN), ZClassic (ZCL), BitcoinZ (BTCZ) and Hush (HUSH). This is the first ASIC ever to be released for these coins. Also by looking at the specs it could probably make GPU mining disappear soon, atleast on this algorithm.
Bitmain Antminer Z9 – Equihash ASIC miner specifications: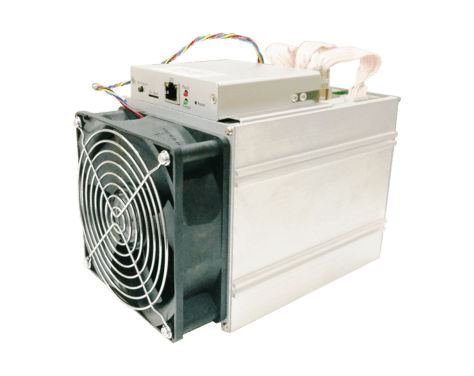 Manufacturer: Bitmain
Model: Antminer Z9 Mini
Hashing Algorithm: Equihash
Hashrate: 10K Sol/s ± 5%
Power Consumption: 300 Watts
Mining Profit: $50 – 60 USD / day at current estimates
Voltage: 12 V
Chip Boards: 3
Noise Level: 65db
No of Fan: 1
Interface: Ethernet
Weight: 3.5 Kg
Price: 1999 USD
Delivery: End of June
Antminer Z9 Mini – A comparison with GPU
Let's make a quick comparison with the most expensive and high performing GPU, NVIDIA GTX 1080 TI.  A rig of 6 x 1080TI will deliver anywhere around 4300 Sol/s on Equihash (at max) @ 1200 watts. Atleast 2 of such rig is needed to compete with 10K Sol/s which would cost more than $10000 (at current market value). It is 5 times the price of Antminer z9 Mini. Moreover Bitmain promises 10K Sol/s ± 5% at a very low power consumption of only 300 watts which is really great.
Conclusion:
Looks like the fight between GPU vs ASIC is never ending. As soon as this tweet flashed from Bitmain it has shaken the GPU miners and there are mixed of opinions among the miners. Some say its SCAM and some say it's time to change the game and use GPUs for what is actually made. Are we nearing the end of GPU mining? Not really. Apart from Equihash there are many algorithms and most of its main intention is to be ASIC resistant. Also coins like Bitcoin Gold and few other Equihash coins have already announced that they will hardfork and make Z9 useless for mining.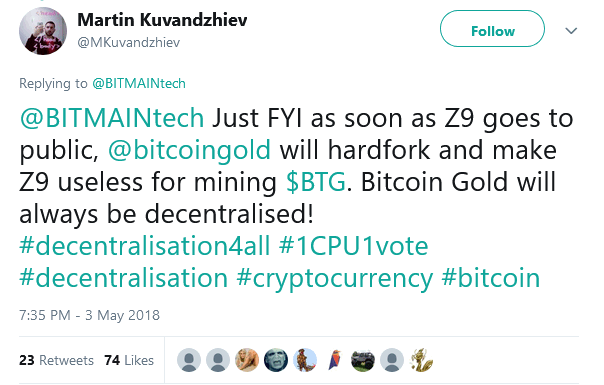 So far there is no reaction from Zcash. Community suggests Zcash to change the algorithm to Equihash v2, v7 or something like that to resist ASICs. But will they fork? They never promoted themselves as anti ASICs specifically like CryptoNote coins. So we need to wait on that and see if they are really going to support network decentralization.
10K Sol's @ 300W is seriously a game changer, what do you think? Are they worth a buy or they'll become obsolete in few months. Whatever; as usual DYOR before you invest in it and remember there is no refund and the warranty period is limited for such machines.