Wallets
GoByte Wallet setup (GBX) – Beginners Guide to GoByte Wallet
[cryptocurrency_widget type="leaderboard" symbol="GBX~USD" template="color-frame" color="black"]
GoByte (GBX) is a new innovative, secure and decentralized digital Cryptocurrency. It is based on Proof of Work and Masternode system. It's a GPU specific(ASIC resistant) minable coin that uses NeoScrypt hashing algorithm. The daily volume of GoByte is growing each day. GoByte has a strong foundation and it is business focused. Also as it is based on Dash we see great potential for this coin to grow in 2018. Before getting in to this GoByte wallet setup guide let's see its features and specifications.
GoByte Blockchain Features
Some of the main features of GoByte GBX Blockchain are as follows: Superfast Network: Instant Send integration makes transactions lightning fast. Anonymous: It uses Darksend technology making transactions completely anonymous. High Secure: With 50% rewards for Masternode and GPU miners taking advantage of POW rewards all transactions are completely secured. ASIC resistant: GBX uses NeoScrypt hashing algorithm which is ASIC resistant. This ensures stable and fair return on investment for GPU miners. Masternodes: In addition to securing the network; masternodes help support instant send and darksend feature.
GBX GoByte Technical Specifications
Coin Type: Proof Of Work
Algorithm: NeoScrypt
Block Time: 150 Seconds
Masternode Requirements: 1001 GBX to setup masternodes and earn rewards
Masternode Reward: 50%
Block Reward: 15 GBX which decreases by 8.33% every year.
Estimate Supply: 31.8 Milllion (31,800,000 GBX)
Anonymous transaction using private send
Difficulty retargets using Dark Gravity Wave
Bitcoin Talk: GoByte Announcement Page
By the time of writing this article GoByte was ranked at 390. The market cap was $19,831,645 USD (1,853 BTC). 24 Hour trade volume was $330,301 USD (30.86 BTC). Circulating Supply was 579,846 GBX and the total supply was 1,404,833 GBX.
If you are either looking to Mine GoByte or Buy GoByte you'll first need a GoByte wallet. Let's see how to setup GoByte wallet in Windows computer.
GoByte Wallet Setup
GoByte wallet is available for Mac, Linux, Windows 32 Bit and Windows 64 Bit. As it is a Windows wallet setup guide go to GoByte website's download section and download the latest Windows wallet to your computer. Now unzip the wallet file to folder where you wish to store your wallet. You'll find four files such as gobyte-cli.exe, gobyted.exe, gobyte-qt.exe, gobyte-tx.exe.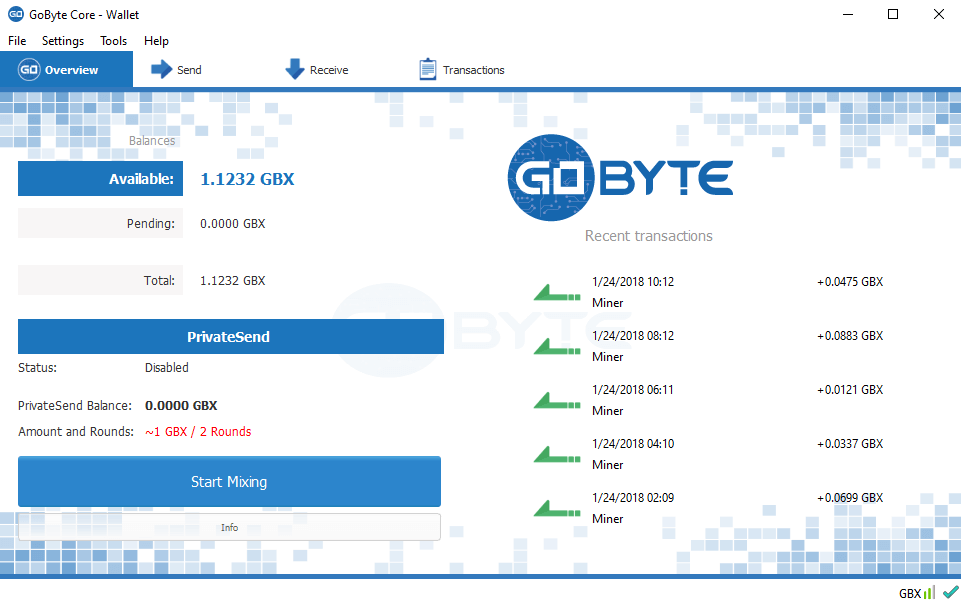 Open gobyte-qt.exe file which is your wallet. Upon opening for the first time it will ask for installation location for blockchain and other core files. By default it installs in C drive. If you are running out of space in C drive then you can choose different drive and run the setup. Once done wallet will open and start synchronizing with the blockchain.
GoByte wallet address – Sending and Receiving
GoByte wallet is easy to understand just like every other QT wallets. It has an overview tab, send tab, receive tab and transaction tab. To get your GoByte wallet address go to receive tab. Now enter the label for your wallet address, check request InstantSend, uncheck reuse an existing address and click request payment. Your first GoByte wallet address is generated which you can see below.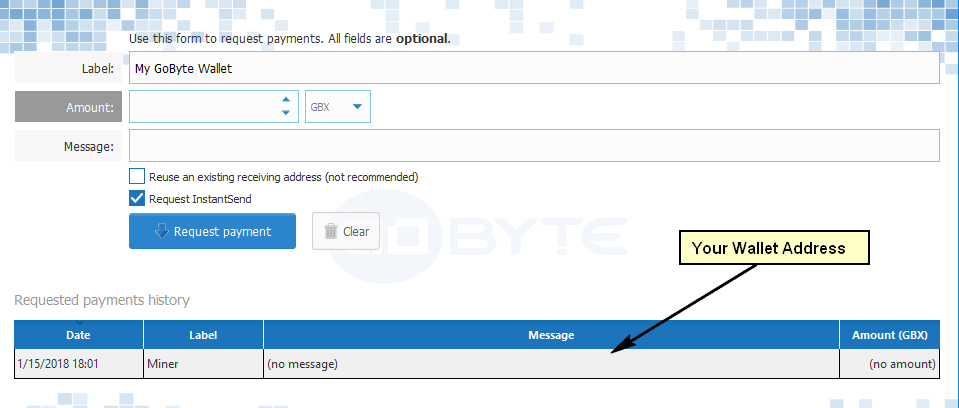 To know the wallet address and to get the QR code of your address double click on that tab. Great! Your address is ready and now you can buy or start mining GoByte coins to your new address.
Also read: Taking backup, obtaining private keys and encrypting QT wallets
Use the send tab If you have GoByte balance which you would like to send it to someone's GoByte address. Always Ensure that the send and receive addresses are correct so you don't lose your funds. GoByte wallet offers an option to set your own transaction fees. Note that setting less transaction fees will always end up in failed transaction so if you are new to this then go with the recommended value.
GBX – GoByte PrivateSend
GoByte has an additional feature known as PrivateSend and the information on PrivateSend feature is available in the wallet itself.
PrivateSend gives you true financial privacy by obscuring the origins of your funds. All the GoByte in your wallet is comprised of different "inputs" which you can think of as separate, discrete coins.
PrivateSend uses an innovative process to mix your inputs with the inputs of two other people, without having your coins ever leave your wallet. You retain control of your money at all times.
How PrivateSend process works
1. PrivateSend begins by breaking your transaction inputs down into standard denominations. These denominations are 0.01 GBX, 0.1 GBX, 1 GBX and 10 GBX — sort of like the paper money you use every day.
2. Your wallet then sends requests to specially configured software nodes on the network, called "masternodes." These masternodes are informed then that you are interested in mixing a certain denomination. No identifiable information is sent to the masternodes, so they never know "who" you are.
3. When two other people send similar messages, indicating that they wish to mix the same denomination, a mixing session begins. The masternode mixes up the inputs and instructs all three users' wallets to pay the now-transformed input back to themselves. Your wallet pays that denomination directly to itself, but in a different address (called a change address).
4. In order to fully obscure your funds, your wallet must repeat this process a number of times with each denomination. Each time the process is completed, it's called a "round." Each round of PrivateSend makes it exponentially more difficult to determine where your funds originated.
5. This mixing process happens in the background without any intervention on your part. When you wish to make a transaction, your funds will already be anonymized. No additional waiting is required.
IMPORTANT: Your wallet only contains 1000 of these "change addresses." Every time a mixing event happens, up to 9 of your addresses are used up. This means those 1000 addresses last for about 100 mixing events. When 900 of them are used, your wallet must create more addresses. It can only do this, however, if you have automatic backups enabled. Consequently, users who have backups disabled will also have PrivateSend disabled.
Buying GoByte Coins
As your wallet is ready now what are you waiting for? You can purchase GoByte from exchanges and it is currently listed in Cryptopia and CoinExchange.
Coin Exchange – GoByte GBX/BTC
Also read: GoByte Mining Guide
Hope we helped you with GoByte wallet setup. If you have any questions or if you have any suggestions regarding Gobyte please make a comment. We'll try to answer all your questions.