Wallets
Aptos Wallet – Setup Martian and Petra Aptos wallet for Aptos blockchain
Quick Aptos wallet beginners guide. We'll show you how to setup and use Martian and Petra Aptos wallet. Also we'll list some other wallets that are working and integrated with the Aptos Blockchain.
Aptos (APT) is the most talked about token and it has generated a plenty of buzz recently. Everyone calling Aptos the new Ethereum and the "Solana Killer". What is Aptos and why is there so much hype surrounding the project?
What is APTOS?
Aptos mainnet – A layer 1 blockchain built on Proof of Stake consensus mechanism was launched recently after four years of work from hundreds of contributions from diverse community and builders across the world.
Aptos is the new independent layer 1 blockchain that focuses on building the safest and most scalable blockchain. This layer 1 blockchain is safe, scalable and upgradable. It is engineered to evolve and is working on bringing the masses to web3. Developers can build future proof dapps more efficiently to provide fair universal access to decentralized applications to billions of people across the world.
This is a Proof of Stake blockchain that features high transaction throughput in terms of its time to finality (TTF) and transactions per second (TPS).
The project was developed by Aptos Labs and is basically a repurposed blockchain initiative of abandoned ex-Meta's (Facebook) web3 project called Diem. The Aptos team is comprised of original creators, builders and designers of Diem who are mostly Facebook employees. This is why everyone is highly anticipating that the mainnet and the APT token launch is revolutionary and could surpass all other layer 1 protocols and of course that is what the project aims for as well. Aptos aims to outshine both Ethereum and Solana. Also the team behind Aptos has raised over $350 million from venture capitalists.
Why the hype?
First of all Aptos is a venture capital backed cryptocurrency. Second this layer 1 blockchain uses the Rust based programming language that is independently developed by Meta known as Move. It is known as one of the fastest programming language for network applications. Aptos is a next generation layer 1 that promises increased scalability, security, reliability and usability. Using its unique parallel execution engine it has the ability to process over 130k transactions per second and it also features low transaction costs. Ultimately this project plans to solve the scalability issues while offering high level security features and unique usability options.
Aptos is generating all the hype because the project is based on the original Diem blockchain which was the initiative by Meta that was abandoned recently. Aptos Labs is the team behind Aptos who are former Meta developers. The team leads a diverse team of developers, engineers, researchers, designers and strategists who formerly worked on the Diem blockchain project at Meta. Aptos uses the programming language that is originally created for Diem and it still focuses on the original Diem's goal of creating a fast and scalable blockchain.
While Aptos is developed by former Meta workers the project is public, open source and available on GitHub. Dozens of web3 projects have been built on the testnet and they are now working on bringing the innovation to the main ecosystem.
The code for Aptos is open-source and dozens of projects are already building on the testnet and preparing to bring their innovations to the ecosystem. Another thing to note is that Aptos has raised over $350 million in funding. It is one of the highest funded launches and largest funding rounds in crypto history backed by top VC firms. One notable company is FTX ventures.
Aptos launch, Tokenomics and specs
Aptos is the newest and biggest layer 1 and the launch was quite disastrous. The project promises over 100k TPS in the finalized version but as of now according to its block explorer its only somewhere around 10 to 20 TPS.
Shortly after the launch biggest exchanges like Binance and FTX listed Aptos even when there was no basic information on Tokenomics. Not only Binance listed APTUSDT perpetual contracts but they also made spot market available for Aptos. People started trading before even knowing the total supply or emission schedule of Aptos.
Every CEX started listing Aptos within 24hours of its launch when there was no single public information about Tokenomics. Later Aptos foundation came up with the summary version of the Aptos protocol Tokenomics.
Aptos mainnet was launched on October 12, 2022. APT is the token of Aptos ecosystem. The initial total supply of APT token was 1 Billion APT tokens and here is how the tokens are distributed.
| Category | % of Initial Token Distribution | Amount of Tokens |
| --- | --- | --- |
| Community | 51.02% | 510,217,359.767 APT |
| Core Contributors | 19.00% | 190,000,000.000 APT |
| Foundation | 16.50% | 165,000,000.000 APT |
| Investors | 13.48% | 134,782,640.233 APT |
A full overview of Aptos Tokenomics is available here: https://aptosfoundation.org/currents/aptos-tokenomics-overview
Aptos team say a more comprehensive explanation on tokenomics and values will be coming soon. From the numbers it looks like another VC backed tokenomics with massive % of premine allocated to core contributors.
To know more about the project check out the Aptos whitepaper: https://aptos.dev/aptos-white-paper/aptos-white-paper-index/
Additional Links:
Risk warning:
Remember ICP? Aptos could end up like that. Its all initial hype and you'll get short term volatility. Only time will prove how it ends up. As of now there is no ecosystem / users, no unique value proposition, listed on exchanges without any supply information, massive pre-mine, big firms hedge exposure and could likely be a classic VC sham chain. Majority of tokens are either staked by a certain group are being dumped on retail investors so beware.
Personally we do not have any stake in the project and we won't be buying Aptos. Consider this risk warning and do your own research before you buy something. The following material is just a quick guide showing you how to setup and use Aptos wallet.
Aptos Airdrop:
Recently Aptos foundation in their tweet have announced that they'll be airdropping APT tokens to early network participants. This is their first airdrop based on community data and if you are eligible to claim you'll be receiving an email from airdrop@aptosfoundation.org. Not sure what kind of web3 project is sending emails notification on airdrops.
Anyways Aptos foundation will continue to evaluate future opportunities and will be airdropping more tokens to support the Aptos community.
1/ The Aptos Foundation has provided early network participants with APT tokens. If you are eligible to claim, you will receive an email from airdrop@aptosfoundation.org in the next few hours.

— Aptos (@Aptos_Network) October 18, 2022
Whether to claim existing airdrop, to participate in the future airdrop event or to connect with the Aptos ecosystem you need Aptos wallet. Here let's look at how to setup one.
APT Aptos wallet
Currently the two best wallets for Aptos blockchain are Martian Aptos wallet and Petra Aptos wallet. Other than these you also have Pontem wallet and Fewcha Aptos wallets that are working and integrated with Aptos blockchain.
All these are web3 wallets which you can install and use it from your web browser just like Metamask and they are trusted wallet for the Aptos ecosystem. Here are the links:
Petra Aptos wallet: https://chrome.google.com/webstore/detail/petra-aptos-wallet/ejjladinnckdgjemekebdpeokbikhfci
Martian Aptos wallet: https://chrome.google.com/webstore/detail/martian-aptos-wallet/efbglgofoippbgcjepnhiblaibcnclgk
Fewcha wallet: https://fewcha.app/
Pontem wallet: https://pontem.network/pontem-wallet
All four are non-custodial crypto wallet and a web3 browser extension for Aptos that is built on the Aptos blockchain. They let you explore Aptos ecosystem in your browser and makes it easy for you to explore transactions on the Aptos network. Here are some other things that you can do with this wallet.
It's a fully secured wallet that allows you to collect, store, manage, send, swap and trade Tokens & NFTs. You can create, mint and view NFTs in your wallet, interact with dApps. Allows users to transfer tokens freely between their wallet and Aptos DApps. Allows you to deposit test coins, transfer them and explore the testnet. The wallet Encrypts your keys and also allows you to import private keys and mnemonic. Also provides web3 connection for application developers to integrate with Aptos ecosystem so they can enjoy using and building application on Aptos.
To start using the apps on Aptos all you have to do is add the extension to your browser. The wallet unlocks a universe of applications in Aptos Blockchain. Also the Aptos network can handle 100k TPS so it only takes 1 second for the transaction to confirm and that too with extremely low fees. You can also connect to Liquidswap which is the 1st AMM (DEX) for Aptos and more dApps will be coming soon in the near future.
Aptos wallet setup
Add either the Martian or the Petra Aptos Wallet extension to your browser. Currently it is available for Chrome and Brave browser. Click add to chrome to add the extension.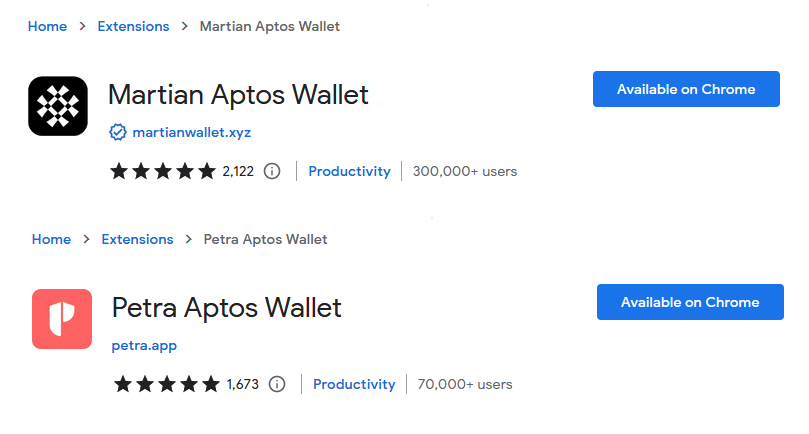 Next click on the extension menu and PIN the wallet for easy access.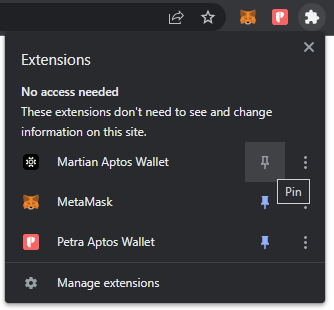 In both Petra and Martian wallets you have the option to create new wallet or import existing wallet using mnemonic. Since we are setting up a new wallet click create new wallet.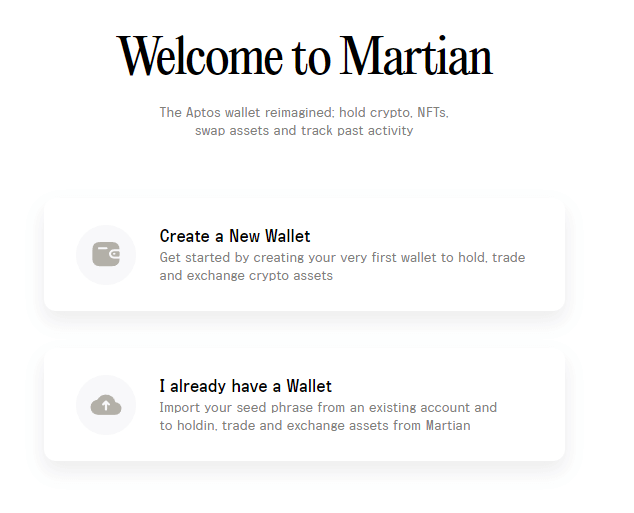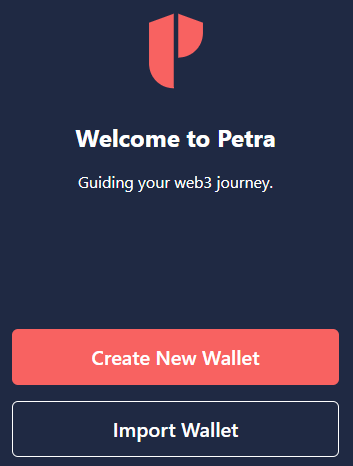 On the next screen you'll be asked to setup a password. Set a strong password for your wallet, agree to the ToS and click continue.
The next screen will reveal your 12 word secret recovery phrase which is very important. Copy it to clipboard and click continue.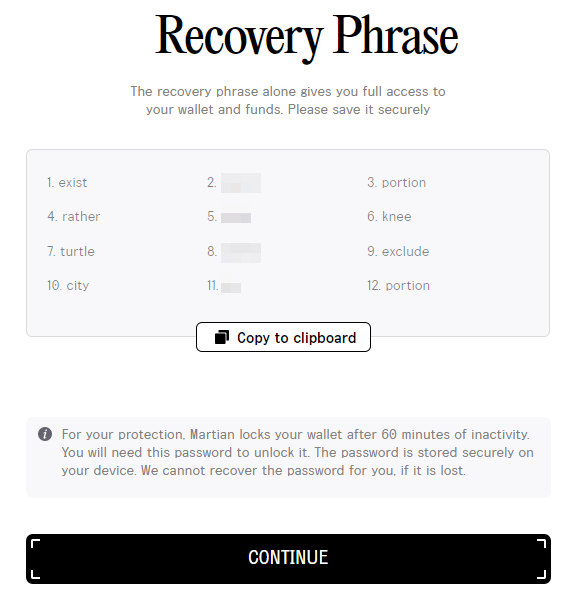 On the next screen of Petra wallet you'll be asked to enter your secret recovery phrase. Type your phrase exactly as you saw it on the previous screen and click continue. That's it. Your wallet is ready for use. On Martian finalize the notification and click continue. You're all set!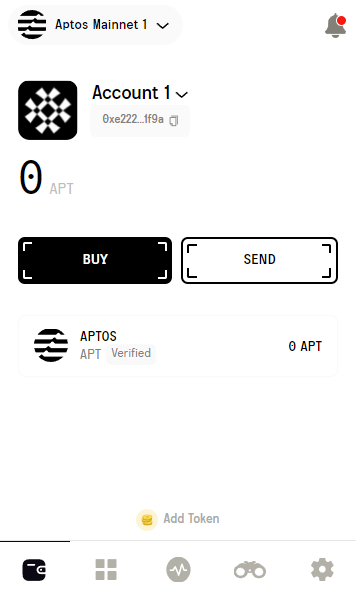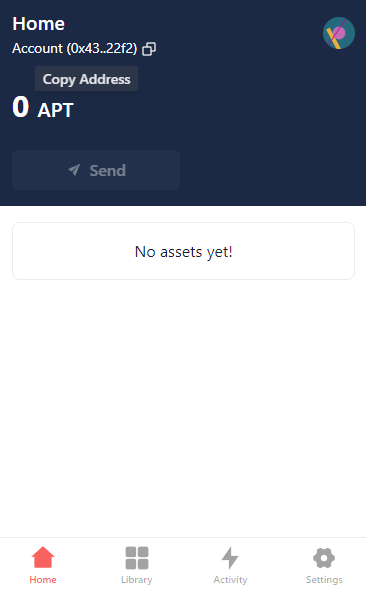 As you can see the wallet looks quite similar to Metamask. At the top you have the option to select network. Just below that you'll find your account information that is your Aptos wallet APT address. Copy APT address to receive APT tokens, NFTs and other APTOS ecosystem tokens.
On Martian wallet just like Metamask you have the option to add custom tokens. You only need to add the token address which you can find it from the Aptos explorer.
Connecting Aptos wallet to DApps
Here is how you can connect your Martian or Petra wallet to Liquidswap DApp.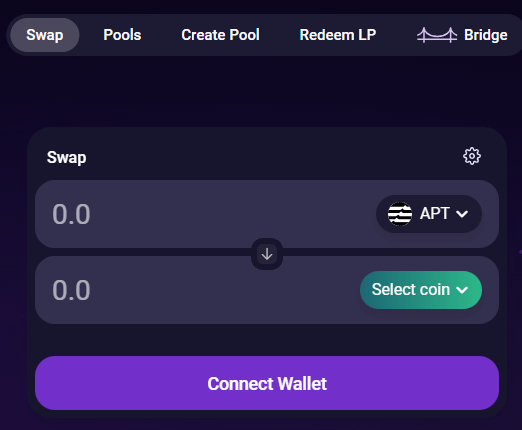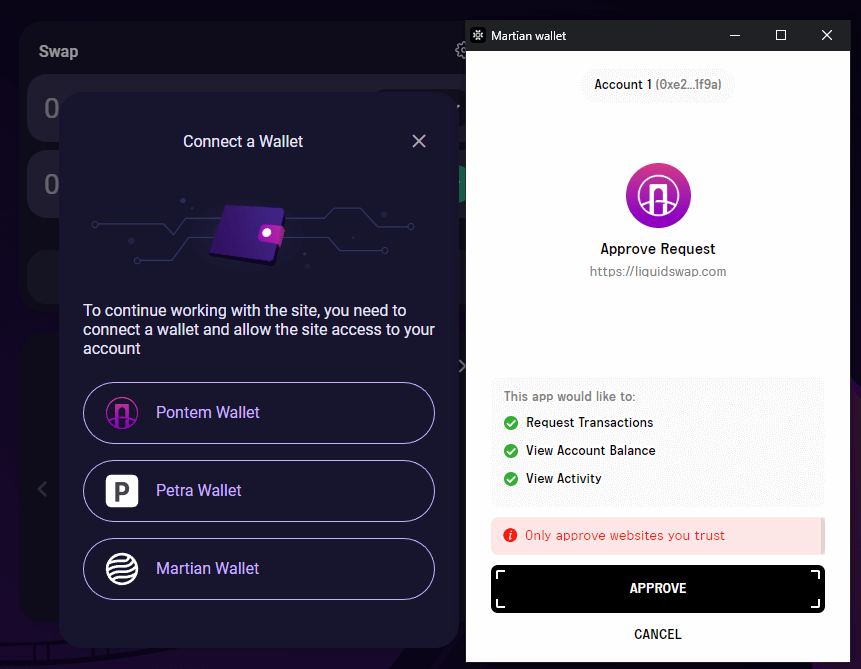 Click connect wallet and choose either Petra or Martian wallet and approve request in your wallet. You should only approve website you trust. Once approved your account / address information along with the tokens will show up on the DEX site. You can now start trading, provide liquidity or even bridge assets between other networks such as Ethereum, BNB Chain, Matic, Avalanche, Arbitrum etc.
Hope this quick starter guide helps you to onboard the Aptos ecosystem. As the network grows bigger and more dapps are being developed on Aptos we'll make a more comprehensive guide.