Press Release
Bitcoin Ready For A Big Rebound? Whales are on The Way
Bitcoin and other cryptocurrencies showed signs of rebound a few days ago with Bitcoin testing the $35,000 level again. But the recovery was short-lived as investors began taking "risk-off" mode amid an equity markets decline and fear of a potential fourth round of Covid-19 spread. On Thursday, Bitcoin fell to $32,000 and ETH shed 8%, sparking doubts of whether crypto is bracing a bear market.
"Investors are looking for clear signs in the markets in bitcoin's consolidation period. Weakness in the economic data and crackdown in China remain the biggest concerns. But in the near term our outlook on bitcoin is positive," said Bexplus's chief analyst Justin Kwok.
But amid the fear, whales are accumulating more bitcoin. Crypto whales refer to individuals or institutions who hold large amounts of a certain cryptocurrency. They have a strong influence on the market and could push or pull the market with their holdings.
According to on-chain analyst Willy Woo, a supply shock is underway as the demand for BTC continues to outpace the supply of the market. He opined that the last time such a huge difference occurred was in October 2020, and the price of bitcoin soon had a strong revival.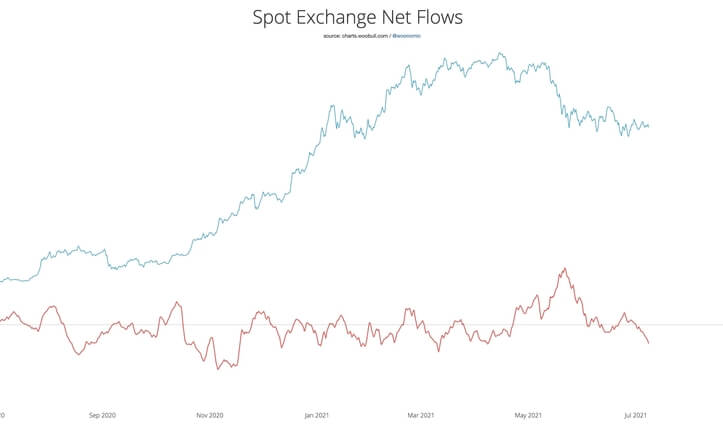 "As price grinds sideways-bearish, coins are being scooped off the exchanges at a very bullish rate. PS. The latest sizing of withdrawals vs deposits are at local highs at levels that signal a bottom, whales are scooping."
As price grinds sideways-bearish, coins are being scooped off the exchanges at a very bullish rate.

PS. The latest sizing of withdrawals vs deposits are at local highs at levels that signal a bottom, whales are scooping. pic.twitter.com/kakrZfwI6f

— Willy Woo (@woonomic) July 8, 2021
On July 4, Santiment reported that whales had purchased 60,000 bitcoin in one single day, pushing the price of BTC to $35,000. On the supply side, with the continued decline of the hash rate, miners' earning ability shot up, reducing the selling pressure from miners.
In the next few weeks, the price of bitcoin is vulnerable to a series of factors including a weak economic outlook and China's clampdown on the crypto market. But the fundamentals of bitcoin have not changed. With whales keep buying in, now could be a good time for you to dip into bitcoin.
Futures trading is specially designed for traders to hedge loss and to profit from market volatility rather than be stuck simply stashing their coins. Traders can borrow leverage from exchanges to greatly enhance their buying power. Futures trading with leverage is extremely profitable during market sell-off, where large quantities of bitcoin are dumped into the market.
Bexplus is a leading crypto derivatives trading platform offering 100x leverage futures trading on a variety of trading pairs – BTC, ETH, LTC, DOGE, XRP, etc.
Why Trade on Bexplus?
No KYC, No Information Leakage
Registration only requires your email confirmation and will only take a few minutes. No KYC needed. Upon registration, you will get a real trading account and a demo account with 10 BTC for practice.
No Deposit Fee and Fast Withdrawal
No deposit fee is required, you can start your deposit at 0.001 BTC. To withdraw your deposit, you only need to file the request and confirm it by email. Withdrawal is 24/7 and it can take as less as 1 hour during work hours.
Demo Account For Practice
What better way to improve your skills than practicing in the simulator. There are 10 replenishable BTC in the demo account for traders to practice as much as they like, without taking any risks. You can also learn to analyze the market and use the toolkit with the demo account.
100% Bonus to Help You Maximize Profit
Double deposits, double profits. Users can get a 100% deposit bonus for every deposit on Bexplus. If you deposit 1 BTC, 2 BTC will be credited to your account, and the profits gained with the bonus are withdrawable.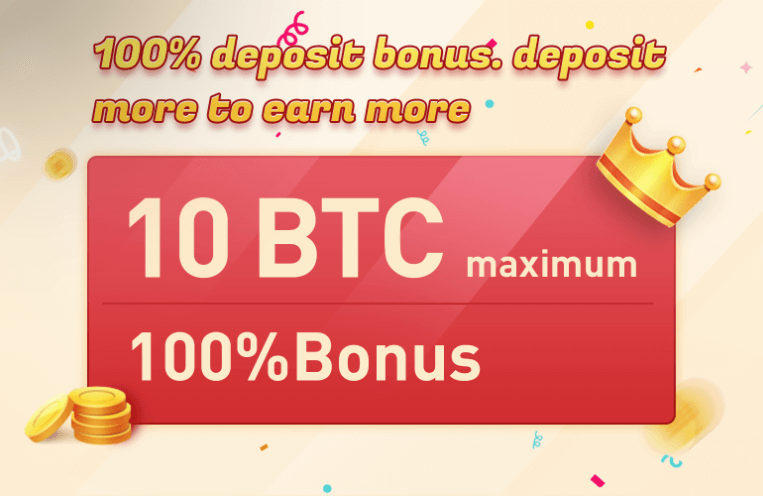 Also Bexplus offers Ethereum price prediction, Vechain price and XRP price prediction to help users keep up-to-date with the cryptocurrency industry.
---
This is a sponsored press release. The publication on this page should not be viewed as an endorsement by CoinGuides.org. CoinGuides is not responsible, directly or indirectly, for any loss or damage caused and we are not responsible for the accuracy or quality of the content on this page. We highly recommend all readers to conduct their own research before investing in the company, products or services mentioned in the above article.
---